The Very Last Howard Johnson's
The once-ubiquitous iconic American diner is down to just one store, but the legacy of its success can be seen nearly everywhere.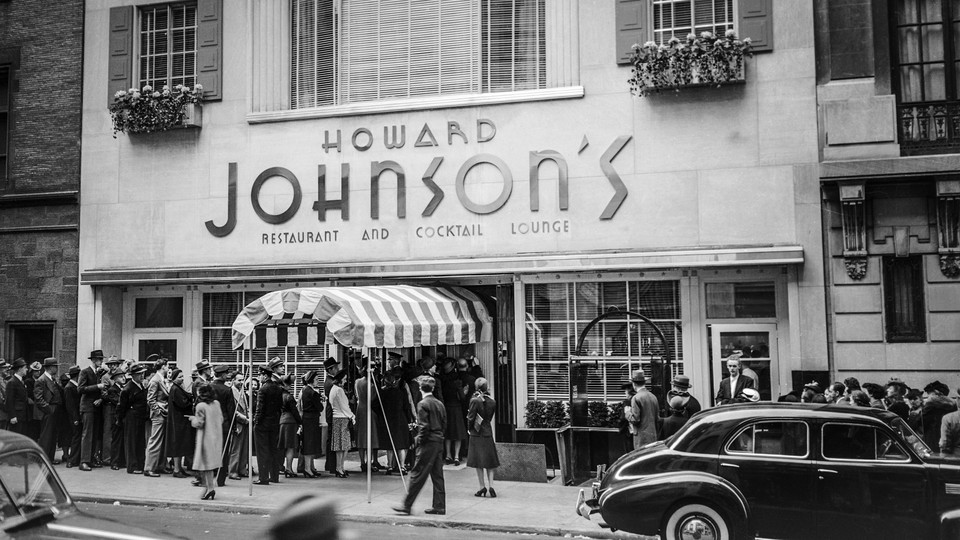 Were there ever to be a canonized checklist of Americana, the very last breakfast rush at New England's very last Howard Johnson's on Tuesday covered most of the bases. Local police and firemen dropping in to deliver farewells? Check. A wistful waitress of 50 years? Check. Longtime regulars settling into counter seats for a final plate of eggs? Check. Check. Check.
The writing has been on the wall—er, the orange roof—of Howard Johnson's for several years now. After Tuesday's closure, the iconic chain, which boasted more than 1,000 outlets in the 1970s, is down to just one location, in Lake George, New York. And while nostalgists mourn the looming end of the vaunted HoJo, its legacy is ubiquitous in the American landscape that it inspired.
Howard Johnson opened his first store in 1925. It was a generally unremarkable soda fountain with an orange roof in the Boston suburbs. After discovering that ice cream produced with high butterfat content was popular with his customers, he set up stands on beaches and roadsides, lending his name and trademark orange roof to evince a sense of familiarity and continuity. At the time, chain restaurants were still relatively rare. Johnson eventually expanded his empire in 1929 with a full-service restaurant, which he found to be more lucrative than just selling ice cream.
In 1935, however, Johnson found himself at an impasse. Having stumbled upon a prime venue for a second full-service store and lacking the finances to open it himself, he decided to franchise his business. The first franchisee was Reginald Sprague, a yacht captain and an old school friend of Johnson's, who launched the store on a popular tourist route on Cape Cod. Sprague ran the shop and used Johnson's name, trademark look, and products with considerable success. Five years later, there were more than 130 Howard Johnson's outposts scattered across the East Coast, managed under similar arrangements.
While the restaurant franchising system in America was hardly new—a chain called Harvey House became fixtures in railroad terminals in the late 1800s—Howard Johnson did it particularly well. "These were conspicuous restaurants," the writer Philip Langdon wrote in his book, Orange Roofs, Golden Arches. "Johnson had a knack for selecting sites that would be visible from a great distance. They stood at major intersections, at traffic circles, along gradual curves—wherever they were sure to be noticed." Langdon adds that in an era when billboards were considered gauche, Johnson "set out to make the building its own advertisement."
The stores were clean, the parking lots were paved and well-landscaped, and eventually the designs were standardized, made to appear as symmetrical as possible. Hot dogs were rebranded to the more grandiose "frankforts" and highfalutin chefs like Jacques Pépin and Pierre Franey were poached from the ritzy New York haunt Le Pavillion around 1960 to help build the menu.
"I worked a few months as a line cook at one of the largest and busiest Howard Johnson's restaurants at the time, on Queens Boulevard in Rego Park," Pépin wrote in a 2005 lament after the closing of the Times Square location. "I flipped burgers, cooked hot dogs and learned about the specialties of the house, among them tender fried clams made from the tongues of enormous sea clams whose bodies were used as the base for the restaurants' famous clam chowder."
Eventually, the competitors and imitators spawned by Howard Johnson's success bested it as the franchise and its old-fashioned sensibility and formality, as depicted in Norman Rockwell's 1958 painting "The Runaway," became passe. In the fifth season of Mad Men, a trip to Howard Johnson's came to emblemize a generational divide between Don Draper and his wife, Megan. The flash point: A sundae glass of orange sherbet. Howard Johnson's may not be a staple of the American roadside anymore, but the visually similar franchises it helped popularize go on as far as the eye can see.