From Worship Service to Customer Service
Steve Fischer, a hotel manager in Oklahoma, talks about his transition from being a church musician to a career of caring for travelers.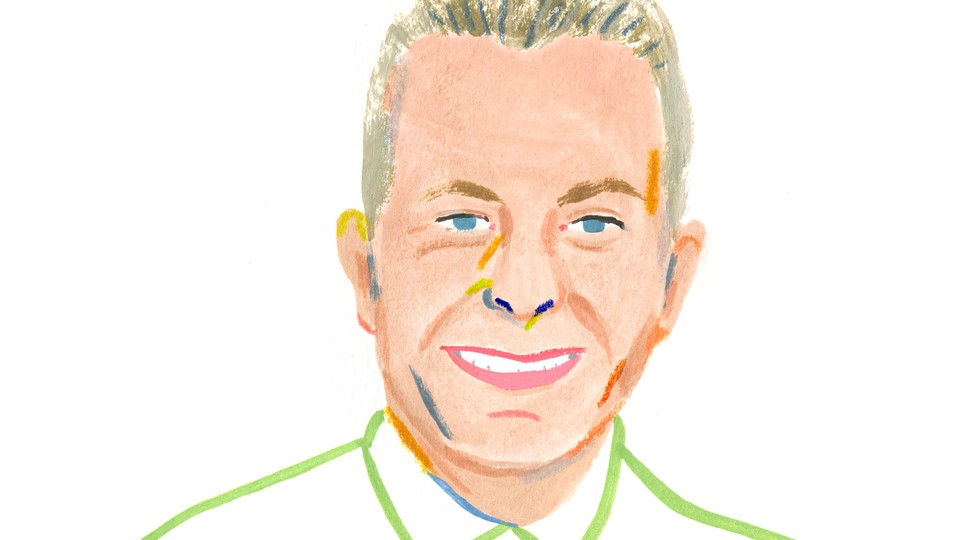 Like many service industries, the hotel and hospitality sector suffered during the recession. In the year following, U.S. hotels were barely able to fill half their rooms, and many hotel employees were laid off. The industry has since bounced back. More people are traveling and staying in hotels as the recovery progresses, and experts have predicted that low gas prices, will mean that 2016 could see record occupancy rates.
According to the American Hotel and Lodging Association, some 2 million Americans work in the U.S. hospitality industry. In fact, nearly a quarter of a million Americans work as desk clerks in hotels, motels, and resorts across the country while another 50,000 Americans work as hotel managers.
For The Atlantic's series of interviews with American workers, I spoke with Steve Fischer, the general manager of Fairfield Inn & Suites (the chain is owned by hotel-giant Marriott) in Tulsa, Oklahoma about how he got into the hospitality industry and the personal lessons he's learned from being in customer service. The interview that follows has been lightly edited for length and clarity.
---
Bourree Lam: What you do as a hotel manager and how did you get into it?
Steve Fischer: I've been the general manager at the Fairfield Inn and Suites in downtown Tulsa, Oklahoma since the property opened four years ago.
When I was in college in 2006, I started part-time at the front desk. I really had not had any hospitality experience. [The job] worked with my school schedule, and I just fell in love with the industry. I continued from there and went from front-desk worker to general manager in about nine years.
I've always enjoyed working with people, and I like the variety and the fast pace of the work. It's never the same, so I certainly enjoy that, and just delivering great service and caring for people. It's just a lot of fun.
Lam: What were you doing before you got into hospitality?
Fischer: I've performed church music for probably 25 years. I have degrees in music and church music from the University of Cincinnati and the Cleveland Institute of Music, but then when I got into the hospitality industry, it really became a career opportunity for me.
Once I graduated from school, I then went into sales. I was the director of sales for one property, and then supervised two properties. When we were opening the Fairfield in downtown Tulsa, I was promoted to general manager to open that hotel.
Lam: What does good service mean to you?
Fischer: Hospitality is mostly centered on taking care of people. Obviously, we sell hotel rooms, but the level of service that we try and deliver everyday is so important. We really focus on trying to exceed the guests' expectations. Guests are having higher and higher expectations because there's so much competition in the market, so service really becomes the deliverable that you can measure. Yes, everybody's got a lot of the same basic things, like beds, but the level of service that we provide to people is really what keeps them coming back.
In the hotel industry, supporting your team members and taking good care of them is important. If they're satisfied, then they're going to take care of the guests, and the guests are going to be satisfied. It's a bottom-up approach. If you don't have satisfied employees, then you're not going to have satisfied guests.
Lam: How have you seen guests' expectations change during your seven-year career?
Fischer: I've seen it change a lot: There's social media, a lot of reviews on TripAdvisor, and things like that. Guests have access to so much more information, so they're looking for feedback. People can be very open and honest [on those sites], and I think that's a trend that is going to continue.
We read the reviews, and respond to them. I also read the specific Marriott surveys that they send out as well. That's a regular part of my job: to get back to guests and make sure they're satisfied, answer the good and the bad, and try to use [the feedback] as learning opportunities for the staff. Even if we felt that we did a good job, the perception of the guests may be different, so we have to be aware of what their perception is as well.
Lam: What's a typical day of work like for you?
Fischer: I don't know that there's a typical day in customer service, but I think that's what's interesting about it. I oversee all of the departments at the hotel, so managers of housekeeping, sales, front desk, and maintenance. I'm touching base with the department heads everyday, and making sure that everything is operating smoothly at their level. Then, work side-by-side with the associates in each of those departments to make sure that they have what they need to deliver great service.
Lam: Did you ever imagine that you'd have a career in the service industry?
Fischer: Not specifically, no. I really embraced the opportunity to pursue this career path, and this industry really gave me the opportunities for advancement and the training to succeed. I don't have any formal education background in hospitality, but once I got into the industry, Marriott provided so many training opportunities as well as the opportunity to get certifications. I just completed my Certified Hotel Administrator certification.
I entered as a part-time front desk associate, and to just see all of the opportunities of different directions that I could go—I certainly experienced that in a very fast-paced progression, climbing up the ladder to a very rewarding career.
I think providing service is what's so satisfying about the work. People who are traveling on the road—that can be very stressful. You're here to take care of somebody, and to be the calming factor through that. So to be able to try and make it a comfortable stay for them, to anticipate what their needs are going to be and deliver on those things—it's very rewarding to be able to do that. Any customer service, and certainly in hospitality, is an opportunity to learn about yourself.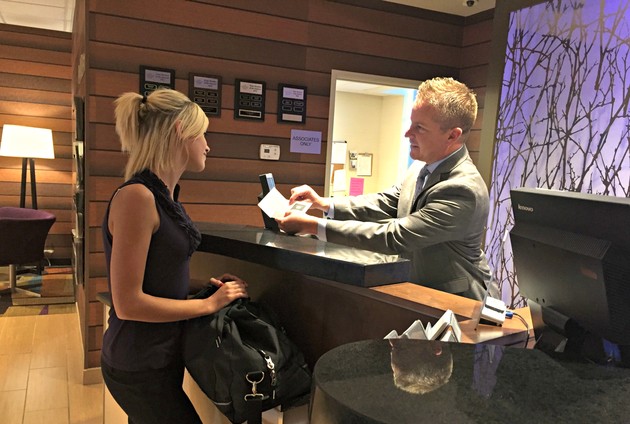 Lam: What have you learned about yourself through providing service?
Fischer: The main thing is not to take things personally. You can never really anticipate what someone else is going through, especially if it's not a positive situation, but you're there to just just be there, be empathetic, and try and understand what they're dealing with. We try our best to do what we can to help them with every situation.
Lam: Is your work an important part of your life and your identity?
Fischer: Yeah, absolutely it's impacted me personally. I think I've always loved working with people, but this becomes a platform to be able to see positive results. Somebody stayed with us for a number of months, and when they left, they said, "This was like my home away from home. Your staff is excellent." It's very rewarding to get that positive feedback and to feel like we're making a positive difference for people.
We experience people traveling from all over the place that may be different, and might have never experienced Tulsa. We get to be the face of the community. There's just so many people coming and going through the hotel everyday, you get to learn a little bit about them and I guess that piques my curiosity.
Lam: What do you do when you're not working?
Fischer: One of the things I love about working in hospitality is the flexibility. Even with the responsibilities that I have, I'm still able to keep a good balance in life. I'm a father; I have two amazing kids. I enjoy time with friends, at church, and fitness. I play the keyboard in church almost every Sunday.
Lam: Is your job done when you leave the hotel?
Fischer: As a general manager, no. I'm basically on-call. If something comes up, I would be the person that responds in an emergency or some type of situation like that. I think I have a great group of managers and staff—they're trained to try and resolve things on their own. It's not always, "Oh, let me call my manager." That can become another hot button for a guest who just wants something resolved, and gives the staff the ownership to be able to do that.
I love what I do. It doesn't feel like work. It just feels like life skills. I go to work to practice life skills, being genuinely caring with people.
---
This interview is a part of a series about the lives and experiences of members of the American workforce, which includes conversations with a children's songwriter, a retail salesperson, and a tour guide.