How Gefilte Fish Got Its Groove Back
The maligned, jarred foodstuff is at the center of a new movement to restore Ashkenazi Jewish fare to its glorious past.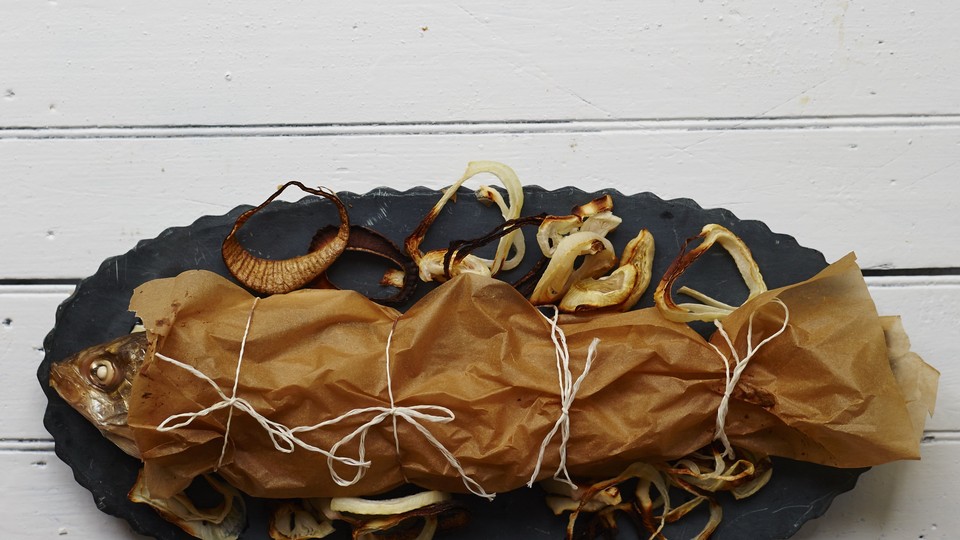 One lesser-known bit of trivia about the quintessentially American legend of Rip Van Winkle is that its author, Washington Irving, set the 19th-century tale in the Catskills without having ever once placed foot there. Irving must have known something, though. After all, the Catskills is the same slice of upstate New York where the Borscht Belt's summer resorts, with their frozen-in-time charm and their yearly influx of Ashkenazi immigrants, would flourish in the mid-20th century.
If there were a modern-day retelling of Irving's classic, its hero would awaken in a puzzling world in which the Catskills had long fallen out of vogue, but all was not lost to the passage of time: Borscht and gefilte fish are back, reprised as haute fare in this era of DIY style and old-timey authenticity. In a new cookbook of Ashkenazi food, Jeffrey Yoskowitz and Liz Alpern recast these and other humble, much-maligned specimens of Old World cuisine as the unlikely stars of a culinary movement. The book is called The Gefilte Manifesto and, lest the gambit be unclear, there is an enormous picture of gefilte fish on the cover of the book.
"I think it's the ultimate symbol of Ashkenazi foods that are misunderstood," Yoskowitz said of the so-called "sausage of the sea" in an interview in Brooklyn last week. "Eastern European Jewish foodways that are so poorly represented in pop culture and in Jewish culture—it was the butt of jokes."
Yoskowitz and Alpern's gripe isn't that a jar of Manischewitz is unfairly defamed, but that the product that everyone knows and most people loathe has strayed so far from the days when it was painstakingly crafted by hand. "It used to be so revered, so exalted," says Yoskowitz. "You would sacrifice your bathtub for a week and not bathe or bathe in your neighbor's bathtub in the tenements. What the hell happened? Now it's being put in a jar and forget about it."
The duo set out to change that in 2011 when they founded The Gefilteria, a start-up of sorts that sells gourmet gefilte fish. The reclamation project emphasizes old-fashioned methods of preparation but also leans on a contemporary set of ethics and a certain vernacular—as manifested in terms like "gluten-free," "artisanal," "responsibly sourced," and "non-GMO."
The Gefilteria came into the world as other high-profile efforts to redefine and/or modernize traditional components of Jewish life were underway. Take for instance, the New American Haggadah, released in 2012 with contributions from among others The Atlantic's Jeffrey Goldberg, which sought to make relevant and demystify the traditional Passover user's guide. Or the launching of Jewish delis like Mile End and Kenny & Zuke's, in Brooklyn and Portland, respectively, which were framed as more ethically-minded alternatives to standards like Katz's Deli.
What these three initiatives also shared was an immediate association with hipster virtues. With the launch of their cookbook five years later, Yoskowitz and Alpern still angle to resist this often-dismissive label by avoiding the fleeting and quickly-tired trends of the day. "I didn't want to have a rainbow bagel—that's not of interest to me," says Yoskowitz. "I don't mind doing things that are fun or kooky within the realm of the tradition, but the flashiness and the trendiness of it all, the #babka of it all. We actually didn't put a babka in the book. How many freaking books have come out with another babka recipe? People don't need another babka recipe."
Instead, the book emphasizes elements of a waste-nothing, do-it-yourself ethos, a component of traditional food mentalities that has come careening back into fashion in recent years amid financial and environmental uncertainty. "A lot of Jewish food is about resourcefulness, how to be resourceful," says Yoskowitz. "You have extra bread, you make breadcrumbs. You put your old bread into the new rye bread. There's a lot of wisdom that is lost."
The book contains a very serious section on the art of not only pickling, but also using the byproducts of the pickling process in other recipes. The instruction is a reflection of a growing desire to make use of what's available. "Knishes and kreplach and pierogis are ways of folding leftovers and folding things you have," Yoskowitz says. "Part of what we want to do is tell people, 'This is one recipe for making these, but you can stuff anything into these.'"
There is other playfulness to be had in The Gefilte Manifesto. While I don't know exactly what my mother would make of roasted-beet dark-chocolate ice cream, chopped-liver deviled eggs, or kimchi-stuffed cabbage, I am confident she would tell me that even Rip Van Winkle's story has a famous Jewish antecedent: The Talmudic version of Irving's tale features a hero named Honi the Wise One, who, one day, encounters a man planting a carob tree. When he asks how long it will take for the tree to yield fruit, the man tells him it'll be 70 years. Honi, incredulous, asks him if he will live long enough to enjoy it. "Perhaps not," the man replies. "However, when I was born into this world, I found many carob trees planted by my father and grandfather. Just as they planted trees for me, I am planting trees for my children and grandchildren so they will be able to eat the fruit of these trees." And while Brooklyn may not have a hospitable climate for carob trees, the gefilte-fish eaters of the future surely stand to benefit from the joys of an updated cuisine.