A Doorwoman in a Doorman's World
Marilyn Rivera, a building attendant at a luxury apartment in Manhattan, talks about why she doesn't mind starting her day at 3:20 every morning.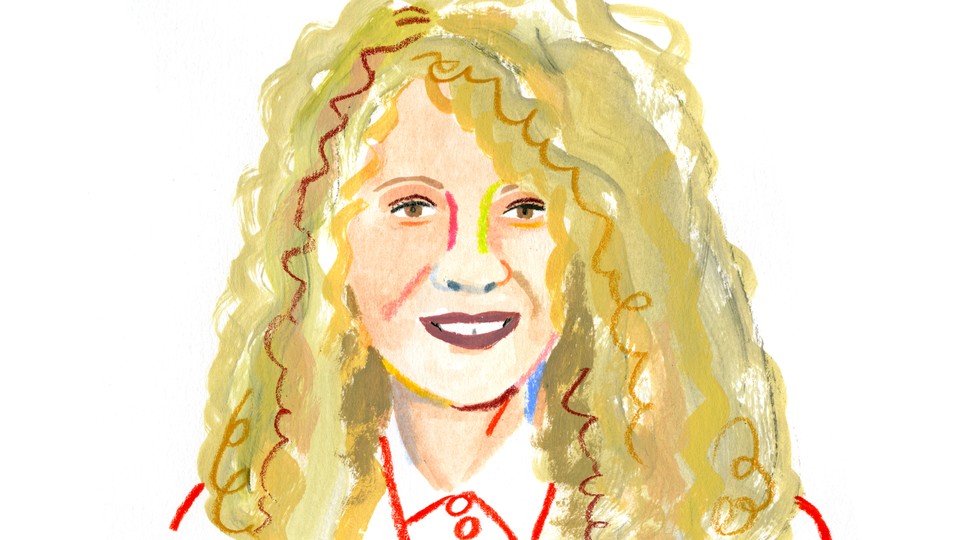 Doorpeople often play a multi-faceted role in city culture. They are a consistent force in the lives of apartment residents and office suites: Sometimes they are enthusiastic greeters, and other times they can be attentive caretakers, cab hailers, and watchful guards. They have intimate knowledge of the comings and goings of their residents—who is on vacation, who just got married, and whose kids are off to college.
Open jobs can be hard to come by due to a low turnover rate: The position tends to be a stable, well-paying, working-class job with benefits, and usually requires little training. In New York, doormen are supported by a union that helps renegotiate their contracts every four years. Employees haven't gone on strike in nearly two decades.
Though doorpeople tend to be racially diverse—the job has long been looked at as an "immigrant profession"—the inclusion of women has been glacial. While the union doesn't break down membership by gender, they note that the vast majority of doorpeople are men, and in 2012 The New York Times reported that of the nearly 13,000 New York City residential-building employees, only 302 were women. Marilyn Rivera, a doorwoman in a 31-floor luxury apartment building in Manhattan, got her job after eating lunch at the same restaurant as a the super of the building.
For The Atlantic's series of interviews with American workers, I spoke with Rivera about her 24-year career at the Windsor Court towers, the connection she feels to her residents, and what it's like being one of few doorwomen in the city. The interview that follows has been lightly edited for length and clarity.
---
Adrienne Green: How did you get your job as a doorwoman?
Marilyn Rivera: Before this job, I worked in a bank and I used to have lunch at the same restaurant every single day. That's where I met the superintendent of Windsor Court towers. One day he said, "You know something, Marilyn, I know you have a job but this type of job would be perfect for you." I was really curious. I am a people person, so it was a different step for me, but I went for it. I have loved my job ever since.
The Windsor Court is made up of two luxury towers in east Manhattan. They are wonderful, beautiful buildings. There's so much involved [in my job]: greeting people, giving information, and receiving packages. You're talking about maybe 2,000 plus people. It's all residential, so they become like your family.
Green: The building is located in Murray Hill, which is an expensive area for many people to live. Are the people that live in your building generally wealthier?
Rivera: I would say that there's a whole combination of people: the wealthy, students, working people, families, and young folks studying in the colleges. These are the kinds of people that I work with every single day.
The bottom line to this is that even though they may be wealthy, or have different type of jobs, or are students, when you relate to these type of people, they become like a family so everything turns out to be low key. In other words, there's always time to say, "Hey how's your mom," or "How's your grandfather," or "Hey, I saw the baby the other day,she's walking already." They take the time out of their day to stop by to mention this or that to me, and it's really great because you get to know them and their needs. It makes them feel more comfortable to live where they do because they feel more secure. Most residents won't just walk by and say hi in passing; they'll stop to say hello. It depends on the person that they are, too.
Green: Generally, do you feel like people treat you with a lot of respect?
Rivera: Definitely. The mornings are one of the best parts of the day because the doctors are going off to their offices, everybody is going off to school or work, and they always turn around and say, "Good morning, Marilyn." And I'll say, "Have a great day, don't forget the water today, remember your umbrella." The younger ones tend to ask, "Marilyn, did I wear the right tie with my suit?" I say, "That's perfect, that blue matches with that suit." The kids will run right in, behind to the counter, and give me a big hug right before they go to school.
Rivera: I live in Pennsylvania, so I commute every single day. I'm one of those grandmas that go to sleep between 8 and 8:30 p.m. I get up at 3:20 a.m., turn on the coffee, and I'm ready to take the 4:20 a.m. bus. I sleep all the way coming in, and all the way home. Once I get to New York, I take the cross-town bus and I still have about an hour and change to start my job. I'll put on my uniform, and then my day starts at 8 a.m. sharp. Everybody starts going to work at 8:30 a.m., and they're rushing out the door. If it's 9 a.m., that's when they're late. That part of the morning is usually busy because everybody is rushing to go to work or leaving items for me because a messenger is going to stop by, or they're expecting a package or a delivery and so forth. Then I'll give them the instructions so they don't have to trouble themselves, and I'll send them a message that the package was delivered. Things like that make them feel comfortable, that this important item is waiting and that I'll be the one holding it for them.
Then comes everything else, which are all the deliveries involved. Whether it's UPS, FedEx, or Amazon, I deal with all of them. The day goes by so fast—even though you still have time to say a kind word to someone, it's busy. There's always time to be kind or to get a smile from someone. Whether it's a messenger or a housekeeper, I will greet them all the same. It makes everybody happy to be there. I'm happy with my job, they should be happy with theirs too. By that time, the day goes by so fast. I'll meet the nannies and so forth. I know most of the children in the building too.
Green: You've worked at Windsor Court for 24 years. How have you seen the people and the neighborhood change?
Rivera: In residential buildings, most of the time they are families so they stay for longer, maybe eight years. I've seen lots of professional people start off in a tower like mine, and then within just a couple of years they move on because they bought an apartment or a house or got married. People have always looked forward to living in this building. I like listening to interesting things that people have to say about news, world events, or politics. It's become a mind-enriching type of job, and I really like it.
Green: What would you say to people that think door people are not necessary? It sounds like you're really integrated in the community.
Rivera: I think being with the building tenants eight hours a day, whether they work in an office or out of their home, a family atmosphere is important to them. They don't want to just turn and wave you goodbye. I've noticed that they want this little bit of extra attention. They really appreciate it. When one of my coworkers is missing or on vacation, they'll ask, "where is so and so?" They're concerned. That means a lot to us too. The same way we do when we don't see a resident, we'll ask, "We haven't seen mister so-and-so for a couple of days, does anybody know what happened to him?" We'll ask around to each other, and we'll find out if he's away for the weekend or if he isn't feeling well. I make it my business to keep in touch with everybody.
Let's say a family has brought their daughter to live in the building, and she's going into college and this is going to be her first apartment. The parents usually come by to the front desk and they'll say "Marilyn, please take care of our daughter." That's a great response because I'm a mom and I have two daughters of my own, so if she has any questions I'll help her. I can get information, whether it's doctors or hospitals close by, pharmacies, or even the latest movie or theater.
Green: Since you're always at the door you probably see everything that happens in the public parts of the building. Is there anything that you've seen that stuck out?
Rivera: Everything is interesting—whether it's a weekend, a busy day, or a holiday. It was amazing to see a bride in her gown come downstairs because she wanted to take pictures in the lobby a couple years ago. Who does that? You usually do it at the reception hall or at your mom's house, but never in the building. Another time, a first-time dad asked permission to decorate the lobby so that when he brought home his baby and his wife she would walk into all these beautiful balloons and decorations. I thought that was really special.
Green: Men overwhelmingly hold most door-attendant and building-service jobs. What has your experience as a doorwoman been like?
Rivera: Let's put it this way, I'm the only female door attendant in the building. I work with 35 men. I've never gotten treated differently, but once in a blue moon you have someone that comes to bring a package and they'll tell me I need to give this to the doorman. I'll say, "How about a doorwoman, would that work for you?" It will make them smile. He goes, "I'm sorry. There's not too many woman doing the job that you." I wish there were more women. This is a great job for a lot of women, especially if you are a people person. I'm 4'11" and I can handle it.
---
This interview is a part of a series about the lives and experiences of members of the American workforce, which includes conversations with a hotel manager, an event planner, and a tour guide.