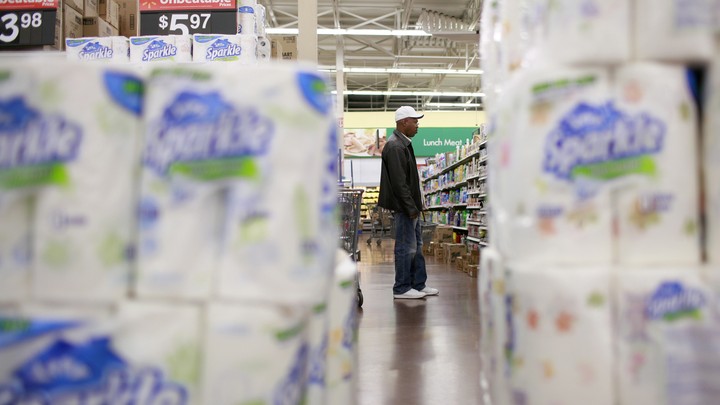 Daniel Coles, a Walmart worker in Paramount, California, feels it's impossible for him to do his job well. "Right now we are understaffed big time," says Coles, who works in a predominantly Latino working-class community. "Especially at the front end, we don't have enough cashiers to take care of customers, so we have long lines."
Coles says he faced similar problems at his previous Walmart job in Crenshaw, a majority-black neighborhood in Los Angeles, but had a much better experience at a Walmart in San Bernardino, which he says catered more to middle-class, white customers. "At San Bernardino, we had enough staffing, we weren't really short at all," says Coles. "We had coverage in every department, so customers respected us because it was a good experience."
In Coles's experience, Walmart seemed to prioritize adequate staffing and customer satisfaction far more in white communities. New research suggests that his experience may be shared by Walmart workers in communities of color across the country.
Adam Reich, an assistant professor of sociology at Columbia University, conducted an analysis of roughly 35,000 Yelp reviews of Walmart locations around the U.S. Among the 2,840 stores the reviews pertained to, Reich found that the higher the percentage of black or Latino residents in a zip code, the lower the Yelp reviews were of stores in that area, even when controlling for the area's average income.
When Reich analyzed the adjectives in the Yelp reviews used to describe stores, however, he noticed another telling pattern: Much of the ratings' language seemed to be about store characteristics, rather than anything to do with race.
In Walmart stores in predominantly black zip codes, customers were more likely to use words like "worst," "unorganized," "nasty," and "slow" to describe their shopping experiences. In predominantly white zip codes, customers used words like "smaller," "friendly," and "clean" to review their stores.
Reich says this evidence, along with interviews his team collected from 89 Walmart workers in Los Angeles, Dallas, Chicago, Cincinnati, and Florida, suggest that Walmart systematically understaffs stores in communities of color, a practice he calls "consumer redlining."
Walmart did not respond to my inquiry about Reich's hypothesis, but it did issue a statement to Business Insider, saying that it thought Reich's study was "flawed and without merit." A spokesperson told the publication, "Our associates play a critical role in the company's success and that's why we've invested $2.7 billion on associate education, training, and wages. We're also proud to provide communities across the country, regardless of social or economic background, access to affordable goods and career opportunities to help them better provide for their families."
At any rate, this perceived understaffing may not be a result of explicit racial animus so much as a natural consequence of Walmart's business model, which relies on far lower labor costs than its competitors. Since Walmart opens up many stores in areas where consumers already have few shopping options, the chain, Reich argues, has little incentive to invest in labor for these stores, which are often in communities of color.
"When Walmart moves into the South Side of Chicago, it's not really displacing numerous other businesses," says Reich. "So it can short-change investments in staff, and force people to work harder. Consumers don't have a choice about where they're shopping."
Anthony Roberts, an assistant professor of sociology at California State University who has written extensively on Walmart's urban-expansion attempts in recent years, points out that such staffing decisions are integral to Walmart's model.
"The company utilizes data from its stores to predict the optimal staffing levels at the local and regional levels. Employee compensation is an important factor in this analysis, because the company's retail model depends on low wages for profitability," said Roberts, in an email. "Given the dependence of these communities on Walmart stores, there seems to be very little need to address poor customer satisfaction."
This argument resonates with Coles's experience working with Walmart customers. "Customers [in black and Latino communities] figure it'd be more convenient to not have to travel to Timbuktu to go to another Walmart, or to the 'right' neighborhood area because of gas and all that," says Coles. He notes that the company also conducts "a lot of customer surveys about people's shopping experiences," which help gauge how much money specific stores bring in—and therefore may influence the number of employees hired.
These labor-cost-saving strategies, however, may actually be hurting Walmart's ability to expand, especially in urban markets with large black and Latino populations. Though Walmart has made inroads in cities like Chicago, Dallas, Houston, Atlanta, and Washington, D.C., it has struggled to break into other major urban centers such as Boston, New York, San Francisco, and Seattle, in large part due to community mobilization and political pressure.
Walmart's failure to capture the same market share in big cities as it does in the rest of the country costs it nearly $96 billion dollars a year, according to a 2015 UCLA study by the Institute for Research on Labor and Employment.
"Labor investment is critical for penetrating the urban market, because these communities are most concerned about job prospects in local development," said Roberts. "If Walmart wants to dramatically break into the urban market, the company needs to address its reputation of creating 'bad jobs' by expanding and investing in its labor force."
If customers feel the toll of this model of labor investment, Walmart workers in black and Latino communities do, as well. "At Crenshaw, customers would say, 'Y'all so ghetto. You don't have enough registers, customer-service people,'" says Coles. "It was sad to see how the company didn't care about the [workers]. … They are looking at the bottom line, that's it."
---
This article appears courtesy of CityLab.
This story is part of our Next America: Workforce project, which is supported by a grant from the Annie E. Casey Foundation.
We want to hear what you think about this article. Submit a letter to the editor or write to letters@theatlantic.com.