The Work Behind Construction Projects
Lanier Spriggs, who has been in the industry for eight years, talks about why it needs to change its image.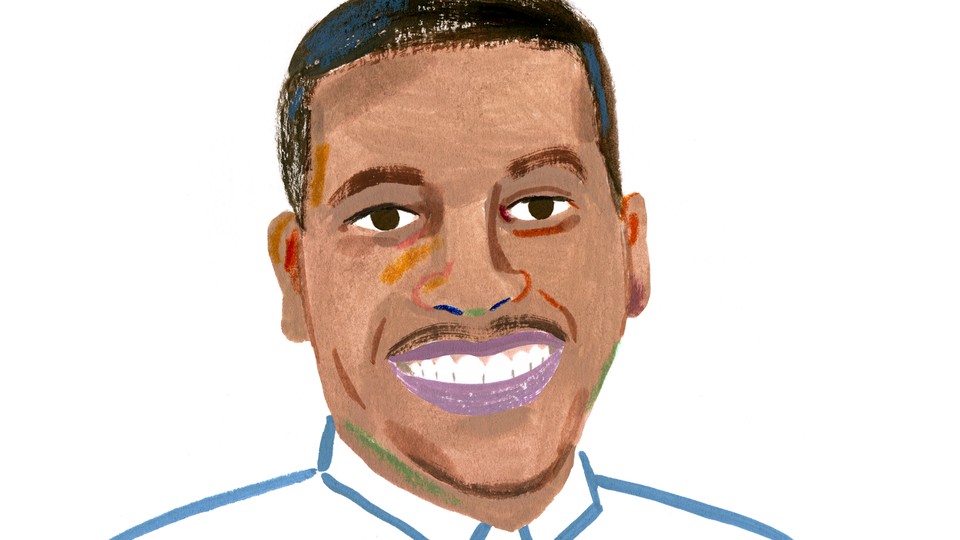 Just before the Great Recession, the U.S. construction industry was booming. In 2006, the industry employed more than 7 million Americans. But between 2007 and 2009, construction employment fell by 1.5 million—to its lowest level since 1998. The industry has bounced back since as the economic recovery progresses: The National Association of Homebuilders estimates that demand for construction workers is now outpacing supply, with 200,000 unfilled construction jobs nationwide.
The labor shortage might be due to the workers who left the industry permanently during the recession, and the image of the industry overall. For The Atlantic's series of interviews with American workers, I spoke with Lanier Spriggs, a construction manager in Chattanooga, Tennessee, about how he found himself in the construction business, the challenges he sees for the industry, and whether his criminal record affects the way people treat him at work. The interview that follows has been lightly edited for length and clarity.
---
Bourree Lam: What do you do as a construction project manager and how did you get into it?
Lanier Spriggs: I'm a project engineer, or an assistant project manager some may call it. I'm pretty much the liaison between the project owners, the engineers, and the architects when working on construction projects with the project manager, superintendent, and the subcontractors. Basically, I just communicate with the owners and keep them up to date on where we stand with their project. When the owners want changes, our team makes sure that we deliver the project they want and coordinate their desires with the guys in the field. We also work to make sure that we deliver the project on time and within budget.
Lam: What kind of projects do you work on?
Spriggs: My most recent work involved heavy industrial work for auto plants, and building auto plants and warehouses. I've built small retail buildings—such as Family Dollars or Dollar Trees—and I've also done larger projects like department stores. It varies. We'll plan the project, track it, and manage the whole thing for the client. That involves being in the field as well as paperwork.
Lam: How did you get into project management?
Spriggs: I moved to Chattanooga in 2001. Before, I was trying to find myself. In 2004, I knew I had to go to school—I just didn't know what for. I took general classes trying at a community college—since I still wasn't sure about my career path—to figure out what I wanted to do. After a few years, I got my general associate's degree just in case life happened—you never know, you may have a baby or get married.
Back then, I was working in sales. I found out very quickly that I could make good money in sales even without having any credentials or certifications. As a sales manager, I talked to a couple of my customers and they introduced me to a program called YouthBuild (an organization that helps people gain construction skills).
Lam: What did you do when you were involved with them?
Spriggs: It's a funny story because when I first signed up for it, I turned YouthBuild down. I was going to take a promotion to be a district [sales] manager in Florida at the job where I was working. But I decided at the last minute that I wasn't going to take the promotion. Thankfully, the staff at YouthBuild weren't all on the same page, so when they called a third time, I accepted.
I admit, when I first got involved it was for selfish reasons. I was just trying to better myself and get some paid training. It was free knowledge. I thought it sounded like an opportunity I needed to take advantage of.
I learned some very valuable life lessons at Youthbuild. It was a [personal] growth period for me, and that's when I found the construction industry. [Youthbuild] had us doing small projects. Previously, I didn't know how to fix anything, but I actually found it therapeutic and rewarding for me when I would work on houses, or do a remodel, or go fix something.
I never saw myself doing construction. Growing up, you hear construction and you think of hammer and nails or working in the heat. I was too lazy for that. But, once I got introduced to it, I was fixing stuff and the projects I did were things that were going to be there for possibly a lifetime. It was just a rewarding career, and that's when I learned about management.
During my apprenticeship here, I still did sales. I was 70 hours a week as a full-time manager at a cell-phone store at night, and doing construction with YouthBuild during the day. It was only temporary. I said, "I can do 70 hours a week for 10 months." During that whole transition I found out this is what I want to do. I went back to school on scholarship to the University of Tennessee at Chattanooga; I graduated in 2014 with a bachelor's degree in construction management.
Lam: A long time ago, you took a guilty plea to a nonviolent crime. Did you feel like that affected your career?
Spriggs: I feel like it affected my career in a positive way. When I was younger, I was one of the kids that didn't really have to study that much. I could just show up and make a C or a B. Growing up that handicapped me, because I was lazy and I was always looking for an easy way out. I didn't want to study that if I could pass without doing so. I was a kid.
When I caught the felony conviction, it catapulted me. Now, I have to go the extra mile; I have to be better than this [other] guy. I just started challenging myself and I wanted to do everything to the best of my ability.
Lam: Do you feel like anyone you work with treats you differently?
Spriggs: It's hard for me to say that because of this felony, people have looked at me or judged me or not hired me. In my experience, anytime that somebody wanted to hire me, they just hired me. It never really came up. In the beginning, it was on my mind because it's a life-changing event for me. As time went on and I got older, I feel like the things that I've done since I got the felony overshadowed a mistake that I made when I was 19 years old. Now, I don't even really let it bother me, and I don't think about it all the time.
For my last two jobs, it wasn't even on the application. It may come up in conversation before the hiring process, but in my experience, I haven't really had any issues that I know of.
Lam: Is your work in construction is a big part of your life and your personal identity?
Spriggs: I definitely think so. That's where I spend most of my time. Time is our most valuable asset so it's definitely a very important part of my life. It's how I provide for my family. It allows us to be able to take those vacations when we need them. That's rewarding for me in itself. That's motivating for me to come to work. As far as identity goes, this business is a very challenging business. I mean it will stretch you out. I love a challenge and I love learning. Everybody that I talk to—even if they are 15 years in the game—they're still learning. It's not for everybody, but I enjoy it.
Lam: What would you say to the people who think that construction is all about "nails and hammers" as you said you did before?
Spriggs: It's embedded in our brains that when you think construction you automatically imagine bricks and nails. You think of hard labor. But construction management is a different ball game.
We need to recreate the image of the construction industry. There's a lot of opportunity in construction. The construction industry, I think, needs to make a real conscious to sell itself to young men and women. A couple of years ago, there was a push for more college-educated people to join the construction industry. Some colleges put out commercials [about construction programs and careers]. I think that has kind of died down again. Information is key, and getting the information out about all the avenues and longevity of construction. It needs to be talked about and maybe even glorified like a doctor or lawyer. This is a field—when you talk about money—that is right there with the doctor or lawyer pay. But it doesn't always get looked at on the same, equal playing field as those industries sometimes.
When you get inside and dive into construction management, there are times when it's so intense that I'd rather be out there with hammer and nails. It's long hours; it can be 24/7. The construction project might not be happening 24 hours a day, but you got people calling.  Somebody might have got hurt; there's an accident; somebody stole your equipment on the property. There are a lot of variables that make it even tougher than what it seems. The weather: It might rain for two weeks straight and throw your whole schedule off. After the rain, it might take another week or two weeks just to get the ground right. It's rough, but it's rewarding all at the same time.
Lam: You were recently laid off. What are you planning to do next?
Spriggs: When I decided to go for this degree, I decided to let the degree open doors and be open to all options. All I knew was that I liked being a part of building things, and that I would be able to build landmarks that my kids could take their kids too and tell them their grandfather helped build this. I feel like I've gained five years of experience in my two years of doing project management, and I'm still as excited about the construction industry as when I started. I am looking and willing to relocate, but I'm looking for right company that's genuinely interested in growing their people.
I have worked for two great companies over the past couple of years, but I almost have to ask myself, "Are today's companies really hiring for long-term employees?" For the second time in two years, I find myself out of work again. Once, even after winning a company-wide contest for the best ideas on how to run the company better. There are times when I wonder, "Did they finally do a background check? Is that what's going on?" I don't want to make that assumption, but honestly, if a company is judging me on something that I did 15 years ago, it probably isn't the place for me.
---
This interview is a part of a series about the lives and experiences of members of the American workforce, which includes conversations with a hotel manager, a retail salesperson, and a civil engineer.