Tiny Sliver of Good News Only a Reminder of the Economy's Overall Terribleness
Still, declining poverty numbers and rising incomes are something to cheer.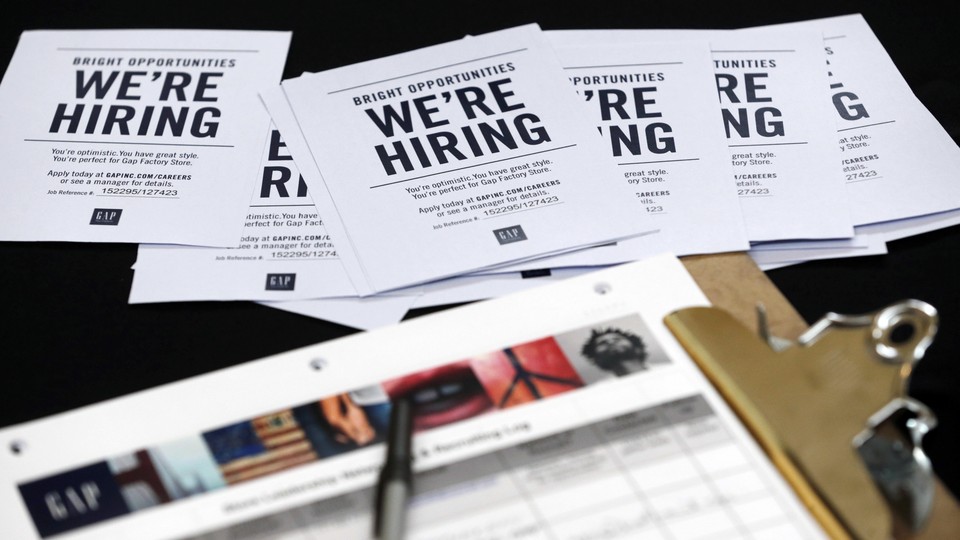 In 2015, median household income increased for the first time in nearly a decade. On its face, that alone is progress. Coupled with decreases in poverty, it may seem like significant progress. But those numbers may obscure the fact that, in many ways, Americans are still struggling to catch up after the massive losses of the recession and decades of wage stagnation.
On Tuesday, the Census bureau released its most recent data on income and poverty in the U.S. The report showed that median household income climbed to $56,516, a 5.2 percent increase from 2014 and one of the largest one-year increases ever. During the same time period about 3.5 million people moved above the poverty threshold, in part due to job and income gains and (at least based on the supplemental measure) non-cash assistance from things such as housing vouchers or food stamps. While growth of median income is promising news following several years of decline, median incomes remain 1.6 percent lower than they were in 2007 and lower still than the 1999 median-household-income peak of over $57,000 in time-adjusted dollars. For blacks the gulf between 2007 and recent years is even wider, at around 5 percent less than that pre-recession high. The overall poverty rate is 13.5 percent, a shockingly high number compared to what it's been during other periods of economic growth, when it's been dropped to closer to 12 percent.
---
Median Household Income, 1967 to 2015
---
According to Trudi Renwick, the chief of the poverty statistics branch at the Census Bureau,  much of the upward progress in the report was likely due to increases in employment, specifically full-time year-round workers, a group that increased by 3.3 million workers in the last year. That too—along with an unemployment rate that has dropped to 4.9 percent—may seem like reason to celebrate, but those celebrations may be premature.
---
Full-Time Workers, 1967 to 2015
---
"A focus on the these very good 2014-15 annual changes misses the big picture: The poor and the median full-time worker and household were better off at the end of Bill Clinton's Administration than they are today," Sheldon Danziger, the president of the Russell Sage Foundation, said in a statement. Labor force participation remains low, and blacks, Hispanics, and those without college educations still struggle to find work. The report showed little progress when it comes to closing the significant inequality gap, or the earnings gap between the sexes, that so many are concerned about. Certainly, the report showed evidence that things are moving in a positive direction, but many American working families are still miles away from anything that could be described as prosperity.