The Person at the End of the Grocery Line
Ronnie Frostig, a cashier in Atlanta, talks about what it's like to work at Publix, an employee-owned supermarket.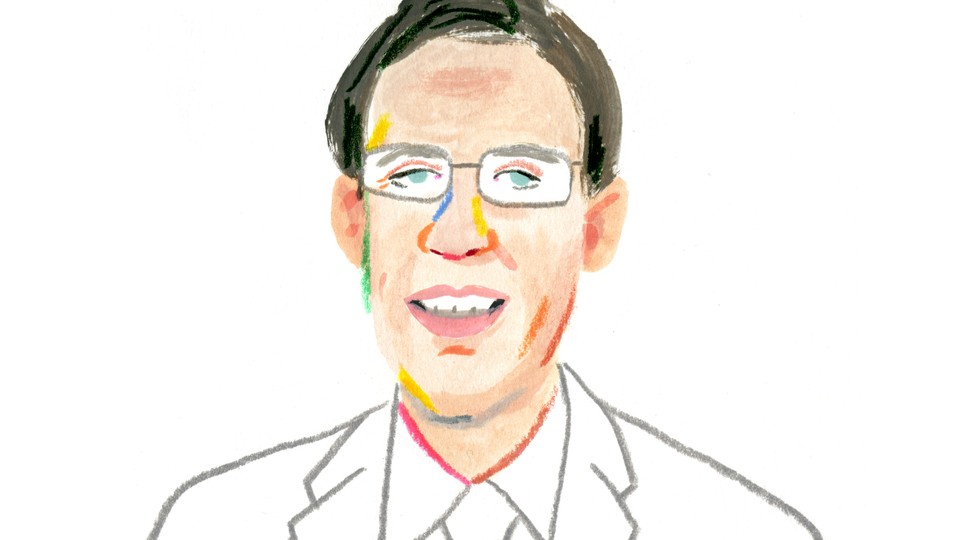 Americans make an average of 1.5 trips to the grocery store per week. Grocery stores—and access to the healthier food choices they provide—are integral to eating habits and health. When they're absent, or residents don't have access to them, the U.S. Department of Agriculture designates these areas as "food deserts," several of which are in Atlanta, Georgia.
Ronnie Frostig is a cashier at a Publix grocery store in Atlanta, Georgia, and says he has gotten to know some of the customers so well that they want to come see him at the register. For The Atlantic's series of interviews with American workers, I spoke with Frostig about what his job entails, how he's seen the city of Atlanta change around his store, and how he's connected with customers by talking about running marathons. This interview has been lightly edited for length and clarity.
---
Adrienne Green: How did you come to work at the grocery store?
Ronnie Frostig: I was working with my dad at his store in Atlanta. His lease expired, and he had to close his store. After that, I was working at a wholesale beer and wine distributor, and about six months after that, I decided to go into the grocery business. That was in 1988.
In Atlanta, there was a big supermarket chain a few miles from where I lived. I was there for quite a number of years, at the same location, until A&P took over that chain. I lived in the area pretty much my whole life, and I just wanted to be of service to the community. I thought a grocery store would be the perfect fit for me. I've now worked at three different chains: Big Star, A&P, and Publix.
Green: You're at Publix now. What has been different about the three stores that you've worked in?
Frostig: I feel more comfortable. I think Publix is a better chain than the other two I'd worked for. Publix is a top brand with a better image, and [for employees] the benefits are better than the last two chains I worked at. The other two stores are smaller chains, but Publix is just a better store to work for as far as customer service, the attitude, and getting along with customers.
Green: Are you working part-time or full-time?
Frostig: I'm working full-time. This is my 17th year at Publix. The profit plan we have, we didn't have that at the A&P or Big Star. [Publix is an employee-owned corporation, meaning that Frostig and his colleagues share in the profits when the company does well.] There, we just had the salary pretty much for pay. Publix now has everything in terms of benefits: a pension plan from the beginning to retirement, health and dental insurance, and now I get four weeks of vacation.(Note: After this story published, a representative for Publix clarified that the company offers 401k and stock-ownership plans to employees, but not pensions.)
Green: What do you use that vacation time for?
Frostig: I run marathons. The City of Atlanta gave me a plaque for running a marathon in all 50 states and all seven continents. I like to do morning runs before work, and that keeps me going. I use a few days of vacation for my marathon trips. Next month, I plan to go to Florida for another marathon. A majority of the customers say, "Well, Ronnie, when's your next marathon?" I communicate with them about my running, and they'll say, "Oh, Ronnie, you gave me the urge to run."
Frostig: Most of the time, I have a set schedule working anywhere between 7a.m. and 5p.m. When I first come in, I make sure the working area is clean, safe, and ready to go. Then, I greet our customers, try to make them feel at home, and then provide customer service. You've got to go beyond ringing up groceries. You've got to be friendly, polite, and have a nice introduction. That's pretty much my daily routine.
I know the families who come in, their kids and what schools they go to. I give them candy when they come to my line. They appreciate it, and when their birthday comes, I get them a little gift. The parents appreciate that, too. Customers stay in my line just to see me. When I have to go on my lunch break or go home, they still want to come in my line. I say, "Okay, sure, come on. I'll get you before I go home." I don't mind.
Green: What are some of the challenges of your job?
Frostig: Ringing up groceries, and also trying to be friendly and courteous. That's not a big challenge, but still you have to do both.
Green: Do you think that people think your job is easy?
Frostig: You know what, it depends on the individual. Personally, I'm happy to come here to work because I get see my friends and my regular customers. I love to ring them up, but another person may say, "Oh, another day at work ringing up the groceries." They may not have a great time doing that.
Frostig: I've been ringing up customers for 20 some years. I understand that people have to go to work, and they may be in a little rush. You can tell in their demeanor, but I treat everybody the same way: "Good morning, how you doing? Did you find everything okay?" You can recognize a person if they're in a rush, but just ring them up quick as you can and say, "Thank you, ma'am (or sir), for shopping with us today. Have a great day," and then on to the next person.
I see people all day long and they have things on their mind, or they've got to go somewhere, but [dealing with them] comes with working. You treat everybody as well as you can, and with a smile. It can make a big difference to somebody who's down or not having a good day. It's just a few words, but it will make them glad that they came in.
Green: Do you feel like people return that kindness to you?
Frostig: Yeah, pretty much. Most of the customers smile if I smile first. If they smile back, that's fine. If not, then I gave it my effort to make them feel happy.
Green: You've been in the Atlanta area for more almost 30 years. How have you seen Atlanta change over the last 10 to 20 years?
Frostig: I've known some kids since I first started in groceries, over 26 years ago, but they change. The kids that I knew 20 years ago are out of school, out of college, married, or have children. I can't recognize all of them when I see them now. There are more families in the area now than 20 years ago. There used to be a lot of single people in the area. Now, there are more apartments being built, and that is a big change.
More people are moving into Atlanta: There are more jobs, I see more businesses coming up in the area, and more working people than I've seen over the years. There's more competition in terms of grocery stores, because there's other chains open up.
Green: What role do you think the grocery store plays in your community?
Frostig: A majority of our customers are regulars. There are a lot of offices around the store, and we're kind of surrounded by office people. They eat at our deli during lunchtime.
Green: How do you think your work is tied to your identity?
Frostig: I'm a nice guy: honest, sincere, and a community-service person. I try to be what I am, tied into work. If I'm a good guy overall, I can tell customers want to see me. I treat people right, which I do day-to-day anyway, even if I'm not at work. If I'm always in a bad mood, then it follows me to work.
---
This interview is a part of a series about the lives and experiences of members of the American workforce, which includes conversations with a sales associate, a member's services agent, and a wine wholesaler.