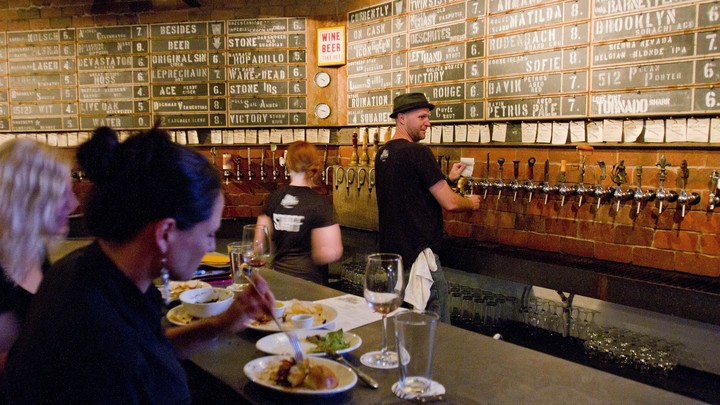 After two expectation-smashing jobs reports in June and July, the August jobs report shows a slight easing up in the momentum of this summer's job growth.
On Friday morning, the Labor Department reported that the U.S. economy added 151,000 jobs, while the unemployment rate remained at 4.9 percent. Economists surveyed by The Wall Street Journal were expecting a modest 180,000 jobs added and a decline in the unemployment rate, to 4.8 percent. Job gains were reported in industries including food, health care, and technical services (which covers accountants, lawyers, architects, and other professionals).
---
---
One thing analysts were looking out for in the August jobs report was whether there would be significant revisions—in either direction—for June and July's fantastic numbers. But these revisions showed little change to the original numbers: Combined, the two months added 1,000 fewer jobs than originally estimated, bringing the three-month average to a solid 232,000 jobs added per month. This revision makes July the best jobs report of 2016 so far.
---
---
A point worth celebrating in July's jobs report was the bump in wages, as the month's gains brought overall growth between July 2015 to July 2016 to 2.6 percent—the best pace since the recession ended. For August, average hourly earnings rose by only 3 cents, to $25.73, following an eight-cent increase in July. This slowdown brings the overall wage growth in the past 12 months to 2.4 percent. The labor-force participation rate held steady at 62.8 percent after April and May wiped out gains from earlier this year.
This summer has shown steady jobs growth—a strong rebound from a hugely disappointing jobs report in May. Economists and skeptics will likely continue to debate whether this is indicative of a long-term trend of steady growth and whether the U.S. economy is close to full employment.
Strong jobs reports tend to drum up the possibility of an interest-rate hike from the Fed, which has yet to raise interest rates this year. At the last Federal Open Market Committee meeting in July, interest rates were left unchanged in spite of positive jobs report, likely due to the lack of inflation. The jobs report is a key economic indicator, and this one will likely influence the Federal Reserve's decision-making at its September meeting. In a speech at the Fed's annual summer economic policy symposium in Jackson Hole, Wyoming, Fed Chairwoman Janet Yellen said that "the case for an increase in the federal funds rate has strengthened in recent months." That statement has led to speculation that the Fed is signaling a potential rate hike in September.
We want to hear what you think about this article. Submit a letter to the editor or write to letters@theatlantic.com.
Bourree Lam
is a former staff writer at
The Atlantic
. She was previously the editor of Freakonomics.com.