Working With Lightning
Robert Weathers talks about his job maintaining Walter De Maria's land-art installation The Lightning Field in New Mexico.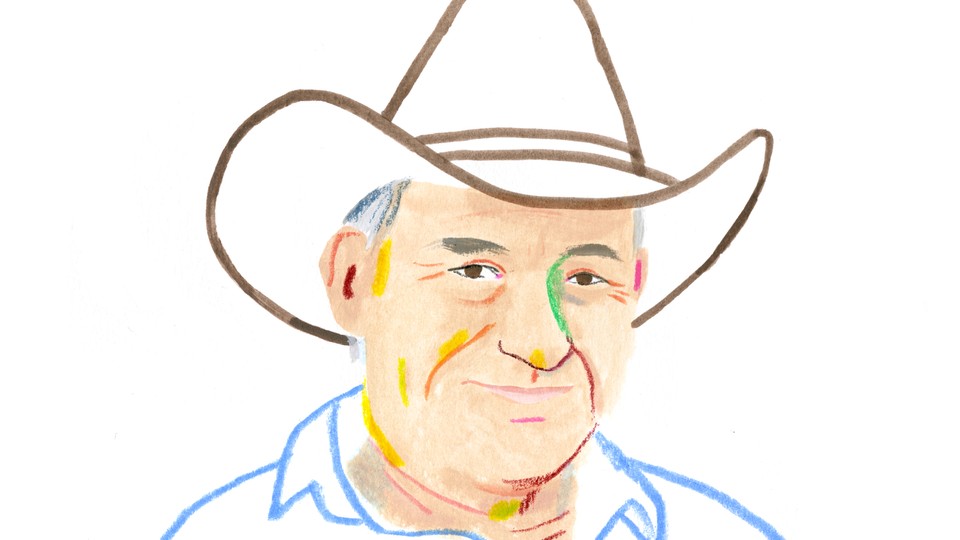 Land art is a American art movement dating to the 1960s that uses landscapes as the medium of creation. One of the most significant works in this field is Robert Smithson's Spiral Jetty in Utah (which is seeking protection as a national monument).* Another is The Lightning Field by Walter De Maria in New Mexico.
The Lightning Field was commissioned by the Dia Art Foundation in 1977. The work is comprised of 400 polished stainless-steel poles that "define a horizontal plane," and can occasionally "catch" lightning. It is said to be particularly beautiful during sunrise and sunset, though only six visitors are allowed to stay overnight to see them at a time.
Robert Weathers worked on the construction of The Lightning Field, and continues to drive visitors to and from the art installation in western New Mexico (its exact location is a well-kept secret) as well as making sure the site is in good shape. For The Atlantic's series of interviews with American workers, I spoke with Weathers about his job maintaining land art, what it's to bring visitors to see The Lightning Field, and his love for ranching. The interview that follows has been lightly edited for length and clarity.
---
Bourree Lam: How did you come to work at The Lightning Field and how long have you been there?
Robert Weathers: I've been here for 39 years. I did work on a ranch for almost 10 years at a big ranch right next to The Lightning Field. I miss it, but I have cattle of my own here also. I just don't get the time to graze them. I was just looking for a job when they were starting to build it, so I helped them with the construction of The Lightning Field.
I didn't see myself doing this, but I have a lot of respect for the people who were putting it on out here. They asked me to stay and take care of it, and it was a good opportunity. There are not that many jobs out here, and it paid better than cowboying.
Lam: What are your responsibilities?
Weathers: Anything that needs to be done. A lot of it is keeping the cabin and [the operation] going right, and making sure the field is staged like it should be—mowed, raked, and all that. I take care of the grounds and the Quemado office, and all the buildings here on the site.
During the summer, I'm driving people to and from the site. I start at around 10 a.m., because we don't go out with them [to visit the site] until 11 a.m. So I get things together and then get back home around 4:30 p.m. When I'm not driving them, I am just doing whatever needs to be done to repair the facility.
There's three of us here: Hayden Fosdick, Kim Kalberg, and Jeanie Cowell. Kim and Jeanie clean the cabin and get it ready for the next group of people, because [Hayden and I] leave and get the visitors back here around 3 p.m. Kim and Hayden also drive some, because I'm getting ready to retire.
Lam: Is your job different during different months of the year?
Weathers: I work there year round. During the busy visiting season, from May to October, I mostly bring people and supplies to and from the art site, and doing everything we can to keep visitors comfortable and happy. The other part of the year is fixing everything in the fields.
Lam: Tell me a little about the location. It's far from civilization?
Weathers: Yes. The closest town is about 40 miles, so we're way out here and our phone doesn't work very well (reservations are made via email).  I have been out here all my life, so it's normal for me. I was born and raised in Pie Town, New Mexico, which is a very small town. At age 14, I went to work on a ranch out here next to the lot where The Lightning Field is.
Lam: Is the art installation dangerous in any way, since it can catch lightning?
Weathers: Not really. The only danger to guests is rattlesnakes; they are the only thing that's really poisonous or dangerous that live out here.
The lightning, it can be dangerous, but it's stated in the release form that you should go back to the cabins whenever there's a lightning storm. We haven't had any problems—as far as any kind of injuries—so far.
Lam: What do you think about the art itself having worked there for nearly 40 years?
Weathers: I think it's really a pretty amazing deal. It's changes according to how the day is depending on whether it's cloudy or clear, and during sunsets or sunrises. It's unique and pretty. I never get tired of seeing it. I will miss it when I retire, but I'll be still living fairly close to it.
Lam: Tell me about the visitors and their reactions to the art installation, and how it's supposed to be "experienced over a long period of time."
Weathers: We get people from every walk of the world, but it seems to have an effect on them. We get a lot of repeat visitors. Going out, they're sometimes a little bit skeptical. But on the way back, they're very calm. I have heard very few visitors that have anything but good things to say about it. They really enjoy it; it's a life changing experience.
To be honest, the visitors are all pretty much the same [to me]. I don't spend that much time with them: An hour or so to haul them out, a little bit of time to take them back to town.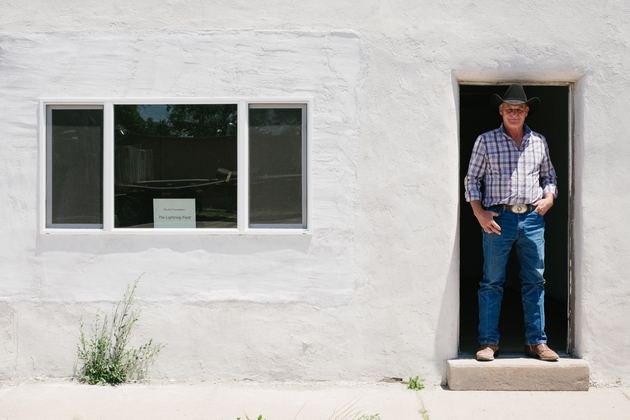 Lam: What are some of the challenges of your job in particular?
Weathers: The biggest challenge is keeping that old cabin in shape. [The cabin] is about a hundred years old. It's got little things that go wrong all the time. I'll get it repaired or fixed by the time we bring our next group out.
Lam: How does your work relate to your identity?
Weathers: I'm not sure it relates a whole lot to my identity. It's totally different from what I've always done. I've worked on ranches, cowboying, until I did this. And this is totally different than cowboying, but it gives me a feeling of satisfaction that I've helped the people see a very cool work of art. I want to make sure the visitors have the best experience they can, [because] they spend a lot of time and money trying to get out here to see it. That's what keeps me going: that I'd like as many people who can to see it to see it, because it's pretty unique.
Lam: Would you say that cowboying or ranch work relates more to how you see yourself?
Weathers: For sure. I miss the horses and the people. It's a hard job, but it was a lot of fun. I really enjoyed it—a lot of hard work with cattle. I miss all of that, but I still get to do it sometimes, so it's not that bad. I'm not very good at expressing myself, [but] this place is my life. I don't know any other place really. I'd feel out of place in a place like New York.
---
* This article originally misstated that the Spiral Jetty was declared a national monument. We regret the error.
---
This interview is a part of a series about the lives and experiences of members of the American workforce, which includes conversations with a hair stylist, a park ranger, and a python wrangler.