An Unprecedented Faculty Lockout
Long Island University told 400 professors and union members not to come back to work when the school year started.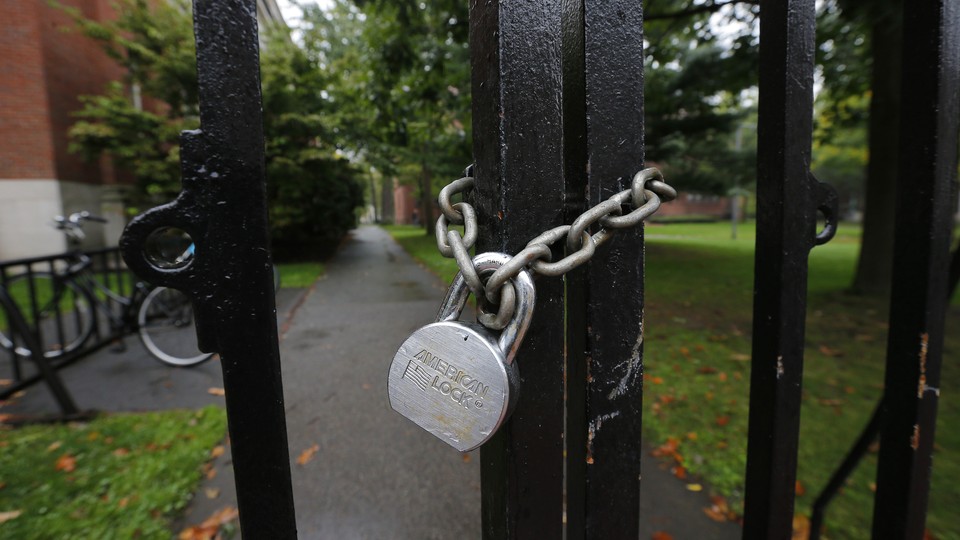 Locking out a university's faculty right before the start of classes seems like a drastic step, but that is just what Long Island University (LIU) did this weekend, when it barred all 400 members of its faculty union from its Brooklyn campus, cut off their email accounts and health insurance, and told them they would be replaced. The move came three days after the union's contract expired. Now, the faculty is furious, and planning rallies and pickets with support from the American Federation of Teachers. On Tuesday, faculty voted 226 to 10 to reject a proposed contract from LIU, and the faculty senate voiced their support for a vote of no-confidence in the university's president Kimberly Cline, 135 to 10. Faculty rallied outside the university's Brooklyn campus Wednesday with a giant inflatable rat as classes began, taught by non-union members.
Labor historians say they can't recall an example of a university using a lockout against faculty members. Kate Bronfenbrenner, a Cornell professor of labor relations, says they're particularly unwise in the service sector, or any sector where a company has clients such as students and donors to placate. More typically, she says, lockouts are used in the industrial sector, where customers are removed from labor practices.
Even so, she said, such a move rarely works. "Historically, lockouts are bad PR in every industry," she said. When an employer locks out workers, the media and the public are typically on the side of the workers, she explained, because workers are available for work but employers aren't allowing them to. "Lockouts normally backfire," she said.
Long Island University is a private institution with two campuses; the main campus, located in Brooklyn, and a satellite campus, called LIU Post, located in Brookville, New York.* Faculty in Brooklyn are paid less, which is one of the main points of contention in the contract negotiations. The other is the treatment of adjuncts; the university says its adjuncts are paid far more than other adjuncts around the city and wants to adjust downward first-year salaries as part of a "commitment to affordability," LIU chief operating officer Gale Stevens Haynes says. (If the labor dispute is resolved, it is expected that the faculty will get their jobs back, but there is no time limit on a lockout, so some faculty may find other employment in the meantime.)
Arthur Kimmel has been an adjunct at LIU's Brooklyn campus for more than 20 years. Under the terms of the proposed contract, he would have his income cut by 30 to 35 percent, he said. That's because, in addition to the $1,800 or so per course he teaches, he has received pay for having office hours and money from an adjunct- benefits trust fund to help defray the cost of health insurance. Kimmel says the university's proposal would eliminate the adjunct- benefits trust fund and payments for office hours, among other cuts. The new proposal would also decrease the number of credit hours he could teach, and establishes a two-tier system for adjuncts so that new employees would receive less than Kimmel does.
"I think that what the administration is doing, and has done from first day of the current president's administration, is gutting the university and creating the archetype of the corporatization of the university, where the interest is not in education, but is purely financial," he told me.
Haynes told me that that locking out its workers is no different in its effect from workers deciding to strike; by locking out the faculty, the university is trying to preempt the union in controlling that outcome. In five of the university's last six contract negotiations with the faculty union, the union has elected to strike, Haynes says. The university wanted to avoid another strike. So it decided to impose a lockout.
"It's become rather routine that at the end of a contract, there is a strike," Haynes said. "We really needed to break that routine."
The university says it wanted to "provide continuity" for students, and wanted to make sure classes still began as scheduled, regardless of what the union decided. So it began to try and find other people to teach its classes. This was not easy: It can be difficult to find qualified professors at the last minute, after all, especially ones willing to cross picket lines. Sam Schreiber, an adjunct professor at New York University who also serves as a student advisor at LIU, was asked to replace the striking professors. He says that as early as July, the university was reaching out to him to get proposed syllabi for a class he hadn't been hired to teach. Then, on August 22, at a weekly meeting, he was assigned a handful of English classes to teach, as a contingency. He was told he couldn't discuss these classes with students or other faculty members. Rather than serve as a scab, he quit. "It seemed like an ethical line that I couldn't cross," he told me.
The dispute comes as students and universities debate rising tuition costs across the country. This includes at LIU's Brooklyn campus, where students last year distributed a "disorientation guide" in part to complain about rising prices. Kimberly Cline became president in 2013 facing a mandate to cut costs as LIU, like many other tuition-dependent campuses, looked for ways to economize. When Cline became president, the university's credit rating was approaching junk status and Cline began to cut administrative positions.
LIU's decision to lockout its employees comes at a time when unions are looking to college campuses as fertile grounds for organizing. As unions decline in manufacturing and the public sector, they're maintaining and even gaining strength in white-collar positions. On college campuses in particular there is an opportunity for unions to build: Grad students and professors are typically more liberal than the overall population and more aware of the potential benefits of organizing. And recent decisions by the National Labor Relations Board have made it possible for graduate students and undergrad student workers to unionize.
"You will see a big surge of this kind of organizing, because from a union's perspective, this is low-hanging fruit," says Ruth Milkman, a professor of sociology at the CUNY Graduate Center.
This is not a welcome change from the university's perspective. "University administrations have become corporate in their mentality, which becomes a commitment to anti-unionism," Milkman told me. Many universities are hiring "labor consultants" who can advise them on how to prevent unions from forming on their campuses, Milkman says.
Worst-case scenario, for the university, would be that the National Labor Relations Board could decide that the university has committed the lockout in an environment of unfair labor practices, at which point LIU would have to pay back wages. But even the best case scenario probably isn't great: Even if the school reaches an agreement with the union and the 400 faculty are given their jobs back, LIU will still be facing budget problems, which may be exacerbated by students staying away. And worse, it will be remembered as the place of higher education that was the first to lock out its faculty. Those wounds could last a long time.
---
* This article originally stated that Long Island University's main campus is in Brookville, and its satellite in Brooklyn. We regret the error.