Can the Working Families Party Keep Winning?
The party scored major victories in last week's Connecticut primary. Now what?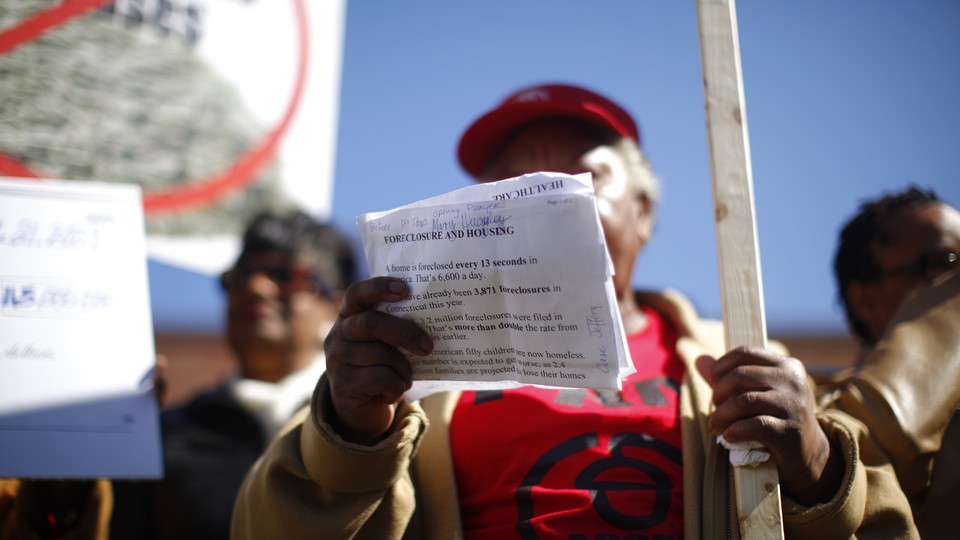 BRIDGEPORT, Conn.—It's an idea that's perfectly aligned with pro-labor politics: Require big companies—such as McDonald's and Walmart—to pay employees $15 an hour, or be charged a fee by the state in order to offset the cost of the public services their employees use.
There was a time when an arrangement like this would have originated with and been supported by a union, but instead, this idea—and a handful of other pro-worker, anti-big-business policies moving forward in Connecticut—comes from the Working Families Party, a progressive political party that has gained strength in Connecticut and across the country. This week, the Working Families Party is launching its proposal for a low-wage workers fee—as they're calling it—and asking supporters to watch a video and sign a petition to get Governor Dannel Malloy behind the idea. The petition reads:
In CT, 83,000 people are "working poor." They make less than $19,968/year while working at least 40 hours a week. That's only $384/week. Can you live on that? Massive companies, like Walmart and McDonald's, are forcing their employees to use public benefits in order to survive.
The Working Families Party has gained the most ground in places like Hartford and Bridgeport, where the state sees its worst rates of poverty and unemployment. In Hartford, the unemployment rate is 10 percent; in Bridgeport it's 8.4 percent. The state average is only 6.3 percent. One-third of Connecticut families struggle to cover the cost of rent, food and basic expenses, according to the United Way, and many of them live in these two cities. Working Families appeals to "people that feel, in many ways, the system has been rigged against them," Gary Rose, a professor of government, politics, and global studies at Sacred Heart University, told me.
The Working Families Party has had some impressive successes nationally as it tries to pull the Democratic Party to the left, as my colleague Molly Ball has reported. Some of its biggest wins have been in Connecticut. It was the Working Families Party, after all, that was instrumental in getting Governor Dannel Malloy elected in 2010. Malloy received 26,308 votes on the Working Families line, and he prevailed over his rival, Tom Foley, by just 20,000 votes. "The fact that they were able to help him win the governorship—I think that's pretty significant," Rose told me.
After taking office, Malloy and the state legislature soon passed a series of progressive, pro-worker laws. In 2011, the state passed the nation's first paid-sick-leave policy, which required companies, even those with part-time workers, to provide paid sick leave to employees. In 2014, the party helped Connecticut become the first state to raise its minimum wage to more than $10 an hour, to $10.10.
But the alliance with Malloy might not be particularly helpful now, as the party tries to launch its next progressive campaign. Malloy's approval ratings are at an all-time low, in part because the state's economy is struggling, and in part because he's cut services and raised taxes in an attempt to close budget gaps. Some observers blame the budget problems on a progressive agenda gone too far. As a result, the state has turned to austerity. "There has been a real reversal of focus," said Ellen Shemitz, the executive director of the nonprofit Connecticut Voices for Children. She added that the state is becoming "more and more reticent in terms of critical strategic investments in infrastructure, in people, in children, and in families." And the party may have challenges ahead nationally, too: Some unions dropped funding of the party after Working Families endorsed Bernie Sanders, splitting with Democrats who endorsed Hillary Clinton.
Yet, in some ways, it might be an opportune time for the Working Families Party. Last Tuesday, all five candidates supported by the party beat out Democrats in Connecticut's primaries to advance to the general election. Two Bridgeport candidates, State Senators Marilyn Moore and Ed Gomes, defeated challengers endorsed by the Democratic Party (both Moore and Gomes were snubbed the Democratic endorsement, even though they were incumbents). Moore won by a whopping 63 to 37 percent against the party's hand-picked candidate.
"Tonight's results are proof positive that there is a significant shifting of the tide in Connecticut state politics," Lindsay Farrell, the state director for the Connecticut Working Families Party, told me on the night of primaries. "People want fair taxation policy and they care about raising the minimum wage, passing paid family leave, and ensuring debt-free higher education."
The legislative successes the party has enjoyed in the past came as it gained ground in local races across the state. In 2007, two candidates running on the Working Families Party line won seats on the Hartford City Council. In 2009, a Working Families Party candidate was elected to the Bridgeport Board of Education."Connecticut has, for a long time, been a leader in the nation in terms of its willingness to invest in family-friendly public policies," Shemitz told me.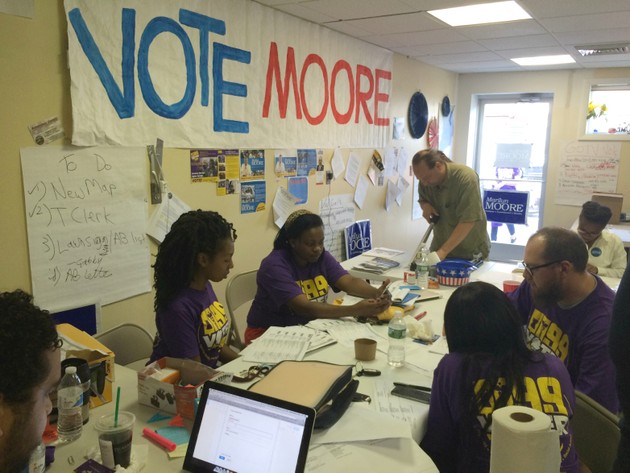 The party seems to still have a knack for electing progressive Democrats over their more moderate opponents. As much of the country is tuned into national races, Working Families in Connecticut is winning local races one by one, determined to have a bigger presence in the statehouse. "Winning those races will help affect the tone of the legislature going into the next year," Lindsay Farrell, the state director for the Connecticut Working Families Party, told me.
The party has managed to succeed, in part, because of its well-run ground game. For a Democrat in Connecticut, getting a Working Families Party endorsement means extra people canvassing, help crafting a message, and a signal to state voters that this is the candidate who is the most pro-worker. "Manpower, boots on the ground, that's what the Working Families Party brought me," Marilyn Moore, the Bridgeport senator, told me. "And nothing is better than manpower—that's what really makes the difference in the campaign."
I visited Moore's campaign office while I was in Bridgeport, where a barefoot man with long hair walked around the office talking on the phone, his toenails painted white and blue. Union members in purple and yellow shirts made calls on behalf of Moore, reminding voters to go to the polls.
I accompanied Dru Lewis, a Working Families Party field organizer, as she knocked on doors reminding people to vote for Marilyn Moore despite the 85-degree muggy heat. Lewis told me that the Working Families Party was her outlet to "do something" about the inequities she saw in her city. Dressed in a signature blue-and-white Working Families Party shirt, she patiently went from home to home, checking her lists to make sure she didn't miss anyone. On the streets of Bridgeport, we ran into a canvasser for Action for Working Families, a separate national WFP fund that backed several progressive candidates in Connecticut this cycle.
The party's latest proposal, the low-wage employers fee, might be a tough sell for a state that has seen the flight of at least two billionaires and the departure of a large company, General Electric, in the past year. But the state is nevertheless putting some effort toward progressive pro-worker concerns. Last year, it formed a 13-member advisory board to look at the effects of low wages in the state and how they drove usage of public assistance. And last month, the city of Bridgeport held a hearing on the challenges affecting low-wage workers. Those initiatives aren't themselves changes in Connecticut's law, but they are the signs of the impact the WFP is having on the state's politics.