Will D.C.'s Housing Ever Be Affordable Again?
Over the next decade, the city's demographics will change dramatically, and housing policy will largely determine who gets to stay.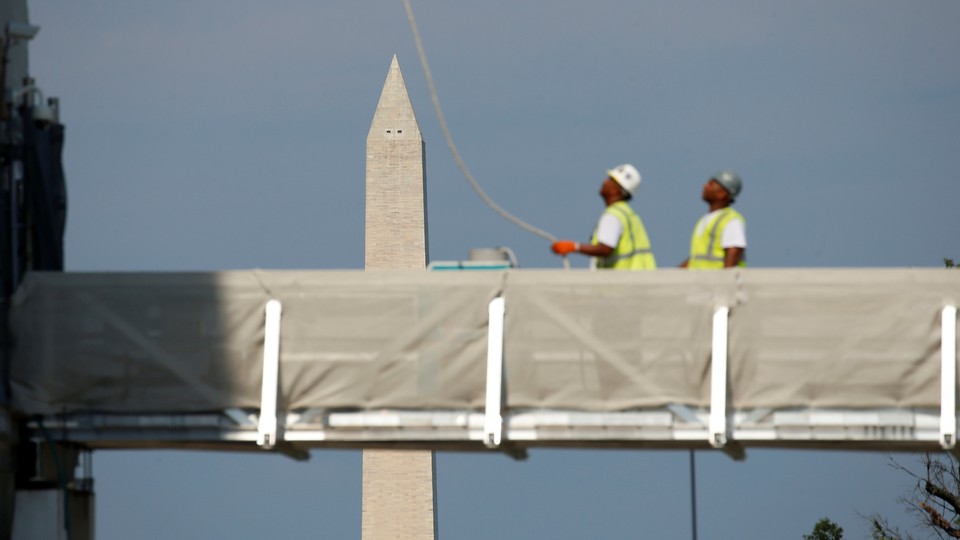 D.C.'s affordability problem arrived and grew—rapidly. For low-to-middle income households, average monthly rent in the District has gone up by between about $50 to nearly $400, adjusted for inflation, between 2002 and 2013. The number of apartments that cost less than $800 per month, adjusted for inflation, was nearly cut in half in that same time period. Incomes, meanwhile, have remained largely the same.
Now, D.C.'s government is trying to ramp up efforts that would ease some of the pressure on the housing market and help more middle and low-income residents stay put. To do this, they're relying on a mix of tax dollars from their own coffers and federal housing funds. Already, in the past two years, the District has significantly ramped up its own spending on affordable-housing projects in an attempt to create and rehabilitate more housing. The District anticipates that its largest federal funds will come in the form of an annual $13.7 million infusion from the Community Block Grant Development program. Another effort, known as the HOME program, will provide $3.7 million each year, and a grant from the National Housing Trust will dole out around $3 million a year for programs targeted toward residents who make less than 30 percent of area median income. The federal funds provided will be used for things such as grants and subsidies for housing, for improving public facilities and amenities in poor communities, rehabilitating old buildings so they can be put back into use, making much-needed upgrades to housing stock, and erecting additional affordable housing units.
Still, the gaps between what policies and plans can provide and what is actually needed are vast. Claire Zippel, a housing associate at the D.C. Fiscal Policy Institute, says that despite the fact that the city has spent a record amount on affordable housing in recent years, housing still accounts for only 3 percent of the city's total annual budget. "That's an absolutely tiny share compared to the investments we make in other critical areas like education, public safety," she says. According to Zippel's research, meeting the housing needs of all D.C. residents would require an investment of around $5 billion. The city's local-funds budget (the portion that is directly controlled by the Mayor and city council and not subject to Congressional oversight) is around $7 billion. "Those numbers are not going to add up," she told me.
One tool that the District can rely on that won't bust its budget is inclusionary zoning. Through this program, developers who want to erect or rehabilitate properties in D.C. that either include 10 or more units or meet certain space thresholds must set aside a number of units to be doled out at lower prices. To make up for the lost rent revenue, builders are given a "bonus density," which allows them to create a building that's 20 percent larger than what the District would normally allow for their zone. The threshold for who can rent these affordable units varies a bit; some places require that these tenants earn less than 50 percent of area median income ($55,000 for a family of four); in other buildings, the threshold can be as high as 80 percent of AMI (around $87,000 for a family of four).
But because those thresholds can vary so widely,  some have argued that this approach provides housing assistance where it isn't most needed.  "It's just not the best use of our resources," Zippel told me.
Polly Donaldson,  the head of the Department of Housing and Community Development, says that she understands those who would bristle at affordable units being set aside for those they see as high earners, but argues that it's important for the District to provide affordable housing on a continuum to stop the kind of displacement that occurs when rental prices rise. According to a report from the Urban Institute, about 40 percent of the apartments that would be affordable for the lowest-income tenants are instead occupied by households who could afford to rent a more expensive place. "What we're trying to do is prevent pressure from being applied in some of these other neighborhoods—Eckington Trinidad, Bloomingdale—where some people are moving to these more affordable places and some residents at the lower end of the income scale are at risk of getting pushed out due to the competition over rents," Donaldson said. Additionally, the inclusionary-zoning strategy can help families get a place in much nicer neighborhoods than they would otherwise be able to afford—not an immaterial achievement, as such neighborhoods often provide access to jobs, retail, good schools, and all of the other trappings of economic privilege, which research has shown can have a major impact on outcomes for kids and families.
Inclusionary zoning, to be sure, isn't the only tool the District is looking at—nor do city leaders think that it will solve the problems of the lowest-income residents. To help those groups whose needs aren't met by inclusionary zoning there's the Housing Production Trust Fund, which provides funds to help efforts with affordable rentals specifically for those earning less than 30 percent of AMI. The 2017 budget allots $100 million to the fund. But a recent audit raises questions about whether or not the fund is in fact spending as it should on low-income residents, or producing as much housing for them, as reported or required. There's also Section 8, interventions such as "rapid rehousing," and last-ditch services such as shelters—though all of those programs have become severely strained as D.C.'s housing crisis deepens.
Whatever the cause, the pace of affordable housing creation is simply too slow. "We'll produce or preserve around a thousand affordable housing units a year in D.C.," Zippel told me. "We have 50,000 low income people in D.C. who are severely burdened by housing costs." The problem is not just creating new housing, but stemming losses as costs rise and landlords opt out of their subsidies in order to take advantage of the ballooning market rates, such as at the Museum Square apartments in Chinatown, where long-time residents have been fighting eviction after their landlord's affordable housing contract expired.
Such situations could occur even more frequently in the future, that's part of the reason that preserving the affordable housing that exists is such a major concern. "Preserving a unit that's already affordable is a lot cheaper than building a new unit," says Elissa Silverman, a council member and part of the mayor's housing preservation task force. "We're making a much bigger investment this year to maintain those affordable units and get the vacant units back online."
Many critics of D.C.'s housing strategies lament the fact that the District has done little in the way of using existing buildings for the purposes of affordable housing, or ensuring that existing affordable units and buildings remain that way for as long as possible. On top of that, some have said that the District has been slow, if not irresponsible, when it comes to rehabbing vacant properties that are government owned.
The plans that the city has put in place—increased spending and a preservation task force, for example—are a start, Zippel says, but there are still some major concerns with whether or not the city is doing enough, and how much bureaucracy is inhibiting progress. The Tenant Opportunity to Purchase Act (TOPA), which could allow residents of affordable units to purchase their building instead of facing eviction, is an option, but one that is not as widely used as it could be in order to maintain affordability. And there have been challenges for those who have tried to use it. District Opportunity to Purchase Act (DOPA) would in theory, allow the city to step in to purchase buildings like the 302-unit Museum Square building in Chinatown, which was being taken off of the affordable housing market in favor of the private market, and keep them as affordable units. DOPA, Silverman says, would be helpful in the case that a TOPA attempt failed. But despite being passed in 2009 the act remains unusable because of the lack of regulation surrounding it, she says.
Just this week, the mayor's office announced a week-long review of the D.C. Department of Consumer and Regulatory Affairs, a $44 million agency responsible for a number of tasks, including keeping the public informed on topics such as vacant buildings, and building permits—that could help residents and the District preemptively deal with housing issues, something that residents say they have long failed to do. And the D.C. Housing Authority, which operates public housing for some 20,000 families in the District, says that it would need more than $1 billion more to provide adequate housing standards for residents.
There's no question that the landscape of D.C. will continue to change dramatically in coming years. Already, the demographics of the city have been remade. The choices and plans that the city prioritizes regarding housing will have a huge impact on what the future of the nation's capital looks like, and who ultimately gets to live there.