The Unexpected Progressivism of a Burger-Burrito Hybrid
The Whopperrito is the messy culmination of America's long and growing embrace of Mexican-inspired food.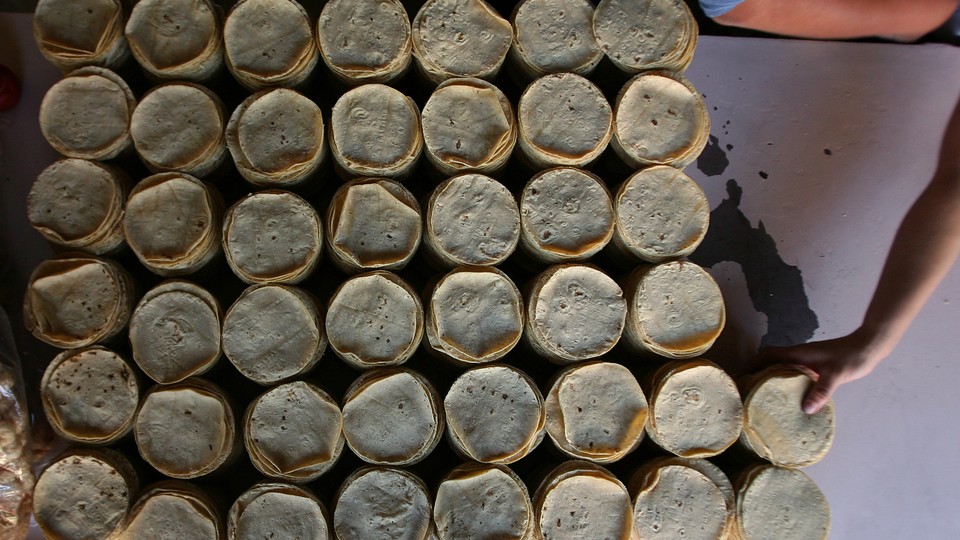 On Monday, to the joy and bemusement of many, Burger King unveiled the Whopperrito, a

limited-time item

that marries burger with burrito. "We're infusing classic American fare with Tex-Mex flare," said Alex Macedo, the company's North American president, in

a press release

.  
There's a lot to unpack there, even if unpacking almost certainly runs against the entire idea of a burrito. Thick queso sauce in lieu of ketchup and mayo and cheese? Pickles inside a burrito? While a true Whopper loyalist might already be intrigued, this hybrid foodstuff is revelatory in ways beyond its fleeting availability. The Whopperrito as a featured item on the menu of America's second-largest burger chain seems like a good opportunity to reflect on the wildly successful saturation of Mexican-inspired food in the United States.
"Yet another achievement in the evolution and devolution of Mexican food in America," Gustavo Arellano, the author of Taco USA: How Mexican Food Conquered America, said of the Whopperrito. "Every decade there's a new trend in Mexican food in the United States that Americans go crazy over. And they get over that, but they just assimilate it into their diet."
And assimilate, they have. As the Associated Press

noted in 2013

, tortillas now outsell hamburger and hot-dog buns in the United States, and tortilla chips are more popular than potato chips. Salsa, as

it's been well documented

, dethroned ketchup as America's most popular condiment decades ago. And though the definition is admittedly loose and questions of authenticity constantly linger, according to data from the U.S. Economic Census, the number of Mexican restaurants

has surpassed those of their Italian and Chinese counterparts

in the United States in recent years. Meanwhile, casual restaurants as well as purveyors of frozen and packaged foods

are adjusting their offerings

to feature more Mexican, Tex-Mex, and Cali-Mex standards or ingredients. A burgeoning affinity for Mexican-style food is also increasingly evident in

Canada

and

Britain

.
Mexican food, though, has not made the same inroads into haute cuisine. As my colleague Joe Pinsker

noted last month

, there remains a marked difference in both the perception and price of steak frites, the French bistro staple, and carne asada, a high-caliber Mexican parallel. Meanwhile, back in April, my colleague Emily Deruy chronicled the

critical embrace of

upscale Mexican dining, which has been slower in coming than that of some other immigrant cuisines.
Pointing to the prevalence of rice and beans in the diets of American soldiers in World War II, the

selling of tortillas in cans in 1950s

, and the rise of Taco Bell in the 1970s, Arellano shrugs at the notion that a surge of Mexican or Mexican-style fare is truly emblematic of anything new in the United States. But that isn't to say that there isn't a cultural change underway as American palettes and demographics shift. "Mexican food is less a curio now," he says. "It's something that a new generation of children is growing up with."
The cuisine has been demystified (and, yes, bastardized) as it gets distilled through an American culinary lens, and this familiarity has produced an odd dynamic: "Right now you have a lot of people who hate Mexicans, but they'll freely admit, 'I love Mexican food,'" Arellano says. Picture President Gerald Ford

trying and failing to eat an authentic tamale

in San Antonio in 1976 and then hold that against the image of Donald Trump's

infamous taco-bowl diplomacy

of 2016.
"One of the first ways that the dominant culture demonizes migrant culture or minority culture is by ridiculing their food as inedible," Arellano explains. "That's why in American ethnic slurs you get jokes about 'Montezuma's Revenge,' 'greaser,' 'beaner,' all those stupid slurs. You don't really hear that very much about Mexican food anymore."
Enveloping things in tortillas seems to be one of the ways American cuisine welcomes immigrant foods: Burger King's burger-burrito mash-up is the latest and most mainstream entry in the growing American stable of wrapped hybrids that

now includes

Japanese, Korean, Jamaican, Filipino, Indian, and Chinese analogues, just to name a few. (Don't bother Googling it—

there is a poutine burrito

.)
It's taken decades for Mexican cuisine to reach Whopperrito-level familiarity, but here it is, and it's a sign of progress.