What Walmart Gets From Jet.com
The world's largest retailer has acquired a new customer base, proprietary pricing software, and the faculties of a CEO who's taken aim at Amazon.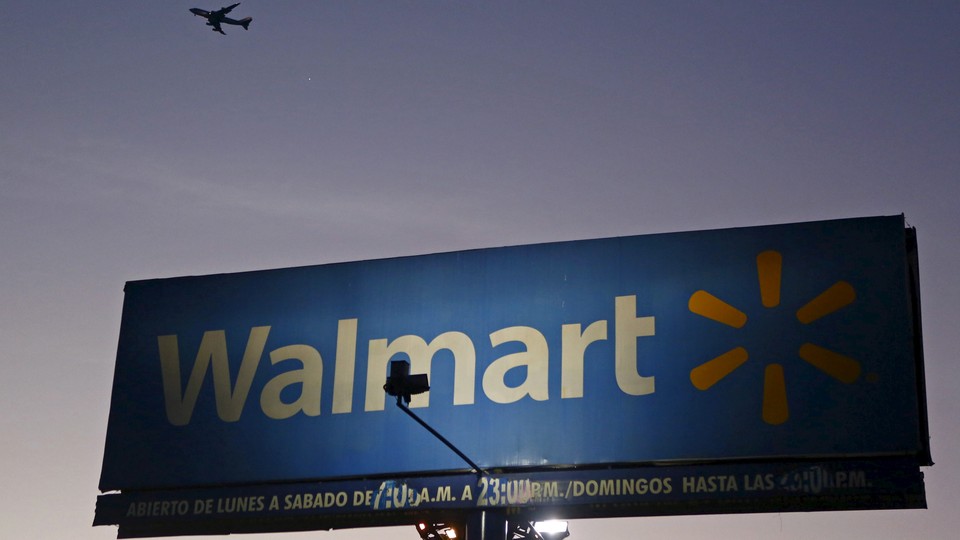 Last week, there were whispers that Walmart was in talks to buy e-commerce retailer Jet.com. On Monday, Walmart announced that the acquisition would be moving forward, at a cost of $3 billion in cash and $300 million worth of Walmart shares. The two brands will not be combined, but both companies are looking to take advantage of each other's strengths to offer low prices online.
The deal is a way for both companies to challenge their primary competitor, Amazon. For Walmart, Amazon has become an existential threat as more Americans have been buying household items online: Amazon's 2015 sales revenue included nearly $80 billion in product sales, and the company accounted for 60 percent of the year's growth in U.S. online sales growth. Walmart's sales, overall, still far outstrip Amazon's at $482 billion, but its e-commerce sales, at $12.5 billion— just 2.5 percent of its total sales—have been slowing in the past two years. In a call with investors regarding Walmart's second-quarter earnings in May, CEO Doug McMillon said that growth in its e-commerce sector wasn't fast enough.
In the past decade, Walmart has largely focused on its sales in its physical locations. But earlier this year, the company announced the closure of over 150 U.S. stores, and while it still has about 4,600 of them, it is looking for growth that pairs its massive brick-and-mortar scale with robust online retail.
There are a few specific things Walmart will acquire in the Jet.com deal that might aid in the company's fight to fend off Amazon. First is a new crop of customers. Jet reports that it has a growing base of "urban and millennial customers" and that it adds 400,000 new shoppers a month—a level of growth that is likely very appealing to Walmart. Second is technology: Jet uses an algorithm that minimizes supply-chain, logistics, and shipping costs, as well as software that shows different prices to different customers. It's been speculated that this pricing technology is a main component of the deal.
The third piece, interestingly, is Jet.com's CEO, Marc Lore. Recode reported that Lore will continue to run Jet, but will also run Walmart's e-commerce after the deal closes. It's likely that Walmart will be looking to Lore for creative ideas when it comes to online retailing, as Lore has spent the past decade competing with Amazon. And he's been successful: Lore sold his company Quidsi, which owned Diapers.com and Soap.com, to Amazon for $550 million in 2010. But more recently, Lore has been open about being anti-Amazon; a Bloomberg BusinessWeek profile of him reported that he was "preparing to assault it" with Jet.com.
The Walmart-Jet deal is expected to close this year, and with McMillon and Lore setting their aim on Amazon, it looks like the beginning of a long price war between the internet's biggest American retailer and the combined forces of its two rivals.