Why Are American Workers Getting Less Productive?
For most of the last year, employees haven't been getting as much done with their time at work. What's happening?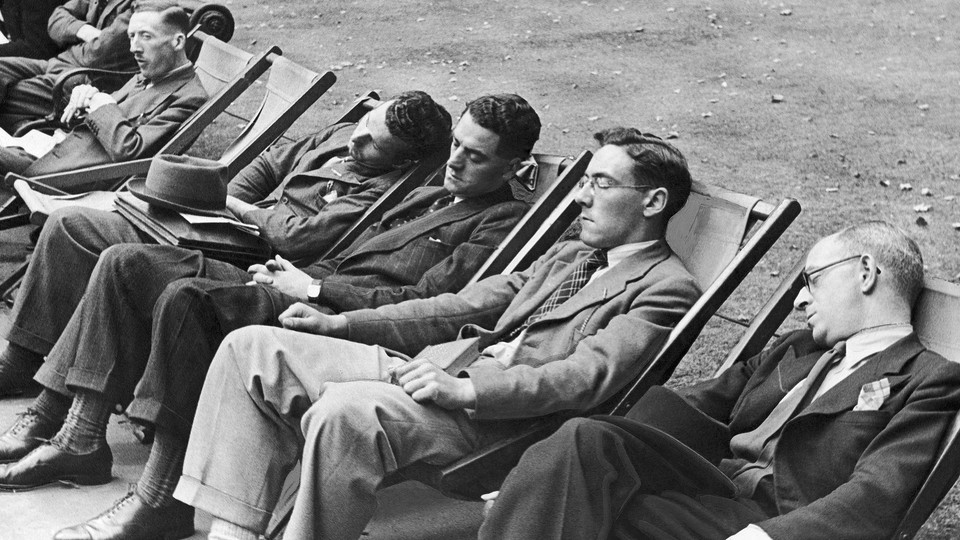 On the heels of July's jobs report, which

crushed expectations

, the positive news was tempered a bit after U.S. worker productivity

dropped for the third straight quarter

.
Economists had predicted that the productivity rate would improve modestly; instead it fell
by 0.5 percent in what Reuters characterized as "the fastest year-on-year pace of decline in three years." The drop extended an ongoing slide in worker productivity—the longest such dip since 1979.
The worker productivity rate is gauged by the output of goods and services produced for each hour worked. Ultimately, a decrease in that rate suggests that Americans are working more to create less. When held against more uplifting recent economic news, including the 500,000 jobs created in the past two months alone and

a perking-up of wages

, lower efficiency could have a surprising bite, potentially lowering long-term income and living standards, as well as encouraging the Federal Reserve to keep interest rates low.
So what gives? Well, according to one economist, it has little to do with social-media-inspired slacking off and more to do with workers having outgrown existing technology. "We have an $18 trillion economy," explains Robert Gordon of Northwestern University, whose book The Rise and Fall of American Growth came out earlier this year. "Most of it is operating by the same business methods and procedures that have been in place for at least 10 years."
Gordon links the productivity boosts of recent decades to the proliferation of time-saving technology that enabled workers to be more organized and streamlined business processes. "We had a great revolution in the 1980s and '90s as businesses transitioned from paper, typewriters, file cabinets to personal computers with spreadsheets, word-processing software," he adds. "And then that revolution was accompanied in the 1990s by the internet, by free information through search engines, through e-commerce, and doing away with paper."
Without a correspondingly groundbreaking set of innovations in recent years, productivity growth has not only shrunk in the last three quarters, but in four of the last six. Further enfeebled by an unsteady global outlook, the U.S. economy

has been expanding much more slowly

than forecasts predicted. "In much of the economy," Gordon says, "daily practices of business methods are not being influenced by the recent innovations in terms of robots, smartphones, or the other things that have happened more recently."
Part of the solution to slumping productivity may be to wait. Earlier this week, my colleague Gillian White wrote that the

beneficiaries of an increasingly tight labor market

may be low-skilled workers and Americans without college degrees or high-school diplomas. That same labor-market dynamic

could lead businesses

to, upon seeing a smaller pool of potential employees, shift their focus to investing more in technology and operations that will allow workers to be more effective.