Why Losing China Will Probably Be Good for Uber
The company has struggled to compete with Didi Chuxing, the world's largest ride-hailing platform, on its home turf.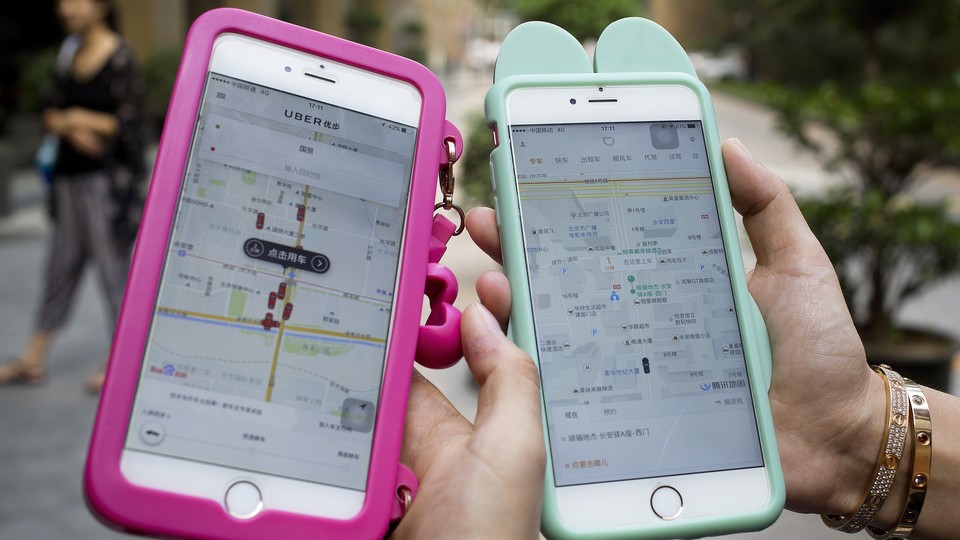 On Monday, Uber announced that its operation in China will be sold to its competitor Didi Chuxing. The deal, which will create a company worth roughly $35 billion, has been largely seen as a truce in China's burgeoning ride-hailing industry. Both companies have spent billions of dollars to capture market share, and combining them will end such spending sprees, as well as make the industry as a whole much less competitive. In return, the New York Times reports that Uber's investors will receive a 20 percent stake in the new company. Didi Chuxing will also invest $1 billion in Uber's international operations.
UberChina is only three years old, but it has failed to gain ground against Didi Chuxing. The Chinese company, which has been operating since 2012 and merged with another competitor, Kuaidi Dache, last year, is valued at $25 billion. The company has powerful backers—including Apple, Alibaba, Tencent Holdings, and China Life Insurance—and recently raised another $3.5 billion from its investors.
Another reason the two companies might have chosen to end the ride-hailing battle is the announcement of the Chinese's government's new guidelines, which reportedly will go into effect November 1. Those rules legalize ride-hailing apps but, among other things, mandate the elimination of "below cost" pricing, which will take away a main tool the two companies have been using to compete with each other.
Though this means Uber is waving the white flag, the deal is a favorable development for the company. "It's a truce, but it's also a victory for Didi and it's a smart victory for Uber," said Arun Sundararajan, a professor at New York University's Stern School of business and the author of the book The Sharing Economy: The End of Employment and the Rise of Crowd-Based Capitalism. "The only real existential threat that Uber faces is the fact that they are trying to win China, and they're burning a lot of money trying to gain market share in China in the face of a much larger and well-funded domestic competitor." Sundararajan says that the deal takes China off the table, and, with it, the worries of many potential Uber investors.
Though Didi has reported that it is turning a profit in more than half of the 400 cities in China it operates in, taking Uber out of the equation could speed its progress. "I think in the U.S., we underestimated that scale but Didi has way more drivers in China than Uber, Lyft, and all the other services have put together around the world. They have 14 million drivers and 300 million passengers; they are the single largest ride-sharing platform in the world by most metrics," explained Sundararajan. Travis Kalanick, Uber's CEO, also wrote in a blog post that both companies have spent billions of dollars competing without turning a profit, and that getting to profitability was key for the both companies in the longterm.
While, according to Bloomberg, the deal is still awaiting government approval, Uber's retreat from China after an aggressive push is perhaps a sign for other technology and internet companies. As The Wall Street Journal noted, no internet company has been very successful against China's home-grown companies.