The Twilight of Fox News
As pay TV slowly declines, cable news faces a demographic cliff. And nobody has further to fall than the merchant of right-wing outrage.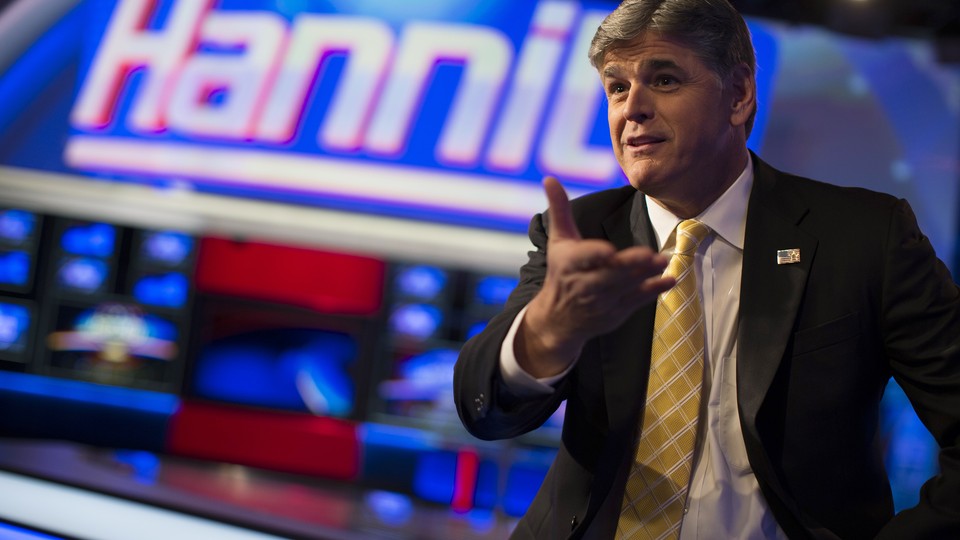 Updated at 12:05 p.m.
October 7, 2016, will be the 20th birthday of the Fox News Channel, and at the moment, the network is experiencing the soap-operatic highs and lows typical of any teenager on television. In many ways, the summer of 2016 may go down in Fox News history as the company's nadir. Its founder and leader Roger Ailes has been dishonorably dispatched, the remaining executives are dealing with a flurry of sexual harassment lawsuits, and one of its most public faces, Sean Hannity, has ignominiously remodeled himself as a gutless Trump whisperer.
And yet Fox News' fortunes are ascendant, at least in the most quantifiable sense. The network's annual profit in 2015 soared by about 20 percent. For the first time ever, Fox News has been the most-watched cable network among both primetime and daytime viewers for several months, with a larger audience than its nominal rivals, CNN and MSNBC, combined. Led by "The O'Reilly Factor," Fox News doesn't just have the best-rated news show on cable television; according to The Wrap, it has the 13 best-rated news shows on cable television.
With Ailes out, the future of the network is in the hands of the younger Murdochs, who take the helm of a network that seems to be both drowning and soaring, at a time when television audiences are fleeing the big screen of the living room for other devices. The dilemma: Does Fox change course to attract a broader audience in a period of fragmented viewership, or rededicate itself to the formula of hyperpartisan infotainment that made it the reigning emperor of cable?
Fox News' situation is reminiscent of another television behemoth. Several years ago, ESPN enjoyed a similar dominion in the cable kingdom, as the self-anointed worldwide leader in sports. Just as there is no remotely equal challenger to Fox News on cable, there had been no real rival for ESPN in cable sports.
But today, ESPN is the victim of a broader turn away from pay TV. After peaking in 2011, the number of households that pay for ESPN declined from 100 million to about 92 million in 2015, as younger families cut the cord, or bought cable bundles without ESPN, or never got pay TV in the first place. (For any product to receive $8 a month from 90 million households, as ESPN does today, is a remarkable achievement; however, in business, as in sports and politics, all narratives are present-biased, and the trend line has not been kind to ESPN.)
The lesson to take from the worldwide leader's slip is that star broadcasters, brilliant programming, and sparkling production value are nothing compared to the sheer force of demographics and the evolution of media technology. ESPN is the leading broadcaster of live sports, which are valuable for distributing live advertising, and so the network became the most expensive channel for cable companies to carry. ESPN's high price used to be a badge of honor, but in the age of cord-cutting, it's an albatross. Carriers have been eager to offer slimmer packages that don't include the worldwide leader. Meanwhile, the demographic most likely to become new ESPN devotees—young men—are part of a generation that is significantly less interested in pay TV in the first place.
Turning to Fox News, many of these patterns are reappearing. Like ESPN, Fox News presides over a small monopoly on a certain demographic—not of young male sports viewers, but of older male conservatives. Fox News sometimes seems to lear above the political landscape like an ominous village volcano. But in the larger picture, the channel's presence is best described as a medium-sized hill: The network averages about 2 million viewers each week, and Bill O'Reilly's show fetches a bit more than 3 million. "Well, that's a lot more than you," a Fox News personality might retort when confronted with such accusation, and indeed, it is a lot more than me. But in an election with more than 120 million projected voters, it's really not so many.
Fox News is "mainstream" only by the modern and severely diluted definition of the term; Walter Cronkite once pulled audiences in the tens of millions. By any reasonable calculation, Fox News is niche. And its niche is old white men. Cable news is a gerontocratic kingdom where Fox News serves as king. The median age of Americans watching CNN, MSNBC, and Fox News is over 60. Half of Fox News viewers are over the age of 68.
Television is particularly popular among men, people who didn't go to college, and people over the age of 70, which is a great description of a predictable conservative. (Retired seniors watch more than 50 hours of television a week.) Indeed, this older male group is not only ready-made for cable-television-viewing; it comes prepackaged with extremely conservative views. Over the last three general-election cycles, the 65-and-up group voted for the GOP presidential candidate by an average of 9 percentage points.
This is Fox News's secret sauce: not production values, personalities, or entertainment, but demography. Old men are the most dependably conservative of any age group, and old men watch the most cable news of any age group. Fox News' core demographic—and, by the transitive property, its success—is a fortuitous alignment, the perfect captive audience for an interminable documentary of the conservative outlook on American life.
The press critic and columnist Jack Shafer suggests a respectable future for Fox News, in which the merchant of right-wing outrage and conspiracy politics sees the light of civic journalism and goes straight. Shafer encourages the Murdochs to broaden Fox News's appeal and "tilt the network harder in the direction of conscientious journalists like Megyn Kelly and Chris Wallace, and away from its honey badgers—notably Bill O'Reilly, Sean Hannity and the Fox & Friends crew."
One suspects that an erudite press critic at a coastal news publication who urges Fox News to metamorph into a conservative version of PBS is thinking of his own audience rather than that of Fox News. Ailes built a media empire by broadcasting conservative septuagenarian catnip and forcing infrastructure companies to pay it billions of dollars in fees, lest old retired men use their copious free time to call Comcast and complain that they can't get their favorite show.
There is not much precedent for expensive investigative journalism finding a dependably large audience on cable. Instead, the formula for driving profitable viewership on cable news is one that Hollywood learned several decades ago: Find your hero or antihero, and churn out as many sequels as viewers can take. On CNN, which has transformed rather deliberately into an all-day buffet of Trump banter, viewership rose 38 percent in 2015, more than Fox News or MSNBC, to reach its highest viewership in seven years. In the first quarter of 2016, its primetime ratings grew 159 percent annually.
But when it comes to building blockbusters around heroes and villains, CNN is the Padawan and Fox News is the Jedi Master. Its genius was in recognizing the appeal of simple recognizable demons, like Hillary Clinton, Barack Obama, politically correct teenagers, and the remainder of America's occult army of radical socialist secularists. The wealth of Fox News and the rise of Trump-obsessed CNN suggests that most cable-news devotees probably don't watch television to challenge their incoming assumptions and to learn that the world is complex.
But like ESPN, Fox News's present-day strength is its future weakness: Its success is concentrated among men well into their retirement.There is no polite way to say this, so one might as well be explicit: People don't live forever. If the future of your business relies on a dramatic and sudden extension of average human lifespans, your ten-year outlook is murky.
A smart case for Fox News' sustainability—and that of the cable industry—is the overall aging of the country. The share of Americans over the age of 75 is projected to grow by more than 40 percent this decade. But it's not altogether clear from current viewing patterns that today's middle-aged conservatives are destined to become tomorrow's Fox News devotees. (In other words, conservatism may be an age effect, but cable news devotion is more of a cohort effect.)* It is also not clear that younger generations of conservatives are eager to pick up where their parents and grandparents left off. Today's young people are less likely to be Republicans than their parents, less likely to watch cable news, and even less likely to pay for cable in the first place. Those who gravitate to conservative views seem more likely to align themselves with digital platforms, like Breitbart.
Fox News' chief rival isn't CNN, The New York Times, or even Facebook. It's time. The average age of a Fox News viewer is about 70. The average life expectancy of a white American male is about 80. Fox News may continue to trounce CNN and MSNBC, but mortality will provide awfully stiff competition.
_________________________________________________________________
* This article has been updated to clarify the potential risk of a dwindling audience and include the projected growth of older Americans.