Life as a Teller in the Age of the Automated Teller Machine
Desiree Dixon, who works at Navy Federal Credit Union, talks about the parts of her job that require a human touch.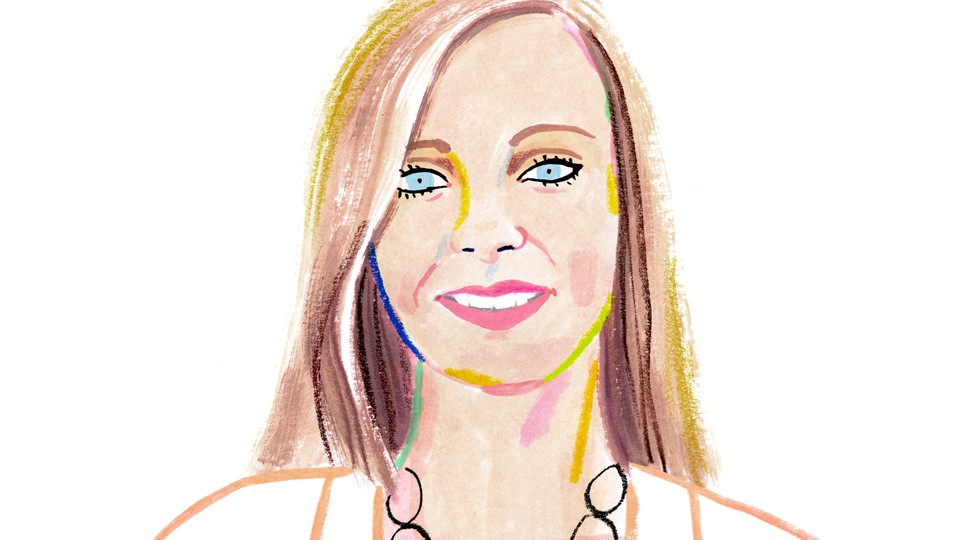 The bank teller is often discussed as a prime example of a job that's at risk of being automated. But economists also frequently submit tellers as evidence that when technology displaces some tasks, it can free workers up to do things that require more human expertise. So, as ATMs have become increasingly commonplace, the job of tellers has changed from handing out cash to offering customers advice and selling them new financial products, and according to the Bureau of Labor Statistics, there are nearly half a million bank tellers currently working in the U.S.
Desiree Dixon is a senior member-service representative at Navy Federal Credit Union, the largest credit union in the U.S. and one that serves the military and their families. Dixon is married to a service member who works at the credit union's Fleming Island branch in Jacksonville, Florida. For The Atlantic's series of interviews with American workers, I spoke with her about how she relates to her customers and what she helps them figure out. The interview that follows has been lightly edited for length and clarity.
---
Bourree Lam: What do you do and how did you get into it?
Desiree Dixon: I am a member-service representative at Navy Federal Credit Union, and what that entails is assisting members with their financial needs when they come in. Those financial needs can vary from just basic transactions—as in deposits or withdrawals of cash—all the way to submitting loan applications for vehicles, personal-expense loans, and even submitting applications for mortgage loans.
How I got into it is a little bit interesting. When I was in high school, I really wanted to be an auto mechanic. It sounds crazy, but when I was going through orientation at 17 years old, I told my sponsor from my high school what I wanted to do. They deterred me from being an auto mechanic, saying that it's not necessarily a successful field for females. I started talking to them about what kind of fields might be successful for a female, and they pointed me in the direction of banking and finance.
While I was a junior in high school, I did a regional occupational program for money and banking. I started working at a small local credit union when I was 17, as a teller. Fourteen years later, here I am with Navy Federal Credit Union.
Lam: How did your career start at Navy Federal Credit Union?
Dixon: A little over three years ago, I had been working part-time at Home Depot in the flooring section. I was going through some medical issues, and I wasn't able to work full-time at that time. I worked there for maybe six months, and I was just using it as a stepping-stone to get back into the finance industry. I applied with Navy Federal Credit Union as a part-time member-service representative, and within a few weeks I was hired. At that time, I was working for one of the busiest branches in our region here. From then, I went from part-time to opening the Fleming Island branch. I slowly made my way up from the member-service representative levels, and then now I'm a senior.
Lam: And you're a military spouse as well?
Dixon: I am, yes. I'm originally from Northern California, and in Northern California there aren't a lot of Navy Federal Credit Unions. We have the Travis Air Force Base, which is in the Bay Area, so Navy Federal was never an actual financial institution that was on my radar. My sister and my brother-in-law, they're active duty in the Navy and they lived in the Jacksonville area. I went through some hard times in California, and decided to make a move out to Florida. Then I met my husband, who is also active duty, through my brother and my sister. I'm also a Marine Corps brat, so I grew up military as well. It's always been instilled in me in the way that I was brought up.
Lam: Is that part of what drew you to Navy Federal Credit Union when you were trying to get back into the industry?
Dixon: It did, and part the reason is because when you walk into a Navy Federal, [the staff] really understands what you go through as a military spouse or your family being in the military. Unless you're in that situation, or you have people in relation to that, there isn't that understanding. When your husband or your sister is out to sea and they're deployed, and you're trying to get business taken care of—you may have a power of attorney and it's in their name. Navy Federal really understands that those things occur.
My husband—he was my boyfriend at the time—said that Navy Federal had been a great financial institution for him. He suggested, "Why don't you get into working with them?" Especially now, there's a possibility we can be transferred to another location. The majority of the bases in the area are going to have a Navy Federal, so I would also be able to continue my career as he continues his.
Lam: What's a typical day like for you? On top of basic transactions, you also handle mortgages?
Dixon: When it comes to mortgages, we're the first stepping-stones to the entire mortgage process. Members will come in and they will talk to us about what they're looking for, some ideas that they may have, whether or not they're currently working with a realtor, what kind of a time frame they're looking at purchasing a home—and we give them some insight on different loan programs. Then, we submit the initial application in-branch for that loan. Once we submit, it goes to our loan officers and our loan processors. They do all of the detailed and behind-the-scenes work of the actual mortgage. Here at the Fleming Island branch, we probably do one to two mortgage requests a day.
I would say the majority of our requests, based on where our branch is located, are for the savings types of accounts, such as certificate of deposits, IRA accounts. We also do a lot of vehicle loans. Those are the everyday, 10 to 15 times a day, transactions that we do.
Lam: Is it important to you that these types of financial services are tailored to military service men and women?
Dixon: I think it's very important. For me personally, I like to be able to relate to all of my members. I think that that's why I'm so successful at what I do. I can always find a way to relate, and being a military spouse, I'm able to give them some insight on my personal life. I can tell them what my husband and I have done when it comes to savings, purchasing a home, or buying a car. I'm able to relay that information to them. Our members trust what we're saying and what we're about.
The fact that we can offer the VA loans for our members is wonderful, because they typically don't know where to start when they're looking at using their VA benefits. They assume that they're going to have to do a lot of legwork, in regards to seeing what their eligibility is. Once we submit the application, our processors and our mortgage department takes care of finding out all of that information, and we do all of the legwork behind the scenes for our members.
That eliminates a lot of stress on them. Usually when our military members are looking to purchase a home, it's because they've just gotten to the area. So, not only are they transferring from across the country or even internationally, but also they're trying to get children enrolled in school. They're trying to find a home to live in, and then their spouse is now at a new command and trying to get to know everybody there. Typically, it's a pretty stressful time for our members.
Lam: Tell me more about how relating to your members makes you successful at your job.
Dixon: I think the main reason I'm able to relate is because, although I'm younger, I've gone through a lot of hardships in life. I'm able to relate on a personal level with our members and their needs: from being brought up not having your parents teach you financial information—such as how to balance the checkbook, how important credit is, to filing for a bankruptcy, credit issues, and struggles with payments.
I've been there, so I'm able to relate to them. It gives them good insight that they're not the only ones going through these difficult situations. It really gives them a sense of security in knowing that not only Navy Federal is here to help them, but I am as well.
Lam: Does that aspect, of you being able to relate to your members, help you in tough situations? What happens when they can't pay their loans, for example?
Dixon: The first thing I always do is I talk to our members about maybe what's going on in their life. Do they have medical issues? Is one of them currently unemployed? Are they going through the transition of becoming a civilian [after] always being military? You're not going to be able to make it this month, but what has led up to you being here? I look to find different ways in, and not just, "Hey, you're going to be delinquent on this payment."
Then, what can be done in order to get them on a better track? Maybe they don't end up having to make a late loan payment: We can submit a request for a modification on an auto loan, so that it extends the term out. Just little things like that, where you just find any way you possibly can to eliminate a lot of the stresses for them.
When it comes to an actual delinquent loan, we don't deal with those types of loans in-branch. What we would do is we would send those requests up to either the personal-finance-management department or our actual collections department.
Lam: So you took a break from banking, but you've been working in the industry since you were 17 years old. Can you speak to whether the way people borrow money has changed? Particularly in Florida, which was hit so hard by the mortgage crisis?
Dixon: In general, the way people borrow money—I don't think it's affected them. I think that the crash was mainly based off mortgages. A lot of our members that were affected by that, back in 2008 or 2009, they're right at that time frame now where they're able to obtain a mortgage again. So there's a lot of excitement right now, when it comes to lending in all different ways. When you go through a situation like the mortgage crisis … for example, if you had to foreclose or you had to short sale on a home, that affects you long-term.
If you think about how long it's been, we're probably at right about the eight-year mark. Creditors are able now give those credits to our members who went through those struggles, whereas for the first two to four years after, they couldn't even get a car loan. We're seeing a huge increase in members—those who went through those struggles—being able to feel accomplished again by being able buy that car that they've been wanting or buy that home that they didn't think was going to be a possibility.
Lam: Do members who experienced the crash have different concerns than someone who's getting a car loan or a mortgage for the first time post-crash?
Dixon: To be honest, the first-time homebuyers are the ones that you have to do more counseling with. When someone goes online and uses mortgage calculators on any website, they're going to give you the percent down, interest rate, and monthly payment. But they don't understand that on top of that monthly payment, there may be additional costs such as home insurance and property tax.
Then the members that have had issues in the past, I think that they are a little bit more cautious when it comes to, what do they really want to afford, versus what they can afford. There's a huge difference between what you want to pay as a monthly payment and what you can afford to pay as a monthly payment. Those are conversations that I have with them.
Lam: What would you say are the hardest things to convey in these conversations?
Dixon: I think that the most challenging thing is people's understanding of how credit works. There's so much information out there that it gets really confusing for people. A lot of our members get skewed information, so you have to make them think a little bit more into their overall questions. I just really break it down for them. I spend the time to educate them, and I'll give them information that I find. Again, it's just additional counseling. That's the overall goal: not to tell them a bunch of things and then have them walk out the door, but really have them understand what they're doing and what those actions are causing so they can do better.
You get the stories, like my grandmother told me to save a hundred dollars in a coffee can every five years. However, are you really earning the best interest? Are you earning any money off of the money you're saving? There's just so much to it.
Lam: What motivates you to keep doing your job, from the paperwork to the counseling?
Dixon: I think it goes back to me going through so many difficult times in my own life, and knowing that there were times when I needed somebody to be there for me. My overall goal and what motivates me is helping other people, as well as assisting other people in becoming successful. Not only our members, but my colleagues, even my family members. I just think that I'm here to serve them, so that's what really motivates me the most.
---
This interview is a part of a series about the lives and experiences of members of the American workforce, which includes conversations with a cashier, a real estate agent, and an investment banker.