The Olympics Haven't Always Been an Economic Disaster
The success of Los Angeles and Barcelona's lavish ceremonies and prudent planning set precedents that many cities have tried, and failed, to replicate.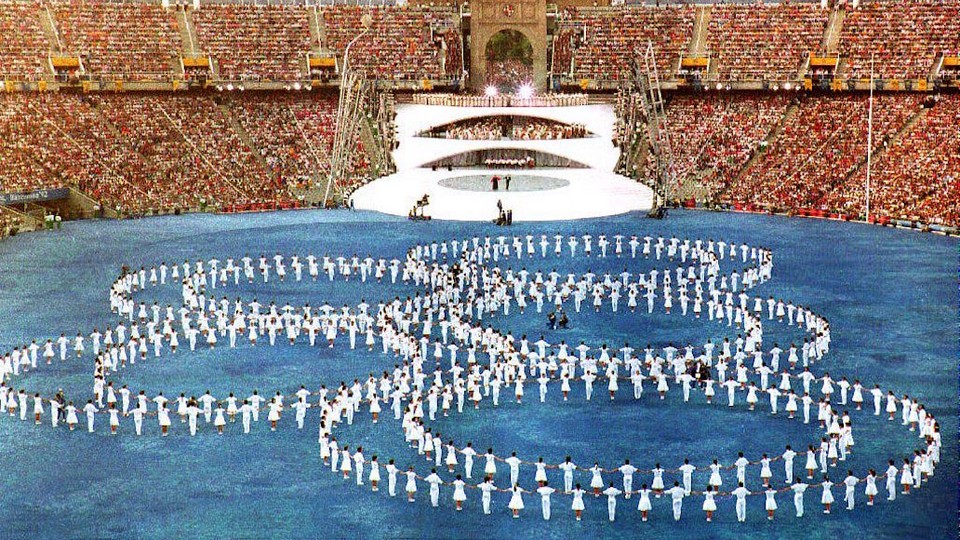 By now, the Olympics have a proven record of ravaging host cities' finances. The economic legacies of recent Games, including massive bills for taxpayers, burdensome security costs, and abandoned infrastructure, have been haunting enough that some cities now actively resist hosting them: Officials in Boston withdrew their 2024 hosting bid, while the residents of Hamburg banded together to decisively vote down their city's campaign. Amid the turmoil, though, the International Olympics Committee (IOC) and its national affiliates seem to emerge from the Games richer, buoyed by lucrative TV and sponsorship deals.
As the standard for spectacle rises higher with each successive Games' costlier and costlier trappings—among them lavish opening ceremonies, iconic stadiums and arenas, and gaudy civic "improvements"—it's easy to become inured to this modern form of the Olympics and the all-but-certain damage they inflict on host cities. But hosting the Games has not always entailed onerous extravagance: The recent trends of rising costs and diminishing returns date back only to the 1980s, when changes in the IOC's strategy put the organization, and the Games, on their current trajectory.
At the end of the 1970s, the IOC found itself at its nadir. The 1976 Montreal Games were by all accounts a fiasco, losing Canada and its citizens nearly $1 billion in a disappointing event that dozens of countries boycotted. Decades of mismanagement had left the IOC strapped for cash and reliant on too small of contributions from too many sponsors. These problems, coupled with the excesses and abuses of previous games—1968, for example, saw the deaths of hundreds of protestors at the hands of Mexico City's police force—left the IOC choosing between only two willing cities, Los Angeles and Tehran, for the 1984 Games. When the Iranian Revolution of 1979 knocked Tehran out of the running, the organizers had no choice but to bank on L.A.
Fortunately for the IOC, this crisis coincided with a change of leadership. Lord Killanin, a British nobleman, became President of the IOC in 1972 and began to push for a major overhaul of the organization's finances and priorities. "When Killanin took over, the IOC was broke," explains David Goldblatt, the author of The Games: A Global History of the Olympics. "It was a tiny little organization with barely any money to run it. Avery Brundage [Killanin's predecessor] had basically paid his own airfare and office bills for 20 years and not taken a salary."
Juan Antonio Samaranch, Killanin's successor, continued to reshape the organization after taking office in 1980. The most apparent change during his tenure was the removal of the decades-old requirement that all Olympians be otherwise unpaid amateurs, paving the way for rapidly increasing professionalism and commercialization in the Games. More subtle, and, eventually, more destructive, changes arose as Samaranch's Games began to present a model that many would attempt to follow but few would replicate.
First up under Saramanch's tenure were the 1984 Games in Los Angeles, which managed to turn a profit—something that hadn't happened since 1932. Even putting money aside, the Games were a success, featuring the debut of John Williams's now-iconic Olympic theme and a lauded closing performance by Lionel Richie. Eight years later, the IOC scored another triumph in Barcelona, Samaranch's birthplace, that helped bolster the city's global reputation.
But in the decades since, host after host has misread the lessons of Los Angeles and Barcelona. From Los Angeles came precedents of profitability and ever-increasing levels of spectacle. Though the Games in the past two decades have certainly never failed to provide a spectacle, their planners have tended to overlook the prudent decisions that made Los Angeles's profitability a possibility: Rather than spending lavishly on new stadiums, Los Angeles minimized costs by taking advantage of existing infrastructure, including the L.A. Coliseum, Dodger Stadium, and UCLA's Pauley Pavilion, while converting college dormitories into a temporary Olympic Village.
Barcelona's legacy has been even more widely misconstrued. "One of the top Olympic clichés is that they're a catalyst for urban change and development," Goldblatt says, with Barcelona often held up as an example. "In fact, Barcelona was the crowning moment of 17 years of urban development that would or wouldn't have happened without the Olympics anyway, and then the Olympics finished the process off." Similarly low-profile cities seeking to replicate Barcelona's rise face another obstacle: "Barcelona really was a hidden gem," Goldblatt says. "I mean, it was this rust-belt Mediterranean port that had been left by Franco to rot but had an extraordinary architectural heritage, a massive collection of Picassos, an organic connection to Miró, the Sagrada Familia, and Gaudi's finest architecture."
By the next Summer Games, it was clear that the lessons of Los Angeles and Barcelona had been ignored, or at least misinterpreted. Atlanta hoped its 1996 Games would elevate the city's profile, but, with only seven years to prepare after being chosen, those hopes were hampered by inadequate urban planning, hasty attempts to sanitize centuries of racial history, and the wholesale removal of homeless residents from the city center. Meanwhile, in a distinct break with Los Angeles, Atlanta spent extravagantly on new infrastructure, largely at the expense of its taxpayers, and only recouped its costs through heavy reliance on pervasive and much-maligned corporate sponsorship campaigns.
Successive hosts have doubled down on Atlanta's mistakes, each bringing "their own sort of peculiar pathologies," as Goldblatt says. "Beijing was unspeakably authoritarian, Sochi wins the corruption prize, Athens wins for lateness, Atlanta wins the prize for sort of shameless social cleansing of your downtown." Athens in particular proved financially disastrous: The price tag ballooned from $4.5 billion to $9 billion to $15 billion, leaving the city $14 billion in debt and arguably hastening Greece's economic meltdown.
This year's Rio Games are no break with the past: The $12 billion price tag is among the most expensive in history even before accounting for the type of overruns that led previous Games' budgets to greatly exceed their original estimates. Despite organizers' rhetoric about sustainability and prosperity, prior experience suggests that the burden will fall on Rio's taxpayers, and some residents of the favelas have already lost their homes to construction efforts. (Meanwhile, various media outlets have begun to draw attention to the poverty-level wages many Olympians earn for their efforts.)
In the midst of all this stands the IOC's decision to reprioritize profit. Since its low point in the 1970s, the IOC has taken control of the lucrative television broadcast rights back from host cities and has restructured sponsorship arrangements to bring in far more money from far fewer sponsors. This means that, even as the financial burden on host cities increases, they have seen little in return as more revenues go toward the IOC and sponsor-supported national affiliates like the US Olympic Committee. As long as the Games continue to draw in viewers, these revenues are likely to remain strong, and sponsors seem to have neither the leverage nor the motive to try to force any substantive change.
Naturally, then, the most likely impetus for change in the Olympics will come not from the IOC but from cities. While the 2018 and 2020 Games are set for Pyeongchang, South Korea, and Tokyo, respectively, 2022's Winter Games came down to Beijing (which won despite being hundreds of miles from the nearest mountains) and Almaty, Kazakhstan, a hotbed of human rights issues. The field for 2024 looks more promising, with Los Angeles, Paris, Rome, and Budapest still in the running; however, Rome's current mayor has expressed her indifference, and Budapest is considered a long shot. In apparent recognition of this potential impasse, the IOC's current president, Thomas Bach, has set forth an agenda that hopes to reduce the onus on host cities from 2020 onward.
The IOC's current predicament is, in a sense, an inversion of its previous crisis. As the organization looked ahead into the 1980s, it found itself facing dwindling finances and hoping for a transformative summer in Los Angeles. Forty years later and flush with cash, the committee may end up looking at the same site for another successful reboot.