A Tale of Two Cities' English Requirements
Why is New York scrapping its language test for cab drivers at the same time London is planning to enact a similar one?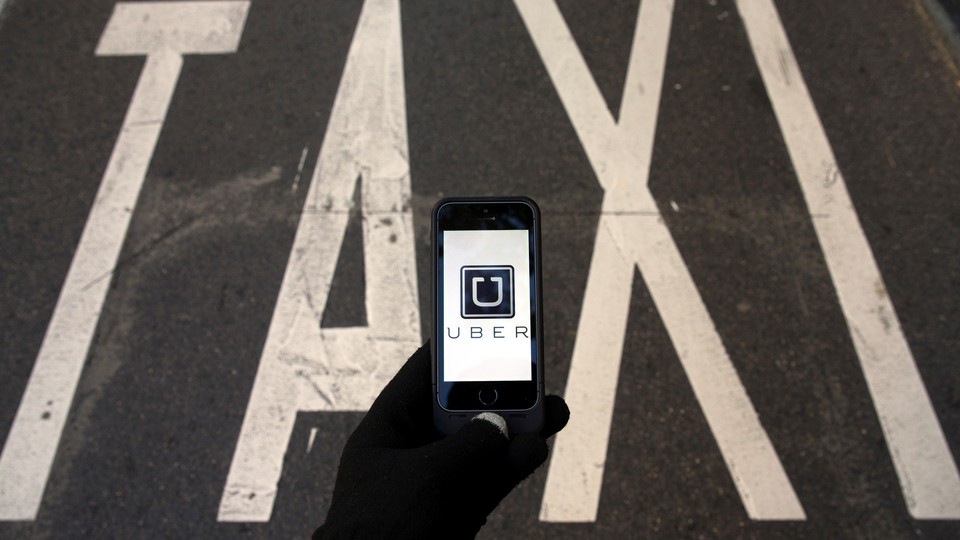 In May, days after the failure of a referendum that would require drivers to submit fingerprints for background checks, the ride-hailing giants Uber and Lyft fled the city of Austin. It was a rare instance in which a city (backed by its voters, no less) had chosen not to accommodate the demands of the popular companies with the apparent knowledge that they might depart.
And while attempts to regulate Uber and its ilk have produced laws and ordinances of varying strength in a number of towns, cities, and counties, many responses to the quick uptake of ride-hailing services have focused on making local taxi fleets more competitive. Earlier this week, New York City's Taxi and Limousine Commission formally scrapped a longstanding English-language proficiency test for its cabbies in an effort to stem the flow of drivers away from city cabs to app-based alternatives, for which the barrier to entry isn't as high.
The change also represents an acknowledgement of the shifting demographics of the cab-driving workforce. Citing city data, Emma Fitzsimmons at The New York Times noted that only 4 percent of the city's cab drivers were born in the United States, "and that figure has been dropping, from about 62 percent in 1980 and 36 percent in 1990." This ditching of the language requirement is just the latest in a polarizing series of adjustments to new realities, such as the abolishment of a geography test for city taxi drivers—a concession to the rise of GPS.
Meanwhile, as New York loosens its regulations on taxis, London is introducing more stringent ones. Earlier this month, Transport for London, the city's transportation regulator, enacted a new language requirement for private drivers, which will require Uber drivers to pass a test already administered to cabbies. The new test, which will be standard in October and costs £200 per driver, is controversial because it involves a written English-language component, which many consider onerous considering the work involved. The test is also only going to be given to applicants who don't hail from English-speaking countries.
The recent specter of xenophobia in Great Britain notwithstanding, the new guidelines are meant to challenge Uber, which is seeking to recruit more drivers as it expands in London. The company has responded to the initiative with a lawsuit as well as a campaign to drum up public opposition to the new tests. "Bureaucratic new rules from Transport for London … threaten the livelihood of thousands of drivers. Fewer drivers will mean longer waiting times or no cars when you need them most," wrote Tom Elvidge, Uber's London general manager, in an email to Uber users.  In a statement, Transport for London pledged to "robustly" defend against Uber's legal efforts in opposition to the new regulations.
Though the approaches and optics may be completely different, the goals of the New York City and London transportation officials appear to be the same: to keep city taxi drivers in their ranks. And, of course, to reflect the needs of their ridership.
In London taxis, GPS is verboten, an understanding of English is required, and drivers have to pass an intricate city geography exam called "The Knowledge," which is frequently characterized as "the hardest test in the world." As one "Knowledge" instructor told NPR last year, "I drive a London taxi, but I'm also an ambassador for this great city that we work and live in, and you can't get that from a GPS." For a more formal city with a chaotic map of 25,000 crooked warrens and confusing streets, this riding experience makes sense.
Hold that up against a New York City cab, a chariot of multiculturalism in which a properly equipped rider is empowered to say which route to take. For a boisterous, casual city that operates on a grid, that also makes sense. In the middle seat between New York and London's transportation commissions is the consumer, who may just want a cheaper ride where they can  punch in their destination and not have to talk at all.