Can a Private Company Teach Troubled Kids?
At the Richmond Alternative School in Virginia, 97 percent of students are black and 87 percent are poor, and the city just outsourced their education.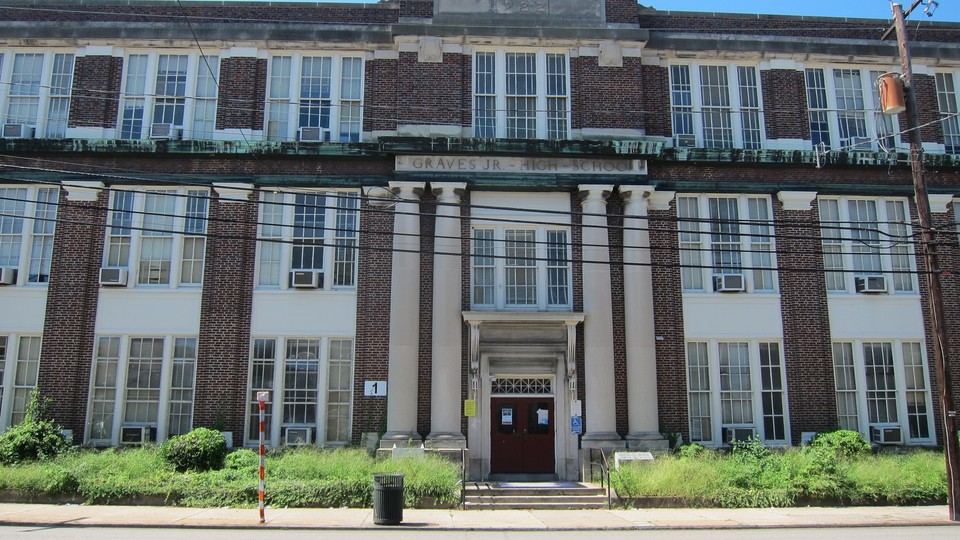 RICHMOND, Va.—Disruptive students are a headache for public schools. They distract from lessons, skip class, and often bring down the graduation rates. That's why school districts across the country have resorted to opening alternative schools in recent decades, with hopes that smaller classes and individual attention might help these students get their diplomas. But even these alternative schools (which differ from charter schools in that they are still part of school districts and thus answer to superintendents) can be a burden: They're expensive to run, and their graduation rates are still pretty low.
Desperate for help, many school districts are now hiring private companies to manage these alternative schools and educate their most troublesome students. Large, urban districts like Chicago and Philadelphia have been working with this emerging industry for several years now. Though research shows that problematic students in Philadelphia did better in alternative schools than traditional ones, there is a wide variance in school quality, and detailed information about their curricula is scarce.
The question on the table is whether a business whose job it is to make money can better educate vulnerable students than a public system with no profit motive. It's not too different from the dynamic between the federal government and the private companies running its prisons across the country. But the Justice Department announced last week that it would stop contracting with the private sector, in part because it doesn't seem to save that much money, and in part because the service didn't improve either.
Richmond is one of the latest cities to experiment with outsourcing education. In July, the city hired a Texas-based company called Camelot Education to run the Richmond Alternative School, which last year served 223 students from across the city in grades 6 through 11. Nearly all of the students at Richmond Alternative are black (97 percent) and most are poor (87 percent qualify for free lunches). Some black parents once dubbed it the "colored children's prison" and it has been criticized for contributing to what's called the school-to-prison pipeline—Virginia is the state that refers the most students to law enforcement.
Data provided by Richmond's school district shows that its alternative school has been floundering for years. When the school year ended three months ago, the numbers were alarming: The dropout rate had jumped to 38 percent, compared to 28 percent just two years earlier. And students' scores in nearly every subject had fallen by 50 percent or more during that time.
This led the school board to enlist Camelot, which has run alternative schools in 12 districts across the country. It was a quick decision that may have been too hasty, says Jessee Perry, who is running for a position on the school board, and it concerns her that it happened right before the beginning of the school year. "But it's at a point where we know something has to change," she says. "Trying something new is better than doing the same old thing."
The turn to the private sector is not new for Richmond. In 2004, the city hired a private company to run a previous iteration of its alternative school, which was then called the Capital City Program. The $4.6 million agreement with a Tennessee-based company called Community Education Partners was the school district's most expensive contract that year. Back then, the school was located next to the Gilpin Court housing projects, in one of the city's most violent neighborhoods. The quality of the education provided by Community Education Partners turned out to be substandard, according to a Richmond Magazine investigation, which found that a third of the school's teachers were not credentialed.
Elsewhere, schools run by Community Education Partners were not faring much better. The American Civil Liberties Union in Georgia sued the company in 2008 for allegedly providing "fundamentally inferior" education to students at an alternative school in Atlanta—an environment "so violent and intimidating that learning is all but impossible." Atlanta canceled its contract with the company, and a year later, so did the city of Philadelphia.
When the firm's contract with Richmond was up in 2013, the school board decided the district would take over the school again, saving it about $2 million a year. The school was moved away from Gilpin Court and into an old high-school building across the interstate. But student performance did not improve, as the district's data shows. So, as of July, it has a $1.8 million contract with Camelot, and has agreed to provide additional support staff at a cost of $800,000, according to The Richmond Times-Dispatch.
During a recent visit to Richmond, I stopped by the school and it was buzzing with activity. Moving trucks were parked outside and crews were unloading teaching materials and what appeared to be furniture. School staff didn't want to talk about the changes, and instead referred me to the district's spokeswoman, who also declined to discuss them. The district did, however, provide this statement:
"Camelot will staff the school with educators who are licensed in specific content areas that are trained in behavior modification, de-escalation techniques, and who are experienced at working in nontraditional environments. The expectation is that this company will assist staff at the school in setting clear performance metrics such as enhancing the school climate, reducing absenteeism, and increasing the graduation rate."
The district's own teachers, who have been at Richmond Alternative for the past couple school years, were not trained to handle students who are prone to violence or who are dealing with trauma. This is something Camelot's CEO, Todd Bock, says his staff is equipped to do. That's because the company started out as a behavioral healthcare provider for teens before branching out into education in 2003. He says the company's expertise is working with vulnerable teens who are at risk of dropping out of school or ending up in jail. Bock says staff at Camelot schools know the parents and guardians of each student and are aware of challenges they face at home. "So our approach really is to address the social-emotional and behavioral issues of our students first, because without that you can't access academics," he tells me.
For example, every day at a Camelot school begins and ends with a town-hall meeting, Bock says, where teachers and staff are encouraged to talk to students on a personal level. If a student acts up in class, protocol is for the teacher to stop and address the student's behavior, instead of automatically sending him or her to the principal's office. The policy at Richmond Alternative will be to suspend kids only if they break the law or if there is a need to call the police. "Frankly, suspending kids that have been suspended their whole life is a failure on our part," he says. "We need to do everything we can to support kids and keep them where they need to be, which is in school."
The teachers who have been working at Richmond Alternative the past few years will have an opportunity to interview for teaching positions with Camelot, Bock says, but, if hired, they will be required to undergo the company's de-escalation and behavior modification training. Companies such as Camelot can pay teachers less if they choose to, as they are not subject to collective bargaining agreements with the local teachers' union.
This may be the first time that Richmond will work with Camelot, but data on the company's presence in Philadelphia provides a fuller picture of its track record. Camelot was one of half a dozen companies running Philadelphia's alternative schools in the past decade, the largest experiment in privatizing alternative education to date.
The city first turned to the private sector in 2004, with mixed results. In 2010, researchers at Mathematica Policy Research studied the academic outcomes of students in Philadelphia's 14 alternative schools, which were all privately run, and compared them to the outcomes of similar students who stayed in traditional schools. Their research showed that students at alternative schools were more likely to pass their classes and graduate than similarly at-risk peers at traditional public schools. But graduation rates at alternative schools were still "abysmal," says Hanley Chiang, the report's main author. About 29 percent of students graduated from alternative schools, compared to about 22 percent of at-risk students who stayed at traditional high schools. "There is still a lot of room for improvement in getting these graduation rates up," says Chiang.
His research also showed that instructional quality varies greatly among providers, with Camelot performing the best among those working in Philadelphia's schools at the time. Graduation rates at Camelot schools increased by 12 percentage points compared to similar students who stayed in their original schools, while one provider, YouFirst (run by Community Education Partners) actually had a negative impact on graduation rates, which were lower by 14 percentage points. Chiang's research didn't look at whether the school district could have done a better job educating these students compared to the private firms. "The evidence is silent on that," he says.
Despite its relative success in Philadelphia, Camelot has been criticized by the ACLU for a creating a "highly restrictive and overtly confrontational environment" at an alternative school it operates in Lancaster, Pennsylvania. The school, Phoenix Academy, was mentioned in a class-action lawsuit filed last month by the ACLU against the Lancaster School District, alleging that the district unfairly sends foreign-born students to the school just because they don't speak English well.
Perry, the Richmond school-board candidate, says she's concerned about school districts relying on a for-profit model to educate their most vulnerable students. To keep making money, these companies benefit from maintaining a system where traditional schools cannot educate their own students. "They might also be tempted to cut costs, which can definitely hurt the quality of the education," she says.
For now, Richmond is counting on Camelot to do a better job than its school district has in getting high-school diplomas in the hands of their worst-performing students. As Camelot's CEO says, the district can always fire the company if it doesn't deliver results.