Finally, Some Middle-Class Job Growth
After decades of expansion at only the high and low ends of the pay scale, the economy appears to be seeing an uptick in medium-skill employment.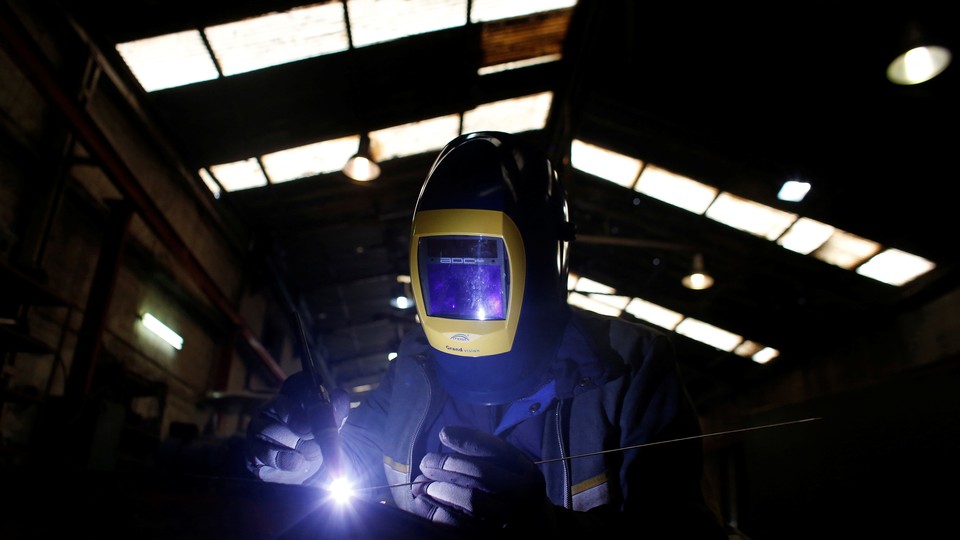 For all the dirges composed about the American economy in recent years, the greatest lament has been reserved for the middle class, whose members lost their status as the national majority late last year for the first time in several decades. Income inequality seems to have dovetailed with the primary availability of two types of work—high-paying, high-skilled and low-paying, low-skilled.
According to the Federal Reserve Bank of New York, however, that trend has recently reversed. Citing Fed research and strong job numbers in recent months, New York Fed President William Dudley was unusually optimistic about the strength of the job market, particularly for beleaguered middle-income workers. "For the first time in quite a while, gains in middle-wage jobs actually outnumber gains in higher- and lower-wage jobs nationwide," said Dudley in remarks on Thursday.
Fed data showed that between 2013 and 2015, over 2 million jobs were added to the economy for workers earning between $30,000 and $60,000 which, as Nelson Schwartz at the Times noted, manifested in growth in sectors like "education, construction, transportation, and social services." Earlier this week, Dudley, who as a member of the Federal Open Market Committee votes on U.S. interest rate policy, also suggested that the Fed might raise rates as early as next month, defying most predictions, particularly for an election year.
There are encouraging trends, but the truth is that the bar for middle-skilled jobs was already set pretty low. Pointing to previous New York Fed data, Ylan Mui of The Washington Post noted that in the three decades between 1980 and 2010, overall growth for middle-skilled jobs was sluggish and showed losses in some areas, even as "the number of high-skilled jobs doubled, and the jump in low-skilled jobs was nearly as large." The effects have been a sustained hollowing out of the U.S. economy and an uneven recovery from the Great Recession, which has eroded everything from public confidence and political discourse to housing and food security. So, all things considered, middle-skilled jobs still have a lot of catching up to do.