McRib Everlasting
Why limited-time menu items are becoming a fixture at fast-food chains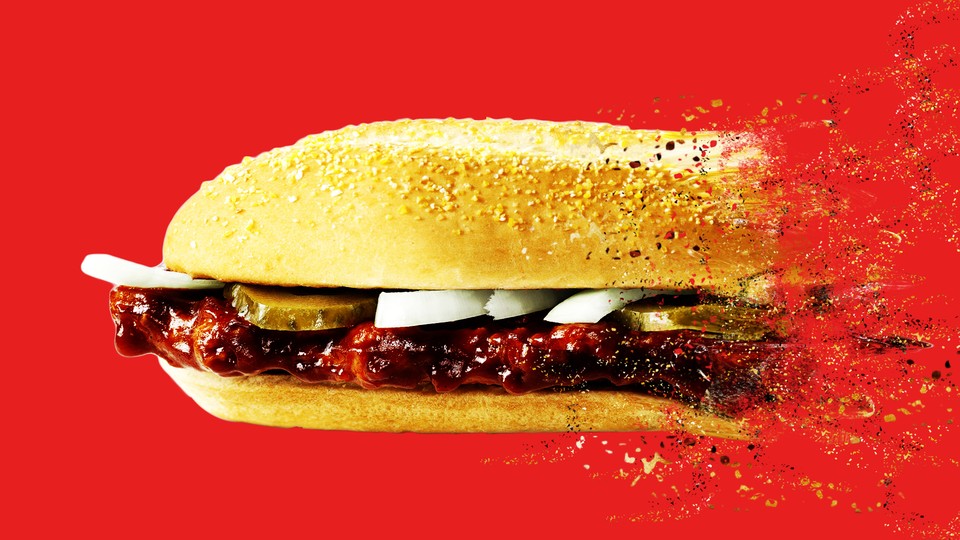 Despite its list of 70-plus ingredients-—or perhaps because of it—few things galvanize the appetite of the American public like the McRib, the boneless pork-based sandwich, which briefly blooms like a spring ephemeral on McDonald's menus before disappearing each year. Last fall, after it was reported that almost half of McDonald's stores would opt out of McRib season, some zealous fans created a dedicated McRib locator to crowdsource sightings of the pickle-topped white whale.
In addition to being a cult favorite, the McRib is the best-known iteration of what the world of quick-service food calls limited-time offers, or LTOs. LTOs are those occasionally wacky, promotional inventions that appear on the menus of fast-food chains and drift off in the wind like sodium-dusted dandelion fluff, often never to be seen again. From Sonic's Ragin' Cajun Burgers and Wendy's Ghost Pepper Fries to McDonald's Shamrock Shakes and Burger King's Bacon Sundaes, the creation of LTOs is part art and part science. In general their aim is to stoke excitement for a brand and entice customers to make an extra visit without resorting to discounts or cannibalizing their ordinary regimens. "For us, our bestsellers are not our LTOs," Ben Miller, who heads up "social insights" at Taco Bell, told me at the company's Irvine, California, headquarters earlier this year. "It's the taco, the burrito, and the bean burrito."
Of course, if lightning strikes as it did with the Doritos Locos Taco—which sold 100 million units in its first 10 weeks back in 2012—an LTO can graduate from flavor of the week to main squeeze. Still, that's hardly the norm. LTOs aren't necessarily meant as a testing ground for full-time menu items; they're meant to grab attention. "It's getting people in the door. It's not just about the share of stomach anymore—there's so much more now. It's about share of attention almost—you have to be relevant in some many different ways, or else," Miller added.
The fear of stagnation or customer boredom is well founded. There are cautionary tales about what happens when a company banks too heavily on customer routines. Earlier this year, analysts from Deutsche Bank proclaimed that, in addition to its tough stretch of food-contamination episodes, the fast-casual chain Chipotle's business was suffering from "menu fatigue," a condition marked by two decades of operations with only one major change in offerings (the addition of tofu, no less). This summer, the company introduced chorizo in a handful of cities ahead of a national unveiling this fall.
With only weeks or a few months for an LTO to run its course, fortune tends to favor the wacky, the familiar, or both. This summer, Popeyes, the New Orleans-born fried-chicken chain, rolled out its Magnolia Blossom Chicken, a battered chicken breast shaped like a flower, with tearable meat petals and a spicy orange dipping sauce. Amy Alarcón, the vice president of culinary innovation at Popeyes, says the company angles for LTOs that thematically align with its Louisiana roots. When one of the franchise's poultry suppliers came forward with a speciality cut of chicken, the creative process worked around it. "We've got this cut that essentially looks like a flower. At the same time we're going, 'Oh wow, the Magnolia Blossom is the state flower of Louisiana and it's such an icon of the South to begin with," she said. "That's how a lot of those things happen. We have that perfect synchronicity between the production supply side and then on the creative side and we're lucky enough to marry 'em together." (There's a particularly compelling theory that the McRib is McDonald's pork-price arbitrage.)
Once the team had nailed down the concept of the Magnolia Blossom Chicken, they had to figure out what the item would taste like and how that would correspond with the timing of its release."It's a summer product, so it has to have some citrusy notes to it and that led us to orange and lemon notes. Then we wanted to round it out with some savory notes so it's got toasted onion spice added in and roasted garlic," Alarcón explained, adding that Popeyes "didn't want floral to come through really strongly so we felt like citrus was a great communicator of that."
If this sounds like intricate culinary language for a $4 limited-time product, it's partially because the item was the brainchild of one of Popeyes' ideation sessions, where delegations from the company's culinary team, its network of food suppliers, and its marketing department descend upon an American city for a boozy, decadent work retreat. In January, I met the team in New Orleans, where, split into groups, attendees scoured the city for inspiration, visiting newer, trendy sit-down restaurants like Willa Jean and Compère Lapin, dodging insurance-adjustment conventioneers at Big Easy standbys like Antoine's, Brennan's, and Napoleon House, as well as sampling remoulade at Arnaud's, muffulettas at Central Grocery, beignets at Cafe Du Monde, and Sazeracs, French 75s, grasshoppers, and brandy punches along the way.
Following this "research," the group gathered at the tourist attraction Mardi Gras World and spent two days hashing out hundred of ideas for an LTO that wouldn't debut for at least another year, using logistical considerations from suppliers to narrow and refine the list for items that could potentially scale across 2,000 locations. "We work on the same timeline that you think of in retail," Alarcón said. "Things you buy at the grocery store, those are still 12-to-18-month timelines." During that time, the product goes through consumer research and internal operations testing, which Alarcón characterizes as an attempt to "try to stress it and try to break it, so we can be very informed and course-corrected before we ever decide to put it out in front of franchisees." She added that that extra time is also devoted to ordering products and procuring special ingredients that could require a six-month lead time.
But while an LTO has to be unique, it also has to cohere, not only as a concept, but also within a consumer's understanding of and familiarity with a certain company. Whereas Popeyes uses New Orleans as its lens, Arby's—historically known best for its roast beef sandwiches—distills its menu items through a decidedly "meat-centric" prism. Its most recent short-term items have included steak and brisket sandwiches topped with brown-sugar bacon and its first foray into meatball sandwiches, which it released this week.
"We're in the temptation business with the LTOs, not the education business," says Jim Taylor, the senior vice president of product development and innovation for Arby's. "If people don't really know what it is, they are not going to be attracted to it. But by the same token, if what you're giving them is something they can get anywhere else, they're not going to pay attention and come into the store specifically for us on an extra visit."
If familiarity is already a central organizing principle in the quick-service world, it is especially crucial for fare that only is only briefly available. "The sweet spot for us is to think about really craveable territories to explore and finding a way to put a twist on a classic or something familiar," Taylor adds.
In recent years, Burger King, for example, has based several of its LTOs on modified versions of its hoagie-shaped Extra Long Cheeseburger with variations such as the Jalapeño Extra Long Cheeseburger, the Sriracha Extra Long Cheeseburger, the BBQ Extra Long Cheeseburger, the Buttery Extra Long Cheeseburger, and the Philly Extra Long Cheeseburger. Last month, Taco Bell released its Triple Double Crunchwrap, which is essentially a mega-sized version of its normal Crunchwrap, which has also appeared as an LTO in a tinier, slider form. Needless to say, Taco Bell's fan base was excited by the challenge promised by a massive new menu item. When the company announced the release of the Triple Double Crunchwrap on Facebook, the most-liked comment was this: "I want this in my mouth. I want to wear it like a hat. I want to cry on its shoulder and tell it about my day. I want to go on long hikes with it."
Ultimately, behind this delicate, oleaginous ballet of innovation, adaptation, and marketing is these unusual menu items' value proposition. While Taylor concedes that the most powerful word in marketing is "free," he says, "The second most powerful word in marketing is 'new,' and I think 'new' is particularly relevant in fast food, where the frequency of purchase is much greater than the other segments of the category... [Consumers] can try something new at an affordable price so it's not that much of a risk."
Alarcón credits the close relationships Popeyes with smaller purveyors and suppliers for helping to make LTOs fit the low-cost credo of the industry. "When you're in our space in the restaurant industry, when we talk about the value equation, we want to make sure you're getting this incredible experience and that you're still not gonna have to spend more than $3.99 on this particular product to get a really unique eating experience," she explained. "They'll take the time to figure out how to get the efficiencies into it because that's what helps us control the costs."
In a world where life itself is an LTO, unique experiences count for a lot. Especially when they can be purchased for only $3.99.