Generic EpiPens: Temporary Relief for Mylan's Woes
After a price-gouging scandal, the pharmaceutical company will release a cheaper, generic version of its life-saving medical product.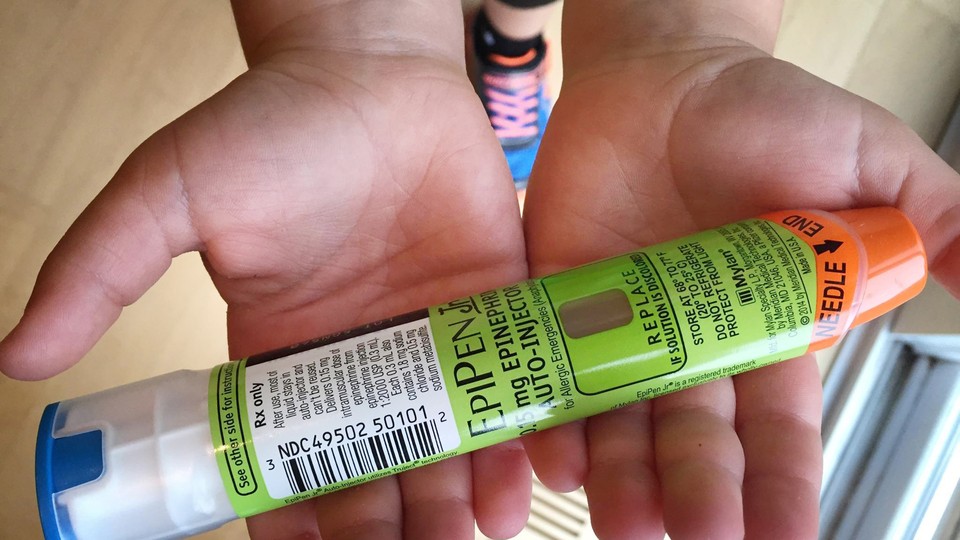 A controversy over the pricing of EpiPens extended into a second week after Mylan, the pharmaceutical company that manufactures the life-saving medical product used to treat allergic reactions, announced that it would release a generic version of it at about half the price of the original. The company had been heavily criticized after the list price for a two-pack of EpiPens surged to more than $600, over 400 percent higher than what it cost just years ago. "Our decision to launch a generic alternative to EpiPen is an extraordinary commercial response," said Mylan CEO Heather Bresch in a statement on Monday.
The rollout of a generic, which will take several weeks, is the latest maneuver in an ongoing public-relations episode that has included a controversial issuing of coupons for certain patients and a discursive set of explanations and apologies. Even as a generic would relieve the financial burden on insurers and taxpayers, its price is still $200 more than the list price for the EpiPen was in 2008. Mylan maintains that the price increases were due in part to product improvements and efforts to make EpiPens more widely available; however, critics—who would have rather seen Mylan simply reduce the cost of EpiPens—have noted that annual compensation for Bresch also rocketed in the past eight years from $2.5 million to nearly $19 million in 2015.
Other responses to the generic EpiPen were similarly skeptical. While offering some faint praise for the move, Democratic Senator Richard Blumenthal suggested that the issue requires a Congressional investigation because it raises questions about potential antitrust violations. And Robert Weissman of the consumer advocacy group Public Citizen also took a questioning stance. "The weirdness of a generic drug company offering a generic version of its own branded but off-patent product is a signal that something is wrong," he said in a statement on Monday, suggesting that the best answer could be for Mylan to roll back the price of the original EpiPen.
As Andrew Pollack of The New York Times explains, selling a generic EpiPen may allow Mylan to continue profiting off of the original. "The term EpiPen is so familiar that many doctors write prescriptions for it rather than for a generic epinephrine auto-injector," he wrote on Monday. "Pharmacists in many states will be able to substitute the generic version but in some cases they may not, leaving Mylan with higher revenue than if it had cut the price across the board."
For now at least, some pressure is off of Mylan, while consumers wait and continue to pay until a cheaper generic arrives.