An Unsteady Future for New England's Suburbs
As people move to warmer climates and cities, small towns throughout the region are weathering decline.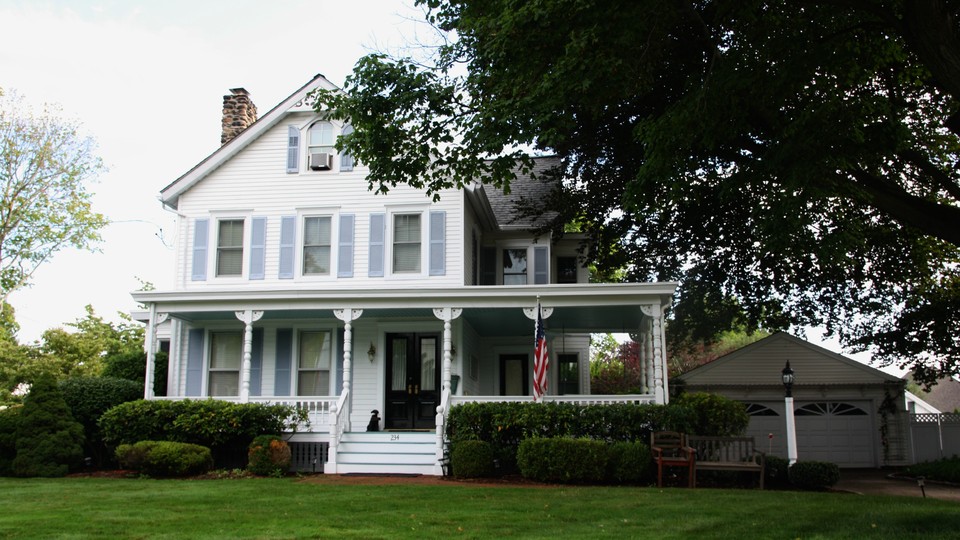 NEW CANAAN, Conn.—The house is a perfect Colonial, white with green shutters, with five bedrooms, a pool, and a spacious lawn. A decade ago, it would have flown off the market. These days, Candace Blackwood isn't sure she can sell it anytime soon.
"We have a glut of inventory," Blackwood, a real estate agent with Berkshire Hathaway, told me, guiding her Mercedes through the leafy roads of this Connecticut suburb. "The number of days homes stay on the market has increased, and people are getting so desperate they're renting out their homes."
This has little to do with the housing market broadly speaking: In cities like New York, San Francisco, and Boston, prices are rising and homes are sold within days of listing. Rather, it's a sign that suburban neighborhoods straight out of Mad Men are no longer as in-demand as they once were. Around Boston, for example, 51 towns and suburbs started the year with price declines while the city's prices skyrocketed. Indeed, as Blackwood drives me through this picturesque New England town just an hour from New York, we pass dozens of for-sale and for-rent signs outside home set back from the road. These are homes that, one day, might have been on any family's dream list, back when suburbs were where everyone wanted to live and there were dozens of companies to work for nearby. Median home values in Fairfield County, where New Canaan is located, are down 21 percent from their peak in 2003, according to Zillow; for the state as a whole median home values are down 18 percent from their 2004 peak. By contrast, home values nationwide are down just 5 percent from their 2005 peak. In urban areas, they are up—often substantially; in Boston, Charlotte, Portland, San Francisco, and Seattle, prices this year have set record highs.
Cities are in vogue again, and that's starting to be a problem for places that are made up mostly of suburbs. Companies like General Electric that were once headquartered here in the suburbs are decamping for city centers, where they say they can more easily find the talent they need. In 2010, Aetna abandoned a giant campus in Middletown, Connecticut; Pfizer recently tore down 750,000 square feet of unused laboratory space in nearby Groton. At the same time, the baby boomers who flooded the suburbs to raise their children are getting older and no longer need big homes, but their children's generation doesn't have the desire—nevermind the savings—to buy up the houses, at least not at the prices boomers are looking for.
The Northeast has long been growing more slowly than other, warmer, parts of the country. Now, parts of the region are starting to see net losses in population. Between 2014 and 2015, Connecticut lost nearly 4,000 residents as Florida, a retirement hub, added 366,000. During that same period, the Northeast and Midwest together lost half a million people to the South and West. "Where the real action is is the Sun Belt," William Frey, a demographer with the Brookings Institute, told me.
The losses are exacerbated by the fact that the region's median age is growing. Connecticut, alongside New England neighbors Maine, New Hampshire, and Vermont, is one of only a few states to have a median age over 40, which means half of its population is over child-bearing age, according to Peter Francese, a New Hampshire-based demographer. "Connecticut is a basketcase demographically, as are many of the states in New England," Francese told me.
The population changes are creating a number of problems in the state. Connecticut's high-school population is projected to shrink faster than that in 47 other states, according to the U.S. Department of Education. The state has already lost 34,500 school-aged children in the past decade. School districts in Old Lyme, Groton, and Wilton, just north of New Canaan, are adjusting to steep declines in students. Between 2010 and 2015, the state's population under seven years of age shrank 7.5 percent, while its 65-to-74 population grew 23.5 percent. The vast majority of people leaving Connecticut, Francese said, are young people.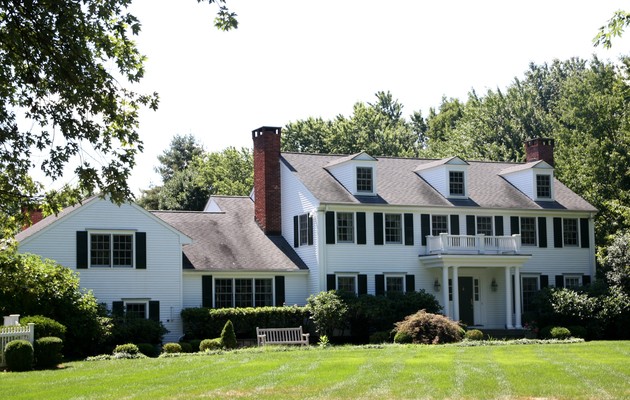 One such leaver is Matt Kozachek, 27, who grew up in Storrs, Connecticut, attended the University of Connecticut, and lived in Groton after college, working as a software engineer. Life as a Millennial in Connecticut was boring, he says. There were no cool bars or art galleries or fun events to attend, and it was hard to make friends. What's more, Kozachek identifies as polyamorous, and said that was taboo in Connecticut. So a year ago, he picked up and moved to San Francisco. He loves living in a diverse city with lots to do and lots of young people who aren't just focused on raising their families. Now, his brother and his brother's girlfriend are moving from Connecticut to San Francisco, too.
"It's definitely a lot easier to make friends and find friends out here," he told me.
It might not be too big of a jump to suggest that these parts of New England are starting, slightly, to resemble the Rust Belt. Connecticut, for instance, faces $26 billion in unfunded pension liabilities as retirees lived longer and the state failed to contribute an adequate sum. Three of the four major ratings agencies maintain a "negative" outlook on Connecticut's credit. Manufacturing jobs have been trickling out for years; in cities such as Bridgeport and New Britain, graffiti-covered empty warehouses with broken windows haunt the skyline, reminiscent of Detroit.
Part of the decline has to do with the industries that have left Connecticut, including manufacturing and finance. Nonfarm employment in Connecticut still has not reached its pre-recession peak, according to the Bureau of Labor Statistics. Construction is slumping; manufacturing has lost almost 40,000 jobs in the past decade and gained almost none back; industries such as financial activities and insurance employ thousands of fewer people than they did before the recession. The jobs that are coming back aren't paying what they used to. In the recession, 57 percent of the jobs Connecticut lost were high-wage jobs, but only 5.7 of the growth in employment since 2010 has been high-wage jobs.  Nearly 60 percent of the jobs have been in low-wage industries, according to the Connecticut Office of Policy and Management.
The trend of companies moving to cities also hasn't helped. Between 1975 and 2005, 90 percent of the jobs created in the New York region, which includes suburban Connecticut and New Jersey, were created outside New York City, according to Chris Jones, chief planner with the Regional Plan Association, a research group that studies the New York-New Jersey-Connecticut region. In the last 10 years, 90 percent of the jobs created have been in New York City. In the past decade, New York City has added 600,000 jobs, while the entire rest of the region has added just 88,000.  "It's a reversal of what it was through most of the postwar period," he said. "You have very slow economic growth and at the same time you have high prices, particularly housing prices" in the suburbs, Jones said.
Of course, the fact that the homes are still so expensive means they have retained some of their value. But they're not as valuable as they once were—and definitely not as valuable as their owners want them to be. Blackwood is worried because there were only two sales of homes over $4 million this year in the county; there are 40 such homes on the market. And the prices have declined more than in other regions of the country. But, while they are not expensive enough for their owners, they're far too expensive for the young couples who might be their future residents. "Housing is brutally expensive in Connecticut," Francese said. "Millennials just say, 'This is a joke—there's no reason for me to stay. I can never get paid enough to pay for the house.'" And the towns have resisted adding housing stock that could potentially bring down the costs by adding inventory.
To be sure, New Canaan and other wealthy Connecticut suburbs aren't likely to face the problems experienced in more poverty-stricken places such as Ferguson, Missouri, and San Bernardino County, California, where suburbs are increasingly plagued by high crime and failing schools. They are a long while off from places like suburban Michigan, where declining population has made it costly to provide infrastructure. But the less-wealthy of Connecticut's suburbs are already seeing increases in poverty, said Jones, of the Regional Planning Association.
Of course, for the right price there will always be people who want to live in leafy, quiet suburbs. They include the historian Kevin Peraino and his wife, the journalist Reena Ninan. Peraino grew up in Ridgefield, Connecticut, then left for college and lived overseas in the Middle East and eventually settled in Washington, D.C. When Ninan was transferred to New York City, they decided to buy a house in the suburb of Darien. They like the peace and quiet of the suburbs after years spent in cities and in war zones.
"For us, it's more pleasant living in the suburbs, we like having a lawn," he said. "It's also less expensive," especially when compared to New York City.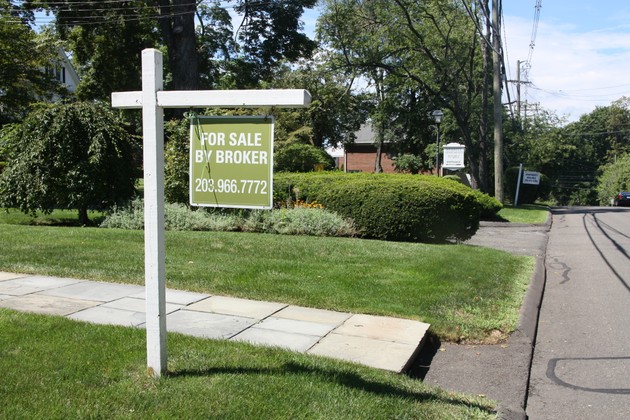 The schools were also a big draw for Peraino and Ninan. And the schools in wealthier suburbs like New Canaan will always be a big draw for parents looking for better opportunities for their children. But the time when almost every family who can moves to the suburbs for the schools is over, Jones said. They stay because their jobs are in cities and they don't want long commutes; they stay because they want walkable communities; they stay because they think they can improve the city schools or get their kids into magnets.
As fewer couples like Peraino and Ninan decide to leave the cities—and as fewer have the money to afford to buy homes at all—suburbs in Connecticut and throughout the Northeast are going to have to figure a new way forward.  "The mainstay of the Connecticut model; these wealthy suburban communities within commuting distance to larger cities, is not really a sustainable model," Ellen Shemitz, the executive director of the nonprofit Connecticut Voices for Children, told me.
Jones, the planner, says the shrinking regions need to create more affordable housing so that people priced out of cities will want to live there. That could be a challenge in Connecticut, though. Around 15 percent of municipalities don't allow the construction of any multifamily housing, according to the state department of housing; in 72 percent of municipalities, developers of multifamily housing need a special permit. These regions should also improve transportation to the cities, Jones said, again so that people pushed out by rising prices will want to live in the suburbs again. "If you have more people living in some of these areas, that can help attract more businesses of certain kinds," he said.
Francese, the demographer, predicts some towns are going to have to merge to more affordably provide services. In New England, most government is done on the town, rather than county, level, meaning a lot of inefficiencies as each shrinking municipality maintains its own schools, its own police and fire departments, its own streetlights and roads. Already, some Connecticut boroughs are in talks to dissolve themselves. With fewer people and more expenses, they are better off becoming as lean as they can.