Can a North Dakota Oil Town Break the Boom-Bust Cycle?
With gas prices having plummeted, the residents and leaders of Williston are left wondering if their city can turn short-term gains into long-term growth.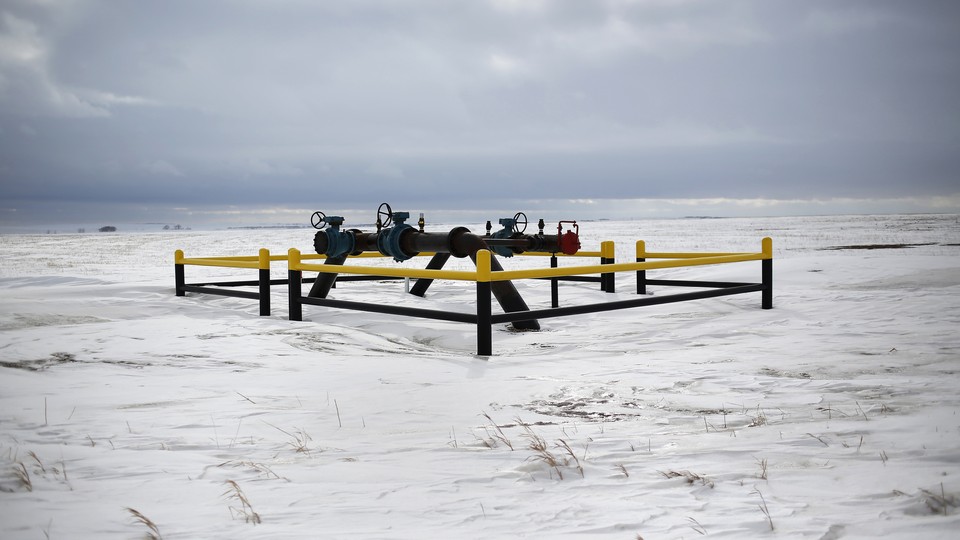 WILLISTON, N.D.—Downtown is back to normal. There are little cafés, gift shops stocked with knick knacks, and a J.C. Penney's. The Miss North Dakota parade recently marched down Main Street. On a recent Tuesday night, a city commission considered Cugini Italian Bistro's application for an alcoholic beverage license.
Things are quiet here, and if it weren't for the rows of new, empty houses circling the outskirts of town, and the gas flares winking on the horizon, one would never know this was the site of an oil boom. Williston, N.D.—or, Boomtown, U.S.A., as local tourism materials call it—is synecdochic for U.S. shale country, where oil firms mastered a decades-old drilling technique and flooded the market with American oil.
Then came the bust. Oil prices collapsed in an oversupplied market, and the frac trucks left Williston as quickly as they came. Now, it seems everyone in Williston is waiting (and hoping) for $60 oil again—a bar near my hotel listed the price of oil alongside its daily specials.
Ideally, Williston would have diversified its economy, but ultimately it is an oil town and many here expect it always will be. The city's narrative, then, often boils down to an unstable oscillation between Wild-West opportunity and ghost-town depression.
Does it have to be that way? Can a boom-bust economy be molded into something that resembles long-term, sustainable growth? "Albeit exciting what happened the last five years, you don't build a city off that sort of trajectory, because it's not sustainable," Shawn Wenko, Williston's director of economic development, said. "It's ok to take a breather every now and then."
Williston is not the first city to ask itself these questions. At the tail-end of the 19th century, tens of thousands of prospectors poured through the tiny Alaskan port towns of Dyea and Skagway in search of the riches promised by the discovery of gold in Canada's Klondike region. John Muir compared the scene in Skagway to "a nest of ants taken into a strange country and stirred up by a stick."
A lot has changed since then, but the contours of life in a boomtown remain the same. "When it was booming … I felt like I was actually getting a taste of what it was like in the Klondike era of Alaska, which really intrigues me," says Rodney Mabeus, an oilman who came here from Alaska with his family at the peak of Williston's boom.
Williston's Walmart has been a microcosm of the city's economy. During the boom, transient workers with nowhere else to stay lived out of trucks in the Walmart's parking lot, Mabeus and others recall. Checkout lines ran an hour or more long, and Walmart couldn't keep the shelves stocked. "They would just bring those pallets out in the middle of the aisle and people would take their Gatorade or their chips," Mabeus says. "They didn't even have time to put them on the shelves."
The Williston Walmart today is a sober, amply-stocked affair, and that makes a big difference in everyday quality of life. Some in Williston embrace the slowdown (nobody here calls it a bust). Yes, oil workers would like to see productivity pick up again, but meanwhile, those who are committed to staying in Williston see a chance to take stock of how Williston might harness all the speculation and fast money that comes with a boom and convert it into steady growth (or at least stability) during slower times.
Economists who study boomtowns point to two competing dynamics at play. The first is the obvious benefit of a burst of investment in one sector, which produces what economists call positive spillover: The booming oil industry needs labor, and the workers who flock to it boost demand for all sorts of things (food, shelter, and clothes, to name a few), raising almost everyone's boats.
"There is a little bit of a … feedback effect there," says Grant Jacobsen, an assistant professor of planning, public policy, and management at the University of Oregon. "Once the economy reaches a certain point where it seems like it's worth a private company making a certain investment, then maybe another private company might make an investment and all of a sudden the agglomeration effects"—the benefits companies receive for locating near other companies— "start taking over."
As an example of agglomeration, take Menards, a big-box chain that set up a location in Williston last September. As Wenko, of the city's economic-development team, told me, large retail chains make investment decisions based on projections decades into the future. They don't open up a new store unless they think there will be enough economic activity in the long run to make it worth the investment.
So for Williston, a city of 28,000, a new Menards is a big deal. It's a sign that a sharp increase in demand might actually produce lasting economic activity. The fracking starts and stops, but people still go buy their lawnmowers at Menards. What's more, the Willistonian going to buy her lawnmower might want to pick up a coffee on the way home, so maybe Starbucks will think it's worth it to open up a branch across the street. Know what goes well with Starbucks? Krispy Kreme donuts. And so on. "This is kind of like our field of dreams," Williston Mayor Howard Klug told the local paper when the hardware giant finally filed for a building permit. "If you build it they will come."
The other, less welcome consequence of a boom is referred to as crowding out: The rise of good-paying oil jobs means that local employers in other industries have to raise their wages to compete for labor. This tends to hurt companies in traded goods like manufacturing or agriculture, says Mark Partridge, a professor of rural-urban policy at The Ohio State University. That's because manufacturers and farmers produce locally but sell their products globally, meaning that it's harder to pass growing labor costs onto their customers, most of whom probably aren't living in boomtowns.
Ideally, the economic multiplication outweighs the effects of crowding out, and a boomtown creates a critical mass that supports growth throughout the bust. That's easier said than done, and much of this depends on economic forces beyond the control of any one local planning commission. That said, cities can and do offer targeted tax breaks for industries that sell non-traded goods and services, like retail or restaurants, with the hope that such amenities will help convince transient workers to become permanent workers that live, spend their money, and raise a family through boom and bust. But tax incentives are controversial in that they deprive public services such as schools of the revenue needed to respond to growing populations and increased economic activity. Many economists also say these tax breaks aren't very effective because, in Partridge's words, they "shift resources from more productive uses to less productive uses, or at best rearranges where the activity takes place."
The best long-term strategies might be the most boring ones: Invest in infrastructure, build good schools, and protect the environment. These "patient, time-proven strategies," as Partridge calls them, are perhaps the best means for keeping people and money in a boomtown when things go bust. People want to live in clean places with smooth roads and good schools. Boomtowns are often the most susceptible to losing these basic amenities: Wildcatters spill oil, frac trucks batter the roads, and classrooms flood with new students—all the more reason for resource-dependent cities to double down on the things that make life more livable. This is to say nothing of the crime, drugs, human trafficking, and other social ills that come with a boom and tend to linger even during the bust; there's a reason the FBI recently established an office in Boomtown, U.S.A.
Williston, for its part, has put a lot of new money into infrastructure and amenities to catch up with the growth and prepare for the next boom. That includes a $110 million water-treatment plant, a $20 million jail expansion, a new $56 million high school, and a $70 million recreational center complete with an indoor surfing apparatus. That said, much of this is paid for with borrowed money—bonds and loans issued during the boom that some fear the city cannot make good on. The city has an annual budget of $240 million, but its debt totals somewhere around $300 million, The Wall Street Journal reports.
There are more direct, organized ways to transfer wealth from boom to bust. Squirreling away oil and gas tax revenues in a rainy-day fund is a reliable, if politically sensitive, way to do it. Norway is the classic example. The country transfers a portion of revenue from its state-owned oil industry to a pension fund that has seen an annual return of 5.5 percent since 1998 and is currently worth some $848 billion. "One day the oil will run out," reads the fund's website, "but the return on the fund will continue to benefit the Norwegian population." Alaska does something similar, and Texas has an oil-and-gas-funded endowment for its public university systems. North Dakota's own Legacy Fund is worth $3.5 billion, and there's plenty of debate over how it should be used once the money becomes available next year. Some ideas being tossed around are to transfer it to the state's general fund, to reinvest the earnings toward growing the principal, and less seriously, to purchase the Minnesota Vikings.
Ultimately, the biggest challenge faced by Williston, which is not in the orbit of any major cities, is a matter of geography. Jacobsen and Partridge note that boomtowns are generally a rural phenomenon, and larger areas closer to economic centers are more likely to achieve that critical mass Williston is looking for because they can build off of nearby metropolitan areas.
Still, some boomtowns do find their footing. Partridge cites Denver as an example of a place that grew beyond its early boomtown origins. The city was largely a one-industry town of gold and silver mining until it linked up to the transcontinental railroad in 1870. Growth in a number of other industries—notably among them floriculture—took off from there. Oil and gas dominated the landscape in the 1980s, but Denver's geographic centrality and high elevation made it attractive to telecommunications firms, making for a more diversified, stable economy. "Denver in the mid-1980s was really struggling after that [oil bust]," Partridge says. "They thought of themselves as an energy, natural-resources city. Now it's real different."
Hopes about the future aside, no amount of diversification or spillover effects are going to help Mabeus and his family, who are stuck in the middle of a bust. Mabeus says he's invested everything he has in his company, Rig Dog Oilfield Services, which installs spill containment equipment on drilling rigs. At its peak, the company had 40 rigs in its portfolio. Now it's down to five, and Rig Dog can only charge about half of what it used to. "We're about right on the edge of losing everything … We're trying to literally hang on to any possibility of this coming back," Mabeus said.
Perhaps they should have saved more when oil prices were high, and perhaps they should have known that they couldn't stay high forever. But that's easy to say in hindsight. Demand was so strong that Mabeus says any money they made they reinvested in the company to keep up. And they did save money, Mabeus says, but prices have been slumping more than a year now, and savings can only last so long.
The irony is that the Mabeus family and other oil workers are a victim of their own success. While the rest of the country enjoys low prices at the pump, the energy windfall's creators shoulder the burden of a buyer's market. As Steve Mabeus, Rodney's son and an employee of Rig Dog, says, "While you celebrate $2 gas, remember that the person that is losing out is an American citizen."