What's Left of Yahoo?
The company's $40 billion in leftover assets far exceeds the value of the services it operates—quite a decline for a firm once worth $125 billion.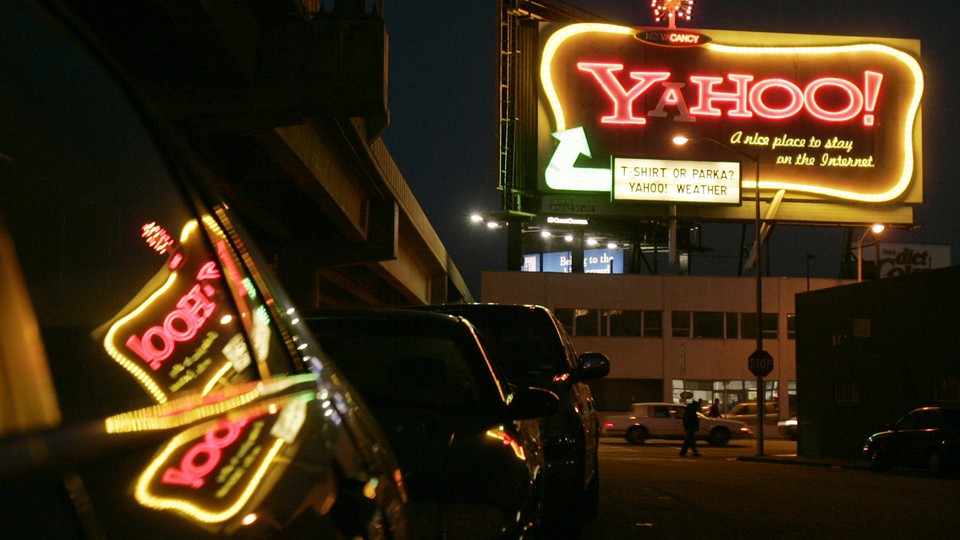 On Monday, Yahoo announced that it will sell its core internet business to Verizon for $4.8 billion. The news came after several rounds of bidding in the past couple months, with investors such as AT&T, Quicken Loans, and the private equity firm TPG all looking to pick up Yahoo's email service, news sites, Tumblr, and Flickr.
Verizon had offered only $3 billion in the second-round of bidding, but the company is clearly eager to become a media player. Its plan is to combine Yahoo with AOL, which Verizon acquired for $4.4 billion last year, in the hopes that AOL's booming advertising business would strengthen Verizon's push into mobile and video ads. It's still unclear what the result of combining two internet pioneers that have struggled to stay relevant will be, but Verizon's latest acquisition is still in line with this strategy—using pieces of a legacy internet company (their users, content, and their huge combined traffic) to further push into digital advertising as a global mobile-media company.
So what's left of Yahoo after the sale? The deal is awaiting regulatory approval, which is expected in early 2017. But for now, Yahoo's corporate assets remain independent of the deal. And there are plenty of assets: Because what remains of Yahoo is so substantial, they have playfully been nicknamed RemainCo, and include the company's 15 percent stake in the Chinese e-commerce giant Alibaba, which ex-Yahoo CEO Jerry Yang bought from Jack Ma in 2005 for $1 billion.
The assets also include a 35.5 percent stake in Yahoo Japan, which is arguably far more successful than Yahoo in the U.S. That arrangement, a joint venture with the tech firm Softbank, made headlines when Yahoo Japan was valued as highly as Yahoo in the U.S., and for many years Google failed to catch up to it (Google has since surpassed Yahoo Japan). These days, Yahoo Japan is still one of the most popular sites in Japan and has a market cap of $24 billion, with Yahoo's stake worth more than $8 billion. On top of this, the assets include a pile of patents and, eventually, cash from the Verizon deal. That all adds up to a combined worth of at least $40 billion for RemainCo.
And that number highlights just how much Yahoo's core business has deteriorated. At its height, in 2000, it was a company worth $125 billion; it once tried to buy Google and rejected a $45 billion offer from Microsoft. In recent years, many analysts and investors have taken to regarding Yahoo—only half-jokingly—as a trust of Alibaba shares attached to a flagging media company. The fact that RemainCo is worth more than Yahoo's core business several times over shows the way the company has been losing ground—to Google in search and email, to other media companies in news, and to platforms such as Facebook and Instagram in photo-sharing and blogging.
Yahoo's profitability in recent years has hinged on its Alibaba shares, which accounted for 80 percent of its value, and its investors' confidence in what it was planning to do with those shares. Following the Verizon deal, there's still the big question for Yahoo shareholders of what will happen to those Alibaba shares—a question Yahoo has been struggling with for many months. It has expended a lot of effort trying to figure out the most profitable way to sell those shares while limiting the taxes it pays on those sales. Last year, Yahoo had requested the IRS's blessing in spinning off its Alibaba shares tax-free, but the company scrapped that plan when the IRS denied Yahoo's request for a ruling on the matter.
Meanwhile, who will preside over all those shares? Yahoo's CEO, Marissa Mayer, said on a conference call on Monday that she would remain CEO through the transition and has expressed interest in staying on once the company has been absorbed by Verizon. Mayer has been executing a turnaround plan for the company, and, had the final bids come in lower than Yahoo's investors would've liked, it was reported that the company might have abandoned the sale and continued with her plan. Re/Code has reported that Mayer is expected to leave once the Verizon deal is finalized, which would result in her receiving a potential $55 million severance package.
So, at this point, it's not clear whether Mayer would stay in charge of RemainCo, but she told CNBC that she is "open minded" about her role at Yahoo. It certainly would resonate with meaning if Mayer and Tim Armstrong, who still runs AOL, become co-CEOs of a fusion of Yahoo and AOL—it'd be two ex-Google executives running a company consisting of two internet companies that appear to be past their prime.