What It's Like to Manage in the Mall of America
Brittany Berghorst, the store manager at Levi's, talks about working retail long term and how she deals with the worst customers in the country's largest shopping center.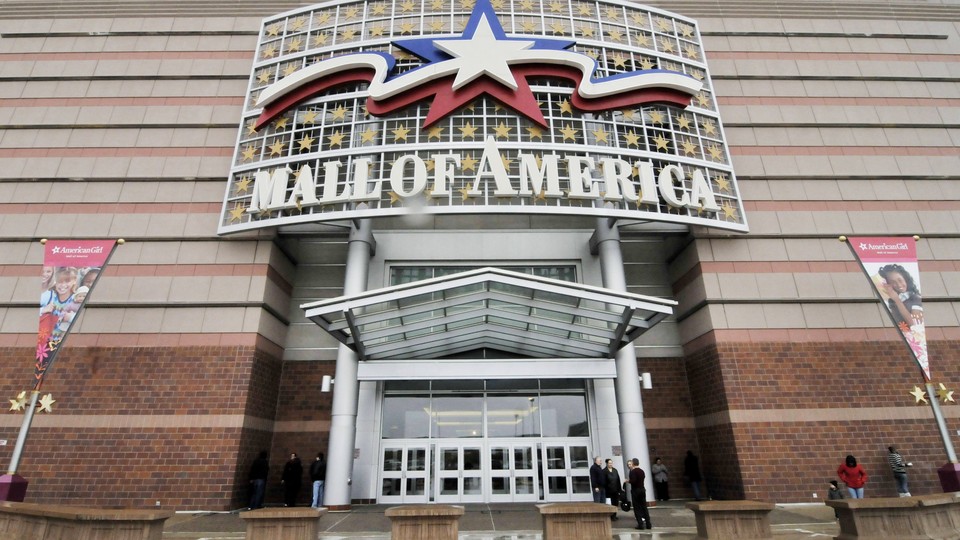 Americans aren't shopping in malls like they used to. In decades past, the mall was a symbol of suburban prosperity: Loitering around the halls was regular recreation for teens too young to do much else, brick-and-mortar buildings the obvious destination for shopping needs, and working in retail was a common first job.
But in recent years, sales at physical stores have lagged as Americans increasingly favor shopping online. Consumer spending is on the rise, but retailers are working harder to get people to spend money in their actual stores. Despite this, retail hiring is up, with the Labor Department reporting that retail salespeople and cashiers were the two most common occupations in the country making up roughly 6 percent of total American employment—more than before the Great Recession.
Brittany Berghorst works as a store manager at Levi's in the Mall of America in Bloomington, Minnesota. Berghorst has worked in retail for more than eight years. I spoke to her about what it's like to work in the largest mall in the country, and how working in retail has changed. The interview that follows has been edited and condensed for clarity.
---
Adrienne Green: Tell me more about how you got this job.
Brittany Berghorst: It's funny I actually went to college to get out of retail. I tried a couple different jobs after college, and ended up back in retail. I was a speech communications major with a minor in studio art. But how I got this job was that I worked with the previous store manager at a different store a long time ago, and when she was hired to open this location she needed an assistant manager. That was back in 2008, and I've been here since we opened the store. Last September, I was promoted to the store manager.
Green: How many stores in the retail industry have you worked in?
Berghorst: I'm kind of a retail whore ... Zumiez, Zook, PacSun, Wet Seal, Coldwater Creek, Express and Levi's.
In the beginning, I was in high school. I just had my seven year anniversary at Levi's. I was at Express before that for like a year. My major was speech communication, but I never really knew what I wanted to do with that. I just felt like it was broad enough that I would be able to choose something. It was really a fluke how I fell back into retail.
I was between jobs back in like 2006, and I needed the money really bad for my friend's wedding. I got this job, because I could, at Coldwater Creek—which is like an older ladies' store. I was 26 at the time, so that was not necessarily a good fit but I just got it so I could get a paycheck so I could go to her wedding. Then, I just kind of ended up back in it.
Green: Did you think you'd be doing it for as long as you have?
Berghorst: Absolutely not. I did not. Every year I say no, but I'm still here. I think I would like to eventually get out of it.
Green: You said you just got promoted. What makes doing the job you have now different from any of the roles that you've had at any of the various stores you've worked at?
Berghorst: This is the first time that I've actually been a store manager. For the last seven years, I was an assistant manager but I worked very closely with the store manager. As store manager, it is your responsibility to staff the store and come in if someone can't come in, even if it's your day off or your vacation. That's the biggest change. And of course being salaried, versus being hourly, so I'm working more hours but not necessarily getting paid for it.
Green: What is your work schedule?
Berghorst: I don't have a set schedule, but it's fairly similar every week. I always have to be in the office on Monday. I usually have to close on Friday nights, and open on Saturdays because that's when they want the store managers in there. I work one Sunday a month. I'm still getting my two days off per week. I'm usually only working 40 to 45 hours, but typically not over 40. I actually get a lot of vacation, I get about two months of vacation a year. I tend to take it more in the summer, just because we have the coverage with a lot of people being out of school and that's just when I like to take it. I just got back from a week off.
Green: What's a typical day like for you?
Berghorst: As a manager, I come into work and I read email, corporate communication, set the standard for the day, and direct people in what they need to do. I constantly have a list going of things that have to get done, and as soon as things are crossed off that list—another one is started. I definitely feel like there are just not enough hours in the day to complete everything. It's really about developing my team and hiring top talent.
Green: Does your store do on-call scheduling?
Berghorst: That was something that was taken away about a year and a half ago. I, as a manager, miss that very very much. As I was saying, if someone were to call out sick tonight and I had someone who was on-call, I'd be like "you have to come in, this person is sick." However, we don't have on-call shifts so if someone calls out sick and you can't find someone to replace them, usually the manager has to stay the entire day to cover that shift.
As a manager, [on call scheduling] makes it easier. If I was a stylist or a sales associate, I would hate it. It's like you're wasting your whole day having to call 2 hours before your 5 o'clock shift, maybe come in and maybe not. I would think that sucks.
Green: When you work holidays, is that experience different for you as a manager rather than a sales associate?
Berghorst: Everybody but me would be getting paid time-and-a-half for working a holiday, so I try to take them off. I'm not really getting anything out of it. Around Thanksgiving, Christmas day, New Year's day, I get those all as holidays but I can't take them off as days off until January or February. They call that a floating holiday because it's just too busy of a time of year for you to take off.
Christmas is the busiest. You have your Black Friday, which has been different every year here because they keep changing the hours that the mall is open. They change it from opening at 6 a.m. on Black Friday to now midnight on Thanksgiving. They had us open on Thanksgiving one year, so they keep changing it and it's kind of hard to gauge the traffic patterns. But that's the busiest day of the year. After Black Friday, it tapers off again until about two weeks before Christmas. I would say the last two years we were busier after Christmas than we were before. A lot of people wait on those after Christmas sales. After Christmas up until people go back to work after the 1st of the year, that's our busiest time.
Green: What would you say is the part you like about your job the most?
Berghorst: I do like interacting with the consumers. You do get to meet a lot of people and hang out with people sometimes I feel like. You're just selling them pants, it's not rocket science , it's pretty casual. What I hate about my job is the people that steal because there's a lot of things we can't do with people that steal. They just put you in really uncomfortable situations. Sometimes, I feel like I never wanted to be a cop or in that field and sometimes I feel like I am.
All we can do is try to see if the customer did take something and still give them the best service that you can. If they do set off an alarm when they're leaving you can ask to look in the bag but you can't just grab it and look at it. There's so many people that don't know but retailers for the most part, unless they prosecute, which most of them usually don't because it's more expensive for them to do that than it is for them to lose the merchandise.
Green: Are your customers generally respectful?
Berghorst: I once had a person throw a pair of 501's at me saying "I don't want button fly [jeans]." Like they threw them at my face. I had another person who was being rung up one time, and he had paid with a credit card and the associate that was ringing him had slid the card back to him on the counter, and he was so offended that the guy didn't hand him back the card the same way it was handed off that he returned the jeans. There's always interesting stuff like that, but for the most part I would say people are pretty nice.
Green: How often does an incident like the throwing of the jeans happen?
Berghorst: That's kind of a rare thing. I think at least once or twice a week you're going to get some kind of disgruntled customer. Usually those people, they can't be pleased no matter what and they just want to come in to complain about something. Sometimes I feel like people are just lonely and they come to these businesses to talk and complain to these people because they don't have any other things to do. But the really crazy people—it doesn't happen often.
Green: The Mall of America is obviously huge—it has it's own police department, amusement attractions, etc. What is the interaction like between you and other stores?
Berghorst: When you're in such a big mall, you do tend to stay in your little wing. But yesterday. I went out and did some recruiting in the mall and because I've been here so long I did know so many of the people all around the mall. I know so many of the different managers, just because if you haven't worked at this mall you've worked at a different mall around here. The retail world is a small world, so you've probably met somebody around at some point. You share employees during the holiday season. I would share with people at Victoria's Secret, we have a little thing: "Hey I need some people and so do you, let's figure out these availabilities so that we can both have this person work for us."
---
This interview is a part of an ongoing project on work and identity in America. You may find other pieces here, including interviews with a cartographer, a park ranger, and a research librarian.