How National Food Companies Are Responding to Vermont's GMO Law
Rather than comply with a new labeling regulation, some manufacturers are pulling their products from the state's shelves.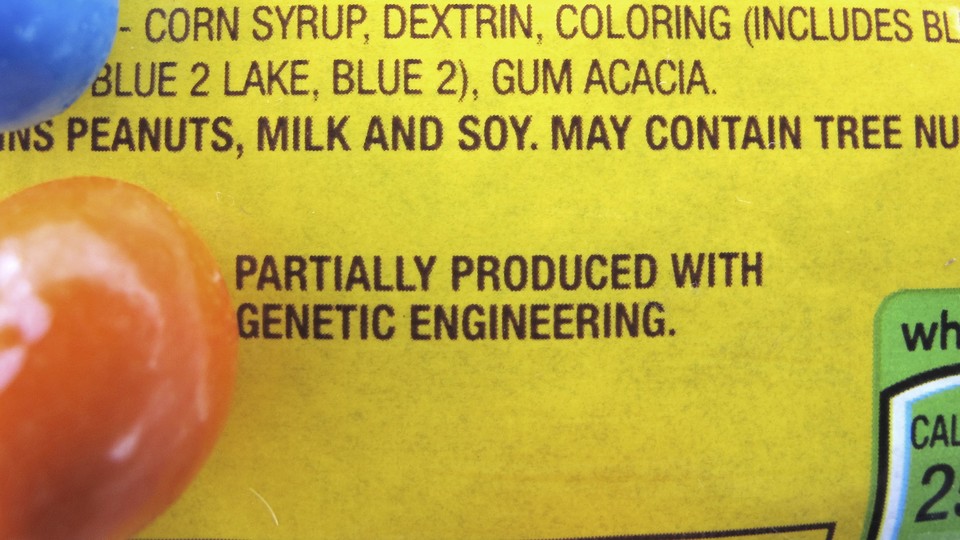 On Wednesday, a scene that passed for exciting—at least by Capitol Hill standards—unfolded when demonstrators in the Senate gallery showered $2,000 upon lawmakers in the chamber below.
Rather than a taxpayer-initiated raise, the stunt was in protest of a federal bill that would force food manufacturers to label products that contain genetically-modified organisms (GMOs) according to terms that some say are too accommodating of big food companies and farm-industry groups. Despite the interjection of the "Monsanto money," the bill passed in the Senate late on Thursday evening. The bill, which still needs the approval of the House and the president, is actually meant to preempt a tougher GMO-labeling law that went into effect last week in Vermont and is the latest flashpoint in a vicious, years-long battle over GMOs. (An overwhelming scientific consensus suggests that the vilification of GMOs is unjustified.)
While the regulatory uncertainty persists, food manufacturers have been left with the choice of acquiescing to GMOs' stigma by getting out ahead of potentially impending labeling requirements (which consumers want) or withdrawing from markets that require the labels. Should a national GMO-labeling regulation fail to materialize, food companies will have until 2017 to comply with the new labeling standards in Vermont. Some manufacturers like General Mills, Campbell's, Frito-Lay, Kellogg, and ConAgra have already added disclosures in a variety of formats: in small lettering beneath the ingredients list, discretely placed at the bottom of food labels, or subtly stamped alongside best-by dates.
Other food companies have warned that rather than alter packaging, they will simply stop selling their products in Vermont, which is the second-least-populous U.S. state. On Thursday, Vermont's Northfield News reported that some 3,000 products would taken off the shelves, including "Del Monte fruits, some Hostess products, some Chicken of the Sea, Sabra Hummus, some Heinz Ketchup, Sage Valley nuts, Bob Evans foods, Louisiana Fish Fry products, Sea Gold Seafood and some Starbucks products."
Late last month, days before Vermont's law went into effect, Coca-Cola, which  has channeled millions of dollars toward the fight against GMO labeling, suggested that it would limit distribution of its bevy of 100-plus beverages (which includes Dasani, Minute Maid, Odwalla, and Honest Tea) to just its biggest products. "To avoid multiple labeling changes, some lower-volume brands and packages we offer within our broad portfolio could be temporarily unavailable in Vermont," one Coca-Cola spokesman told Bloomberg. (This is the latest pop of bad news for sodamakers; last month, Philadelphia also passed a first-in-the-nation soda tax to fund public schools.)
Regardless of how the GMO-labeling battle plays out, the question of how they'll affect shoppers' decision-making remains. In recent years, the rollout of calorie counts, sodium warnings, and even health guidelines enacted by food companies themselves have been met with skepticism and lackluster results. It's difficult to tell how adding a warning for something generally understood to be harmless will yield a clearer picture of how a consumer should consume.