Reality Is Messier Than Uber and Airbnb Want It to Be
Sharing platforms are meant to scale seamlessly throughout the world, but they've faced a different knotty set of rules in nearly every city they've colonized.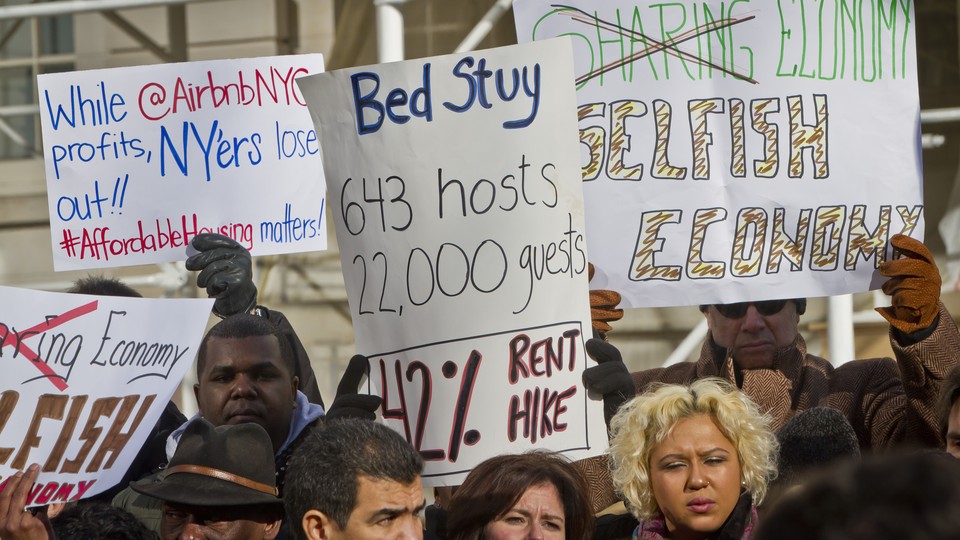 For years now, Airbnb, the popular home-sharing platform, has featured this line of copy at the end of a company mission statement that mostly pledges to promote a sense of adventure and discovery: "And with world-class customer service and a growing community of users, Airbnb is the easiest way for people to monetize their extra space and showcase it to an audience of millions."
It's a business model condensed into a coda, casually set off with an "And." The subtext is that the revenue-making potential of the platform is an afterthought, which implies that its appeal lies in its ease of use. Sign up and rent out your apartment or guest room. It's easy.
Easy, that is, unless you live in Chicago, where regulations passed last week will require hosts to register with the city, impose a tax on each transaction to pay for the city's homeless services, and limit the number of apartments that can be rented out in a particular building, depending on its size. Or in San Francisco, Airbnb's hometown, where a law that went into effect in 2015 limits the total number of days an apartment can be rented out per year and similarly requires hosts to register with the city. (This week, the company, which coincidentally helped draft the 2014 law, decided to sue the city over it.) Months after San Francisco imposed those limits, Santa Monica passed regulations requiring hosts to get business licenses and restricted them from renting out entire properties.
Elsewhere, other legislation is either on the table or in the works. In Los Angeles, the city's department of planning has proposed an ordinance that would require hosts to have to apply to rent their homes and renew their registration (and pay a fee) every two years. In New York, the company's biggest market, a potential state law that awaits the governor's consideration would ban hosts from renting out their entire apartments (as opposed to renting individual rooms) or face a fine as high as $7,500.
It's this most recent spate of regulatory efforts against Airbnb that most clearly highlights how a very simple business model can become muddied when it meets real-world markets, and alters them.
So how could a company that stands for adventure and discovery make so many enemies? Airbnb's critics charge that the service enables illegal listings, leaves room for discrimination against its minority users, can introduce liabilities for both hosts and guests, and saps local housing markets of affordable living spaces. One corporate parallel is Uber, the ride-hailing app, which is estimated to be worth more than double what Airbnb is and has been the target of protests on six different continents by taxi unions as well as of a variety of regulations on city, state, and national levels.
A home-sharing company doesn't accumulate $30 billion value in just a few short years without running afoul of the communities in which it operates. So as these companies have grown, they've required the amassing of major publicity and legal teams to beat back challenges in courts—of public opinion or otherwise. One of Uber's high-profile hires was David Plouffe, President Obama's former campaign manager; meanwhile, joining Airbnb at the digital barricades ahead of its setback in Chicago last week was the actor Ashton Kutcher, who also happens to be an Airbnb investor.
"Airbnb is in a real bind," Bradley Tusk, a political consultant, told The New York Times this week. "It must choose between making their markets dramatically less valuable and getting rid of a cloud of regulatory uncertainty"—meaning there's a tradeoff between its wild growth and the civic response to it. Founded on grand visions of disruption and scalability, even some of these new platforms' rhetorical excesses have been tamped down by reality. "We don't have the macro view; we are in cities," Travis Kalanick, Uber's CEO, said at the World Economic Forum earlier this week. "People live differently in different cities."
People indeed live differently in different cities, but it's simultaneously clear that regardless of the city, Uber and Airbnb tend to behave the same way: Roll out a convenient, cheap product with scorched-earth marketing tactics, and rest easy knowing that city officials can't write regulations as quickly as consumers get hooked. So, as cities continue to enact regulations that slightly alter Uber and Airbnb's platforms, this is what the future of the platform economy might look like: a series of similar products that differ slightly from city to city, based on local customs, regulations, and tolerance for yielding to platforms' visions of the world.