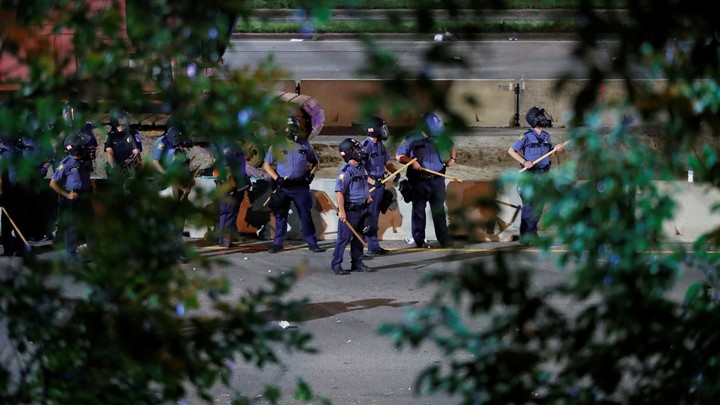 At first it may have seemed surprising that one of the police shootings last week occurred in a suburb of St. Paul. The Twin Cities of Minneapolis and St. Paul have long been lauded for their inclusiveness and egalitarianism. They're seen as an affordable utopia where forward-thinking social policies have led to greater equality.
This sets the region apart from the highly segregated communities where the most high-profile police shootings have happened, cities like St. Louis, Chicago, and New York. But perhaps that reputation is in need of an update: While the Twin Cities were once one of the most integrated places in the country, Minneapolis and St. Paul are much more segregated than they were in the 1970s and 1980s, according to Myron Orfield, the director of the Institute on Metropolitan Opportunity at the University of Minnesota.*
Indeed, St. Anthony, the city where the police officer Jeronimo Yanez, who shot Philando Castile last week, was on the police force, is a "tightly guarded white enclave" surrounded by more racially diverse communities, Orfield says. St. Anthony has a poverty rate of 5 percent, compared to 11 percent for Falcon Heights, where Castile was pulled over. The nonwhite population of St. Anthony grew from 3 to 16 percent between 1980 and 2010; Falcon Heights' nonwhite population grew from 11 to 28 percent during that time. Another Minneapolis suburb, Brooklyn Center, saw its nonwhite population grow from 4 to 54 percent over that time period.
The increase in segregation is citywide. The number of Minneapolis schools where fewer than one in 10 students is white has increased sevenfold since 2000. The number of high-poverty neighborhoods has tripled since that time. Now, 42 percent of the black population lives in majority-minority census tracts, up from 34 percent in 1990. Meanwhile, the percentage of affordable housing in higher-income white suburbs has declined to its lowest point since the 1970s, according to Orfield.
This is a strange fate to befall the first large city in the country to enact a fair-housing ordinance and one of the first states to pass a law outlawing housing discrimination based on race. And it's one that is threatening the economic stability of Minneapolis, Orfield says. "Segregation has helped wrench apart the economic fabric of the region, as neighborhoods or even entire cities have found themselves crippled by the rapid, destabilizing increase in poverty," he wrote in a 2015 report, "Why Are the Twin Cities So Segregated?"
So what happened? How could a city that was once so forward-thinking in both race and economics fall so fast?
First, it's important to understand how the Twin Cities were, to better understand how their commitment to diversity might have morphed. Since the 1960s, the Twin Cities promoted equality between rich and poor cities by pooling public revenues. As my colleague Derek Thompson has written, part of the egalitarian nature of Minneapolis stems from when, in 1971, regional leaders came up with the Minnesota Miracle Plan, which required all municipalities in the Minneapolis-St. Paul area to contribute a large share of their growing commercial tax revenues back into a fund that would be invested back into the whole region. "By spreading the wealth to its poorest neighborhoods, the metro area provides more-equal services in low-income places, and keeps quality of life high just about everywhere," Thompson wrote.
The region took a collaborative approach toward housing, too. The Metropolitan Council, which is the regional government, required through a Metropolitan Land Use Planning Act that all suburbs provide for their "fair share" of affordable housing. From 1970 to 1980, the percentage of cities in the region offering subsidized housing grew from 8 percent to 51 percent. Black residents living in census tracts where more than half of residents were nonwhite actually decreased from 45 percent in 1970 to 38 percent in 1980. Almost three-quarters of all new subsidized housing built in the Twin Cities between 1971 and 1979 was built in the suburbs, which was the best record in the nation, according to Orfield. By 1979, 40 percent of subsidized housing units were located in the suburbs, and low-income families could move to one of 97 different communities in the area.
But things started changing in the 1980s, Orfield says. In a sense, the community's commitment to integration was too successful. Developers and nonprofits in the cities of Minneapolis and St. Paul didn't like seeing all the money for affordable housing going to the suburbs. They wanted more construction, housing, and dollars closer to home. Centrally-located housing agencies and developers started to push back against the longstanding policy, demanding more funds for housing in the inner city.
Partially as a response, in 1980, Minneapolis and St. Paul created an entity called the Family Housing Fund, which focused on creating subsidized housing in the central cities. The Family Housing Fund built tens of thousands of units, the majority of which were clustered in central cities and high-poverty census tracts, according to Orfield. The Family Housing Fund was swayed by affordable-housing developers who believed that building up distressed neighborhoods was the best way to help people out of poverty, Orfield says. As developers focused on building up inner-ring areas, plots of suburban land that had been zoned for affordable development went back to their original use: single-family, market-rate homes.
It was no accident that neighborhood-based development gained favor in the Twin Cities of the 1980s and 1990s. In 1986, Congress passed a law creating the Low-Income Housing Tax Credit program, which essentially allowed the private sector to get into affordable housing. These tax credits made it possible for developers to build affordable housing and actually make money—prior to the passage of the credits, affordable housing was almost totally the purview of the government. Government housing had to follow much stricter rules about integration. Private developers could skirt some of those rules.
Private developers will build where there is less opposition, and in the Minneapolis of the 1980s and 1990s, that was often in dilapidated center-city neighborhoods hungry for development. The Twin Cities allocated the low-income-housing tax credits in such a way that the cities would get a higher share of tax-credit projects, thus ensuring that affordable housing, and the money that came with it, would go to the cities, not the suburbs.
To be sure, on its surface, there's nothing wrong with investing in building housing in a distressed neighborhood in the hope that it will create economic activity. But to solely invest in those neighborhoods, without providing opportunity in other neighborhoods, violates the Fair Housing Act. That, at least, was the gist of a Supreme Court decision last June, which said that the way the state of Texas distributed its low-income-housing tax credits, concentrating them in high-poverty neighborhoods, violated the law. Continually building in central neighborhoods "manifestly does not offer residents of distressed neighborhoods new housing opportunities in more affluent areas, or promote racial or economic integration," Orfield writes.
The change in direction can be seen in data from recent years. Between 2002 and 2011, the Twin Cities produced 2,249 units for those earning 30 percent of the median metropolitan income. But 92 percent of those units were built in the central cities, which are home to 23 percent of the region's population. Of the 7,253 affordable units occupied in that time period, 74 percent were in the central cities.
Segregation can worsen economic disparities, too. The Twin Cities possess the highest rates of racial employment discrepancy in the nation, according to Jessica Nickrand, who countered Thompson's story in an Atlantic piece, "Minneapolis's White Lie," in February 2015. Residents stuck in the inner-cities live further from the good jobs and good schools in the suburbs. And segregation can also lead to a lack of interactions between black and white communities, an unfamiliarity that could lead to tensions, and, as the incidents of the past week indicate, even death.
"Almost all of the places you are seeing problems between the police the community are very segregated. You are not seeing these problems as often in more integrated places," Orfield told me, in an email. Castile's shooting, he said, "illustrates the racism and tension that has accompanied the Twin Cities becoming very racially segregated over the past two decades."
---
* This article originally misidentified the University of Minnesota as the University of Minneapolis. We regret the error.
This article is part of our Beyond Diversity project, which is supported by Open Society Foundations.
We want to hear what you think about this article. Submit a letter to the editor or write to letters@theatlantic.com.