The Challenge of Keeping Black Families From Leaving the Midwest
As Rust Belt cities focus on attracting immigrants to boost their economy, some longtime African American residents fear that plans for revitalization will leave them out.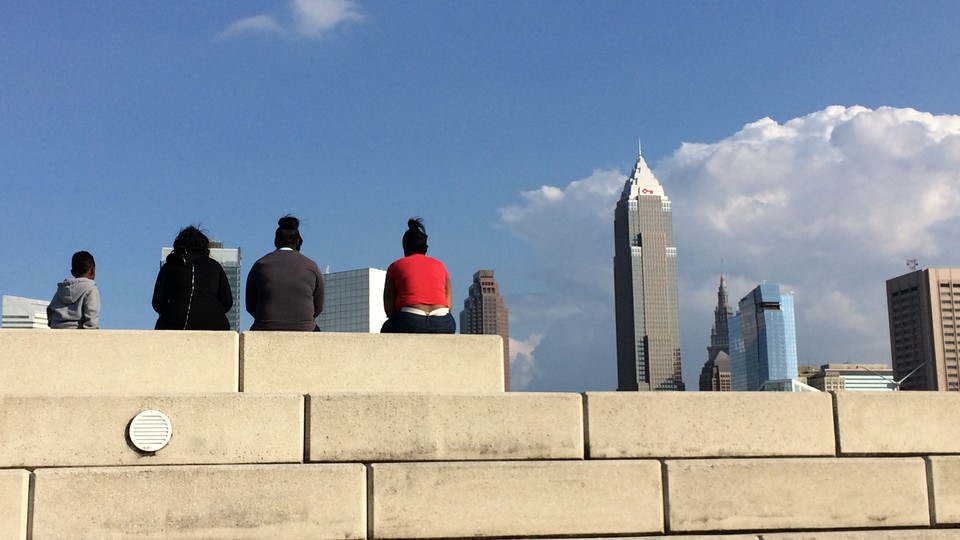 CLEVELAND—It's become quite popular for city leaders in the Rust Belt to talk about their efforts to attract immigrants and international talent. And the strategy makes sense: Their populations are shrinking, and immigrants are known for opening small businesses and reviving decaying urban neighborhoods. Nonprofits called Global Detroit, Global St. Louis, and Global Cleveland have popped up in response to this trend.
But these efforts have also brought up an uncomfortable reality in Midwestern cities. Many black community leaders are not thrilled with the focus on helping immigrants. A recurring theme heard here is: Why not invest in the people who are already here? In the urban Midwest, black residents face unemployment rates of up to 20 percent.
The lack of job opportunities in post-industrial, Midwestern cities is largely responsible for an exodus of black residents, who are moving south in what has been dubbed the New Great Migration. Cities like Cleveland, Austin, and San Francisco have all tried different methods to stop the departure of black families. From 2000 to 2010, Cleveland lost 32,000 African Americans (In 2000 there were about 244,000), the largest "black flight" in the city's history.
While many city leaders have tried to avoid invoking these racial tensions, Cleveland is facing them straight on. Global Cleveland, which largely focuses on attracting high-skilled immigrants to the city's growing healthcare and information technology workforce, recently launched an African American initiative. "We have a lot of people who don't feel welcome here, so we needed to find a way to make African Americans feel comfortable with our work," says Jazmin Long, director of community relations and strategic partnerships for Global Cleveland. She says that if African Americans feel that Cleveland is a good place to live, they will tell their friends and relatives in other cities. "It's all about word of mouth," she says.
Global Cleveland, among other things, is developing a program to increase black representation on nonprofit boards and to create a pipeline of workforce training. The truth is, many of Cleveland's black workers don't have the skills to fill the high-tech jobs going to immigrants, she says. That's because in the last 50 years, Cleveland's economy has shifted from manufacturing to more technical work. One hundred years ago, the leading employers were machine-tool makers and auto-parts manufacturers. Now, they are Cleveland Clinic and other area hospitals. A decent job these days requires some sort of advanced technical training, which wasn't necessary at the height of industrial manufacturing.
One of the groups that Global Cleveland is working with is Cuyahoga County Community College. William Gary, the executive vice president of the Workforce, Community and Economic Development Division, says that it's been hard for many African American, blue-collar workers to find new careers. So his job is to offer them advanced training for the new manufacturing jobs out there. "Manufacturing is not dead here in Northeast Ohio. You just need specific skills to operate state-of-the-art equipment," he says.
One of the most in-demand fields in Cleveland is welding. At the community college, students work at 24 welding stations for 16 weeks to land jobs with annual salaries starting at $50,000, mostly making heavy-machinery tools. This kind of training will help close the opportunity gap between long-time Clevelanders and newcomers, says Gary. For Cleveland to thrive again, the city can't just focus on attracting high-skilled professionals, he says. "It also has to be coupled with training pipelines of existing citizens who can sustain Cleveland's economic vitality. It cannot be sustained by any one of those approaches."
Long, who is African American, says there is a pervasive myth in the black community that immigrants are taking their jobs. "My work is to dispel those rumors," she says. But her job is more than that—it includes connecting black Clevelanders to the technical training needed in today's workforce. One of Global Cleveland's biggest challenges is persuading black residents that welcoming immigrants to the city will improve everyone's way of life. To do that, Global Cleveland recruits Welcoming Mentors, who volunteer to help orient refugees, immigrants, and international students to their new neighborhoods. One of them is 30-year-old Jessica Kennan, who was born and raised in Cleveland. As a student at Cleveland State University, she has shown many international students—mostly from Japan and China—what the city has to offer. She takes them to museums, grocery stores and even the city's Asian business corridor. "I like learning about other cultures and meeting new people," she says.
Kennan, who is working on master's degree in social work, says many of her African American friends want to move to cities like Atlanta and Chicago. But she thinks Cleveland is making a comeback and wants to stick around. She says she thinks immigrants will help create more jobs in Cleveland, but she also wonders if the city will get too expensive. "I hope they don't just gentrify the city and push people out," says Kennan, who lives in subsidized housing in the city's University Circle neighborhood. "I'm trying to see the big picture for us."