The Return of American Hunger
An uneven recovery and new food-stamp restrictions have left millions more people short on food.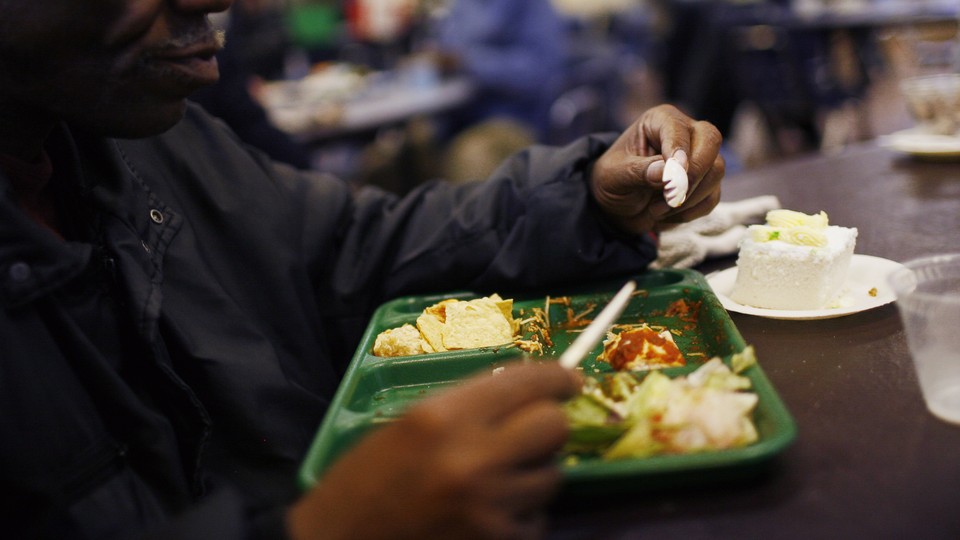 By a handful of indicators—unemployment rates, overall economic growth, even average hourly earnings—the U.S. economy isn't doing so badly right now.
And yet, when it comes to the number of Americans who go hungry, it's almost like the recovery never happened. The U.S. Department of Agriculture defines food security as "access by all people at all times to enough food for an active, healthy life," and in 2006, the year before the housing market stumbled, the USDA estimated that fewer than 10.9 percent of American households were food insecure. By 2009, that figure had spiked to 14.7 percent. And now? As of 2014, the most recent year on record, 14 percent of all American households are not food secure. That's approximately 17.4 million homes across the United States, populated with more than 48 million hungry people. By the time the USDA reports its 2016 figures in September 2017, new food-stamp restrictions could make that number higher.
Hunger remains persistent because millions of Americans are still struggling financially as a result of the crash. Post-recession wage growth, though real, has been wildly unequal. A recent analysis from the Economic Policy Institute found that "between 2000 and 2015, wages for the bottom 60 percent of male workers were flat or declined" and that wage gains have been largely concentrated among high earners.
As a result, in one of the richest countries that has ever existed, about 15 percent of the population faces down bare cupboards and empty refrigerators on a routine basis. That fact alone meets any reasonable definition of the word "crisis," but it is rarely treated like one. In a lot of states, benign neglect is the most that hungry Americans can expect from their government. What they get instead is usually worse: new restrictions on food-stamp eligibility, in the form of a reimposition of work requirements, mandatory drug testing, and so on.
The cumulative effect of those state-level decisions—combined with recent cuts to the food-stamp program on the federal level—has been a sharp decline in the number of claimants, an effect that far outstrips whatever meager gains have been made in the fight against food insecurity. Over the course of a single month in the first half of 2016, more than a quarter of a million people dropped out of the Supplemental Nutrition Assistance Program, the official name for the food-stamps system. That was the sharpest month-long fall in SNAP participation in a decade.
The main reason for the decline is some states' new work requirements, according to Lisa Davis, the senior vice president of government relations at the national food-bank network Feeding America. "Part of it is due to the fact that the economy is recovering, but unfortunately another big part of it is occurring in the states [that] reinstituted that three-month time limit for ABAWDs," said Davis, using an acronym for "able-bodied adult without dependents." Under federal law, ABAWDs can only receive three months' worth of SNAP benefits every three years before they get cut off. In order to receive any more, they must either find employment or enter a job training program that meets federal requirements. When unemployment is high and job training is scarce, states have the option of waiving those work requirements.
Most governors took advantage of that escape clause in the years following the financial crisis. As recently as the first quarter of this year, the USDA, which oversees food-stamp programs, had granted full waivers to 29 states, plus the District of Columbia, Guam, and the Virgin Islands. But within months, the number of states opting into full waivers had plummeted to eight. The result was an immediate and dramatic decline in nationwide food-stamp rolls. "The reinstatement of the time limit is probably the single most significant issue in the national social safety net happening this year," said Davis.
Some state governments haven't been satisfied with only reimposing work requirements. Over the past year, Wisconsin started requiring that some food-stamp applicants submit to a drug test, Missouri imposed a rule limiting the duration of residents' enrollment in the program to no longer than four years, and Maine's governor, Paul LePage, threatened to stop administering SNAP entirely.
When state governments retreat from the battle against hunger, it puts more pressure on emergency services such as food pantries and soup kitchens. Since the recession, food charities across the United States have been reporting historically unprecedented levels of demand for their services.
Margarette Purvis, the president and CEO of the Food Bank for New York City, the largest food bank in the United States, says that her organization has spent the past few years struggling to keep up with an explosion in demand. She has frequently referred to the level of need faced by her food bank as a state of perpetual emergency. As more people have gone hungry, the demographics of the food bank's clientele have changed. Households that have never before needed assistance are now appealing to the meal providers of last resort. "We're seeing more seniors, we're seeing more families with small children, and we're seeing more of the working poor," said Purvis.
But not every state is tightening up access to SNAP. Earlier this month, New York Governor Andrew Cuomo announced that his administration had raised the gross-income threshold for SNAP eligibility from 130 percent of the poverty line to 150 percent. With that tweak, approximately 750,000 households became newly eligible to receive food-stamp benefits. (Illinois also raised its income threshold earlier this year.)
New York's eligibility expansion was the brainchild of the state's Anti-Hunger Task Force, an advisory group of charity heads and food-security experts that Cuomo convened in 2013. Purvis was the task force's chair. Raising the income threshold "is going to help things dramatically," she said, because gross income too often acts as a barrier to households that are still financially struggling and clearly food insecure. "I don't think I've seen my SNAP team happier about any other news that we've shared with them ever, because we've seen so many families that are right there on the line, who know that if they were given a chance to apply, they would be eligible," said Purvis.
The governor will be announcing more anti-hunger initiatives in September, Purvis said. Other states may follow, and that would not be the first time in recent years that New York has set a precedent when it comes to food-stamp policy. In 2014, after President Obama signed a Farm Bill that would excise billions of dollars from SNAP, Cuomo rearranged New York's budget to prevent any cuts from taking place in the state. Before that maneuver, approximately 30 percent of the food-stamp cuts nationwide were expected to come out of New Yorkers' benefits. "That was a really big deal," said Purvis of Cuomo's decision to block SNAP cuts. "That had us unable to sleep for a while."
Other states—including Connecticut, Massachusetts, Pennsylvania, and Oregon—soon followed. But not every state affected by the cuts took action. Michigan, Wisconsin, New Jersey, and New Hampshire all lost SNAP benefits.
The Farm Bill and its fallout epitomize post-recession hunger policy. In the face of widespread hunger and federal budget cuts, some states try to mitigate the crisis with whatever policy levers are available. Meanwhile, others do nothing—or worse. For now, at least, state-level food-stamp policies range from inadequate to disastrous.