Uber, but for Rural Nebraska
A company aims to bring ridesharing to places where it can take hours to run errands without a car.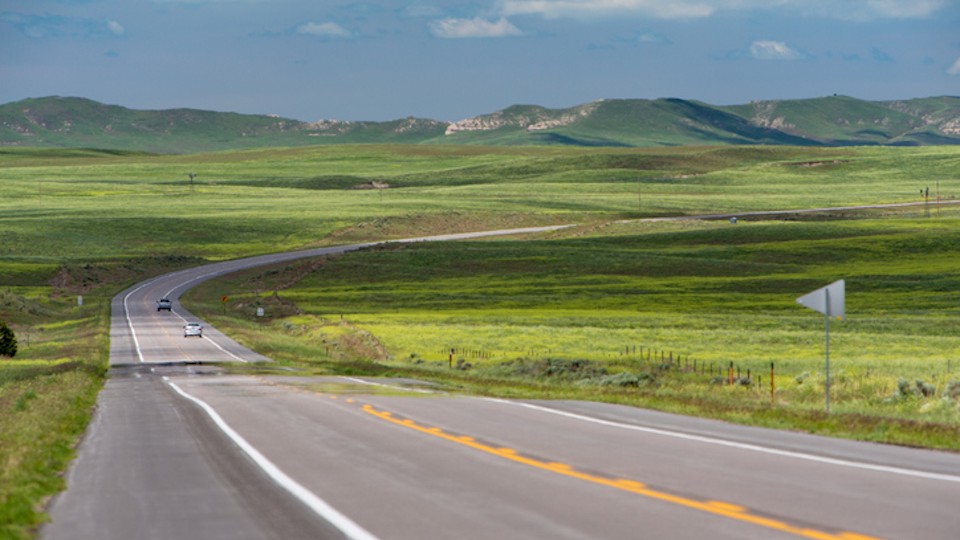 For those without cars in the western panhandle of Nebraska, shopping for groceries or visiting the doctor can become an hours-long ordeal. It takes careful planning: Those without cars have to call a few days ahead to arrange for a bus to pick them up, for example. Said bus might arrive at their door an hour or so before their appointment, and drop off multiple passengers before finally arriving at the destination.
"After your appointment, you might need to wait half an hour to two hours before you can get home," says Valerie Lefler, who heads Liberty, a company born out of the U.S. DOT Small Business Innovation Research program that seeks to improve transportation access in the region. "If your doctor is running late, you may need to make your own arrangements."
"It's a vast area with very little in between," says Jonnie Kusek, the transit director of Panhandle Trails, an intercity bus service that operates within the region. Here, public transportation is limited, and vital services for seniors, low-income families, and people with disabilities can be some 60 miles away from their homes. "A lot of the challenge out here is trying to get people from our rural areas into a community that has public transportation," says Kusek.
It's not like in a city, where an Uber or Lyft ride can be called with just the tap of a smartphone—the ride-hailing infrastructure isn't robust. Low population density and minimal profit for drivers mean the two companies have made only small pushes, if any, into rural America.
So Lefler and her team are launching their own 24-hour ride-hailing service—one that would complement the region's public transit rather than compete with it. Liberty will partner with local transit agencies, picking up where buses leave off. Rides can be requested via an app or through the company's call center, for instance, when buses stop running overnight or when appointments run long. Lefler says they'll try to keep the fare close to a dollar per mile, and drivers will get to keep 80 percent of the total charge.
Liberty is also working with the medical community so that hospitals and other health facilities can book rides on behalf of their patients. As part of its "caregiver platform," the company will work with these clients to see if grants and other funds can cover the cost of the rides.
If someone requests a ride far in advance, the company may refer him or her to a cheaper or more efficient public-transit alternative. Similarly, transit agencies like Panhandle Trails would refer their clients to Liberty if bus service isn't available. "Public transportation is always going to be cheaper, but the benefit is they'll have another resource," says Lefler.
She and her team are currently waiting for approval from the Nebraska Public Service Commission to operate in the state. They hope to launch the service with 25 drivers in Scottsbluff, Nebraska, by Thanksgiving. They'll also manage another 30 to 40 drivers in the coastal city of Corpus Christi, Texas.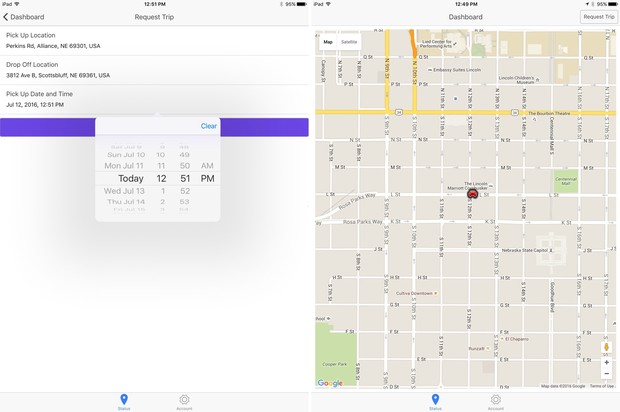 Much like Uber's model, Liberty's drivers will be independent contractors. But Lefler says that what differentiates the two companies is that there is an "altruistic vibe" among Liberty's recruits. "We focus on working with schools, police departments, and the Veteran Administration [to hire drivers]," she says, adding that their market research shows that many drivers have already been providing rides to members of their churches or as volunteers with the League of Human Dignity, a local nonproft for people with disabilities. "It's all about community from start to finish," Lefler adds. "That's why we can make it work—we're able to operate and function at the local level."
The service won't only be useful to people who need to run errands. Just as you might call a car on Uber to meet up with friends, Lefler hopes that people will use the service when they simply want to go out, but face barriers in doing so. "When we did our pilot [testing], there was a couple who had special needs and weren't able to drive, but they wanted go out," she recalls. "They were willing to save up their money for that one month to get from their rural town to the Domino's and back, and they were perfectly happy to do that because that's an improvement for their quality of life."
---
This post appears courtesy of CityLab.