What It's Like to Prepare Cleveland for the Republican Convention
Brittany Williams talks about getting ready for one of the biggest national political events just four weeks after the city won an NBA championship.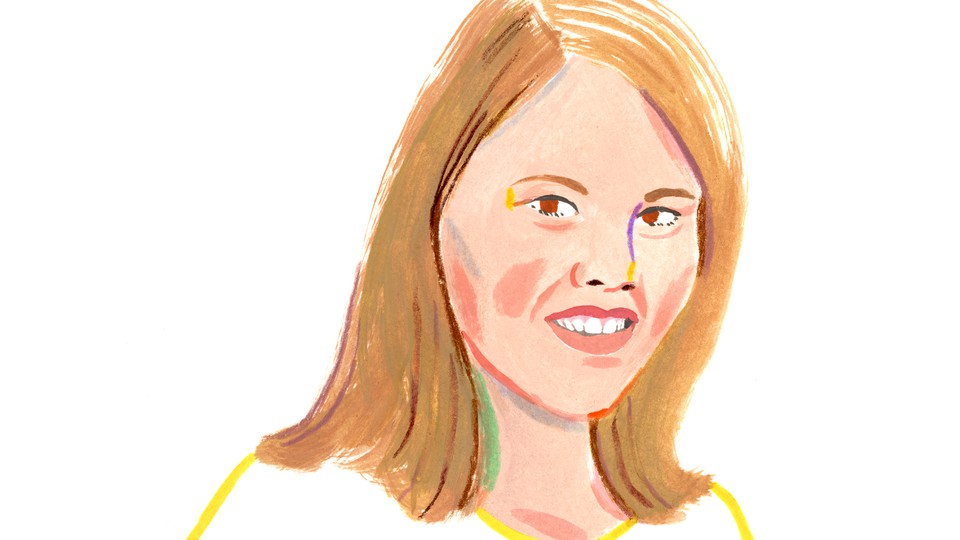 The Republican National Convention in Cleveland, Ohio, has proved more than eventful. Amid allegations of Melania Trump plagiarizing her speech, the absence of notable figures in the party, protests in the city, and a shouting match on the convention floor—a nominee emerged. Donald J. Trump was (finally) formally confirmed as the party's candidate for the presidency.
But while the event has provided plenty of political drama, it's been mostly smooth sailing logistically.  For The Atlantic's series of interviews with American workers, I spoke withBrittany Williams, the senior project manager for the Cleveland 2016 Host Committee, who knows all of the preparation that it took to get Cleveland ready for the influx of 50,000 people into a city that normally houses almost 400,000. Some members of her team have been working for two years coordinating everything from welcome events to traffic patterns to security for the city. The interview that follows has been lightly edited for length and clarity.
---
Adrienne Green: How did you get this job and how long in advance did you start working on the convention that's going on this week?
Brittany Williams: I was brought on as the senior project manager of the Host Committee in May of 2015. My background is actually in politics, prior to this position. I was the executive director for the Republican Party of Cuyahoga County, and also did fundraising and worked in the treasurer's office. In 2014,  I was a delegate to the Tampa convention. A lot of [the reason I was hired] was being able to navigate both worlds. So this job was perfect, because I'm getting to work with all of those civic partners while still working on events that are still political—even though we aren't coordinating the political programming. I understand the RNC; I understand the players; I understand the structure; I understand and know who's doing what and why.
Green: And so obviously this is not your first convention. How is it different than when you went in 2012?
Williams: It's definitely different being on this side of the fence. When you're a delegate, everything is presented to you: Your responsibility is to just show up, vote, and listen to speakers. It's like when a meeting is prepared for board members and everything's there for them to read, versus being the one who has to get everything together for the people attending the meetings.
It's amazing to see how much work goes into the convention: having to work on transportation, security, and beautification projects. We had volunteers that were out hanging up more than a million strands of twinkle lights just to make the city prepared and look beautiful for everyone, in addition to fixing roads and reworking bus routes to prepare for 50,000 people to come into the city.
Green: Were there any delays?
Williams: The Cleveland Cavaliers went to the very last game of the NBA finals. Normally, they usually have six to eight weeks to flip an arena into a convention hall. They had about four for this one. As soon as the Cavs left the final game in Cleveland, then they went back to Golden State. [RNC Organizers] had to get in there, and in 48 hours they pretty much stripped the entire floor and the first row seats.
In terms of coordinating, [RNC organizers] had to touch base with each of the 5,000 delegates and alternates and make sure their travel arrangements were made.* On top of all the media coming in, it's fascinating to just see all of the different players, all of the people that are working on the project. There was a countdown clock for when the convention starts. On Sunday night, it was a little surreal because at one point there would be a year on it, then there were multiple days left. I walked by at one point on Saturday night it was down to 23 hours. That realization that everything was going to happen in less than a day, and we had to be ready.
Green: Has all of the work that you've done been for the Republican Party?
Williams: I have always worked for the Republican Party, yes. The first job I did was volunteering with my mom. She would always volunteer in the community, and it was never really for a political party. And then I went to college and started streamlining my own political thoughts. When I graduated from grad school, I moved home to Cleveland and I was job hunting. While I was in the middle of my job search, I started volunteering for a local candidate—a municipal court judge. Her campaign manager was involved in the Republican Party.
Green: What's the vibe at the convention and in Cleveland? This year, it appears that there's tension within the Republican Party and the convention is kind of the centerpiece of that.
Williams: There may be tensions and things going on at the political level, but on the streets the city is electrified. It's fully alive. If there's tension in the convention hall there's not tension on the streets at all.
Our job first and foremost is to make sure that the city of Cleveland is prepared to host. And our job right now is to make sure people are happy to be here and that people want to come back.
Green: What's a typical day like for you?
Williams: No day is the same. I've had to oversee a variety of projects: Working on everything from signage and billboards around downtown, to all of the gift bags that went out to the delegates, the media, and the sponsors. I've never had to coordinate the assembling and delivery of 22,000 gift bags before, but managed to pull that off. So a lot of it is troubleshooting. I'm kind of the chief firefighter for a lot of things, but just making sure that the ball is constantly moving forward.
Sunday was a major day for us because we had that welcome event and it was the main day a lot of delegates arrived in Cleveland. People are coming in, and they don't know where to go. They need help finding their hotels and navigating the city. The actual formal first day of the convention was hectic as well. Cleveland has never had an event of this size, and it definitely never had an event with the security parameters needed to keep everyone safe.
Green: What are your hours like now that we're kind of in the midst of the convention?
Williams: My hours are definitely not set. If something needs to be accomplished, it doesn't matter what time of the day it is. But I've always thrived in that sort of environment. This what it's like to work on a political campaign. I mean, when you're on a campaign, election day is coming. And if you're not ready, it's going to be a bad outcome. So you have to leave it all out on the table, and there is no time to sleep and there's no time to really second guess.. In April or May, it really switch to no breaks, working seven days a week. Now the convention is the RNC's; it's their show to run. So in addition to all of the background work behind the scenes, that's what gets on the TV screen but without [the prep work] you wouldn't be able to effectively run the convention.
Green: Do you have any plans for where you're going next?
Williams: Having come from campaign world, I definitely want to stay in Cleveland. I am a German Marshall Fund fellow, so I will be in Europe studying transatlantic relations from October through November. I always get asked this question of, "what are you going to do afterwards?" It's just like working on a campaign again. Come November, any campaign staffer knows that after the election you either [going to] have a job or you're not. For the hand that loses, that's the end of the road. So that sort of stress doesn't get to me; the most immediate plan that I have is a nice vacation.
Green: What has doing your job taught you about what it means to work?
Williams: My parents used to always tell me that you shouldn't live to work, but work to live. And when you have a job that you love, that you feel passionate about, it's not really work at all. I always aim to be in a position where I'm able to give back, and I think that's what has drawn me to politics. Being able to make change in my community for the better, I believe those changes are fully made through our political system. So for me, working on campaigns and working on events, it's promoting my home. It's trying to do the best that I can to draw attention to Cleveland.
---
*This article originally misstated that it was Williams and her committee who were responsible for contacting delegates before the convention. We regret the error.
This interview is a part of a series about the lives and experiences of members of the American workforce, which includes conversations with a government agency director, a state representative, and a lawyer.