The Pokémon Go Effect: Nintendo Is Now Worth $9 Billion More
The price of the company's stock rose 25 percent on hopes that the gaming giant is primed for a resurgence.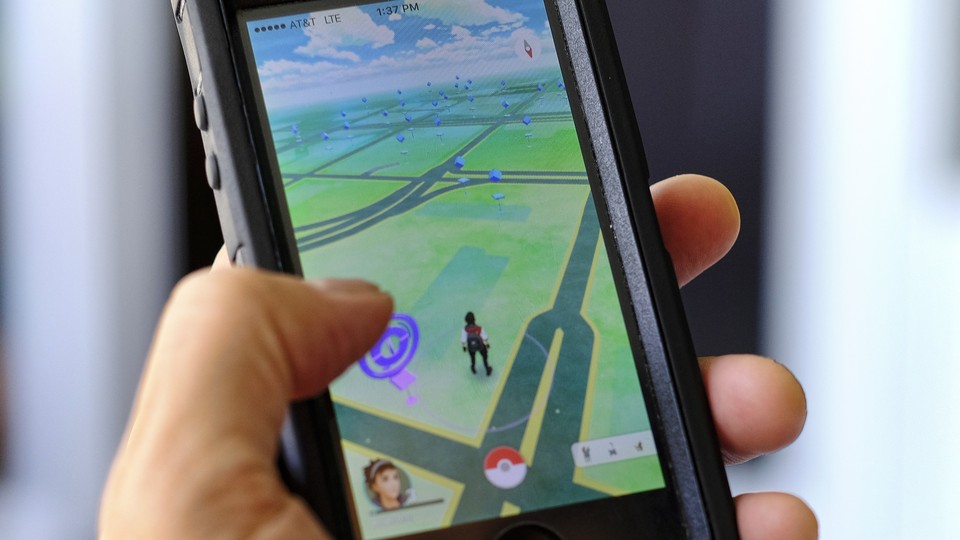 Earlier this year, on its 20th anniversary, the giant Japanese entertainment company The Pokémon Company updated its memorable '90s tagline in a commercial during the Super Bowl: Instead of the cheesy but recognizable "Gotta catch 'em all," Pokémon's new motto became "I can do this."
Now, with the launch of the hit mobile game Pokémon Go, it's clear why the company revised Pokémon's tagline to emphasize the first-person voice. The app uses common features of smartphones—cameras, touch screens, and geolocation in particular—to allow users to become virtual Pokémon trainers, moving and gesturing physically instead of just punching buttons on a controller or device. Pokémon "appear" in the augmented reality, and are available for capture as a player walks down the street, or sometimes even in their apartments. It's a more immersive version of the game that many fans have hoped would come to fruition.
As it turns out, it's what Nintendo shareholders have been hoping for, too. Pokémon Go is, so far, a certified financial hit. Launched last week, the free app rose to the top of the most-downloaded charts in the U.S., Australia, and New Zealand in just one day. (The game isn't available in other countries yet, but it will be soon.) One analysis showed that the app now has more active daily users on Android than Tinder, and was pulling even with Twitter.
Based on numbers (and hype) like that, investors immediately took note. Pokémon Go is a partnership between The Pokémon Company, Nintendo, and Niantic Labs (a gaming startup spun off by Google), and while The Pokémon Company is privately held, Nintendo owns a 32 percent stake. On Monday, Nintendo shares surged 25 percent in Tokyo, adding roughly $9 billion of market value to the company—taking its market capitalization to $28 billion.
Aside from some hiccups in the gameplay—in Missouri, police reported that armed robbers were using the game to lure people to a parking lot, and in Wyoming, a woman exploring territory not charted in the game stumbled upon a dead body—there have been several heartwarming stories circulating on social media about the game bringing people together in the real world.
Pokémon Go's current success has two implications: First, it underscores the potential of augmented reality for the average consumer, who isn't going to buy expensive gaming devices like an Oculus Rift. These consumers represent a market that can be convinced to play with augmented reality through their smartphones, whether they're using Snapchat filters or Pokémon Go.
It also signifies the potential there is for companies like Nintendo, which has shown what it can do beyond console-based gaming. As Ben Thompson, a tech analyst, wrote on Monday in his newsletter Stratechery, Pokémon Go represents the ways Nintendo can innovate for mobile by doing what it does best:
Pokémon Go is a Nintendo game in the best possible way: it is exceptionally creative in the way it fully utilizes the device on which it runs, leveraging the camera, location services, and your data connection in a way reminiscent of how Nintendo's first-party titles would utilize the company's innovative hardware, whether that be the Nintendo 64's controller or the Wii's motion sensor.
Based on Pokémon Go's success, there is now speculation about how Nintendo could use mobile gaming to revitalize and monetize some of their most popular titles, such as Mario and Zelda. But surging downloads are just one part of the equation, since acquiring the Pokémon Go app is free; the game's makers are betting that users will start spending on in-app add-ons. If Pokémon's past sales numbers are any indication—the company has sold 275 million video games and over 21 billion trading cards in more than 70 countries and is one of most successful franchises ever—its built-in popularity should help on that front. Additionally, Pokémon Go's ability to drive real-world customers to physical locations—like, say, a store—could make in-game sponsorships part of its profit model.