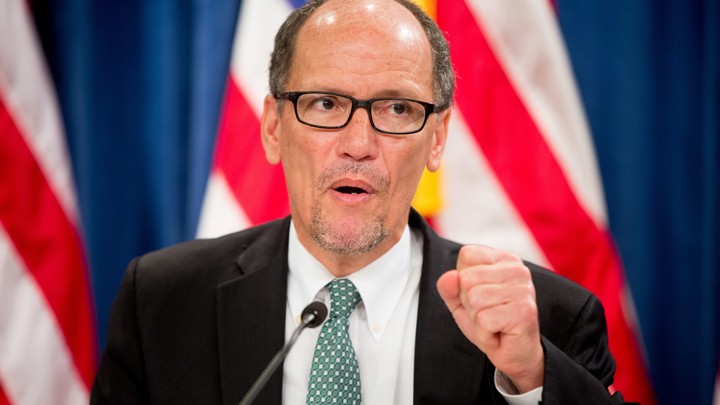 In the days prior to the release of June's fantastic jobs report, there were a lot of worries, from economists and analysts and even the Federal Reserve, about whether the U.S. economy was in fact stalling. But the number of jobs added in June—287,000—turned out to be a huge rebound from May's miserly 11,000. Tom Perez, the U.S. Labor Secretary, says he believes that the economy continues to move in the right direction.
"The June report again shows what the broader trend data has shown over the last five, six years—which is that the economy is resilient," said Perez in a phone interview Friday. "There may be aberrational months, like last month, but when you look at broader trend data, which is what we need to do to make judgments about the state of the economy, we continue to move in the right direction."
The May jobs report remains an outlier, as the number of jobs added in that month was revised down from 38,000 to just 11,000. Part of the reason the new number was so low was a wide-reaching strike at Verizon, so a big rebound was expected for June as those workers returned to their jobs. Since 2011, there have been eight months where the U.S. economy added fewer than 100,000 jobs—which is usually considered disappointing. This latest dip was followed by a strong rebound, but May's shortfall has defied explanation, even after accounting for a telecom strike or a sampling error.
As a counterpoint to any doubts, Perez pointed to the number of first-time unemployment claims: In the most recent data, the weekly claims are 254,000—which marks 70 consecutive weeks that they have been under 300,000, the longest streak since 1973. "That's a really important bellwether, especially when you consider that in the depths of the recession weekly first-time claims for unemployment exceeded 600,000," said Perez.
Overall, even with May's disappointing numbers, the U.S. economy has added an average of 172,000 jobs per month in the first six months of 2016. That compares to an average of 221,000 jobs added per month in 2015, and 260,000 in 2014.
But many economists, Perez included, believe that slowing job growth shouldn't be considered unusual in 2016. "The reason it's not a surprise is that the closer you get to full employment, the pace of job growth tends to slow," said Perez. "We are seeing evidence in 2016 of that tradeoff that you frequently see as you're getting closer and closer to full employment where the pace of job growth lessens, and the pace of wage growth hastens. I fully expect that total job growth in 2016 will be less than 2015, but it will also at the same time be ample to sustain the continuing recovery."
Economists have been keeping their eyes out for job growth and a rise in labor-force participation in 2016—signs that the tightening job market would produce better pay for many American workers and that those who dropped out of the workforce during the recession were returning to work. Wages have been growing; average hourly earnings have risen by 2.6 percent in the past year. But the labor-force participation rate has been mixed, falling in April and May and recovering slightly in June. Perez believes that efforts to mandate paid leave, raise the minimum wage, and improve infrastructure are longer-term actions that could boost that number. "The public policy intervention that we could do that would do the most to hasten the pace of labor-force participation increases is to pass paid leave," said Perez. "You look at other countries and what they do in investing in paid leave, and their labor-force participation rates are higher because they understand the importance of paid leave as part of their economic competitiveness."
We want to hear what you think about this article. Submit a letter to the editor or write to letters@theatlantic.com.
Bourree Lam
is a former staff writer at
The Atlantic
. She was previously the editor of Freakonomics.com.