Hotels: Pretty Okay With Their Customers' Porn-Watching Habits
As more businesses block access to certain internet content on personal devices, the hospitality industry is finding it lucrative not to.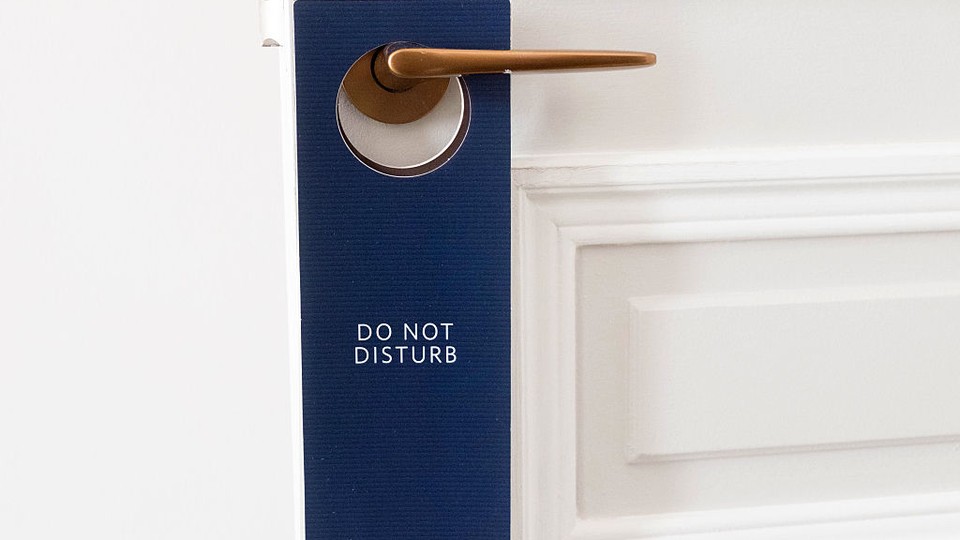 Earlier this week, McDonald's and Starbucks became the two latest high-profile companies to pledge to block customers from accessing pornography over store-provided wifi networks. The development was the most recent victory in a campaign by Enough Is Enough, an advocacy group that promotes "internet safety." These efforts seem to be successful in large part because public viewers of adult entertainment appear to be a constituency without a champion. ("Well, that's the last 25 cents I ever give them for a cup of ice," one fictitious public-porn aficionado told The Onion on Tuesday.)
But while McDonald's and Starbucks have joined the ranks of Panera and Chick-fil-A in restricting access to certain content on personal devices, another industry seems to embracing this particular consumer habit: hotels.
Back in February, InterContinental Hotels Group (IHG) became the most recent hospitality group to eliminate its on-demand adult-entertainment system. The decision by IHG, which was the largest hotel company in the world until Marriott's purchase of Starwood this spring, followed similar announcements by Hilton and Hyatt last year. While some hotel chains did face pressure from groups like the National Center on Sexual Exploitation and did claim that they were dropping their adult-content services in the name of wholesomeness and/or progressive gender politics, it's clear that the movement away from this brand of in-room entertainment was also a concession to the rise of streaming and online porn.
It was Hilton's statement on its maneuver away from adult entertainment in particular that laid bare some business truths:
We are making immediate changes to our global brand standards to eliminate adult video-on-demand entertainment in all our hotels worldwide. While the vast majority of our properties already do not offer this content today, this content will be phased out of all other hotels subject to the terms of their contracts. We believe in offering our guests a high degree of choice and control during their stays with us, including Wi-Fi on personal devices.
Few industry observers see the decline of adult entertainment in moral terms. "I don't think any hotels got rid of in-room porn because they had a Paul-on-the-road-to-Damascus moment and felt, 'Oh, this is terrible, we can't support this anymore,'" says Jason Clampet, a co-founder of the travel-news publication Skift. "I think it was all that they just weren't making a lot of money from it."
The numbers seem to back this up. "Between 2013 and 2014 demand for pay-per-view services fell by 12 percent, and that's while the hotel industry is achieving record profitability," one hospitality expert told the news site Breitbart earlier this year, noting that profits for on-demand services had fallen by half since 2007. Another assessment, from a trade publication, showed hotel revenue that had been "$1.07 per occupied room via movie rental" in 2000 had fallen to 72 cents by 2009.
To make up for this, some hotels have started charging more for premium internet access. "Typically, if you're a member of a loyalty program, you get free, standard wifi in your room, which is the general push now," Clampet says. "And then, if you want to have enough wifi to do streaming, you pay an additional $12 or $13 a day. You could argue that's the same amount of money they made on an in-room movie under the old system, so it's trading one fee for another."
This type of give-and-take is increasingly common for an industry whose young customers are being diverted away by home-sharing services such as Airbnb. Clampet likens the phasing out of on-demand porn to hotels' partnerships with local restaurants and food-delivery services, which were designed to capture the revenue stream lost after the death of the minibar. And last year, some hotels faced a backlash as they started forgoing in-room desks in favor of more work-friendly lobbies, also in hopes of luring younger patrons. Similar changes in motif toward a more minimalist, Millennial-friendly rooms have included the elimination of dressers and closets and bathtubs.
But just like that adage about how there will always be prayer in school as long as there are tests, there may always be adult entertainment in hotels as long as there are older business travelers who don't understand technology. Clampet relays a conversation he had with a manager at a "large luxury hotel property," who suggested that adult entertainment will continue to live on at the hotels meant for business travelers. "He told me, 'The reason we still have in-room porn is because our guests are too old and don't know how to work their laptops to get free porn,'" Clampet says. "We had ideas about demographics and changes, but it's the guy who's at the VP level and who travels a lot for work, who's got his company IBM or Lenovo laptop and who is worried about turning on porn through the VPN [virtual private network] and getting in trouble at work. And so he relies upon the in-room porn." And should that fail, there are always plenty of lurid scenes in the Bible in the nightstand.