Kevin Durant and the Economics of the NBA Superteam
The Warriors' roster next year may seem unfair, but it's the product of years' worth of league-wide business decisions that could spark a surge in talent for nearly any team.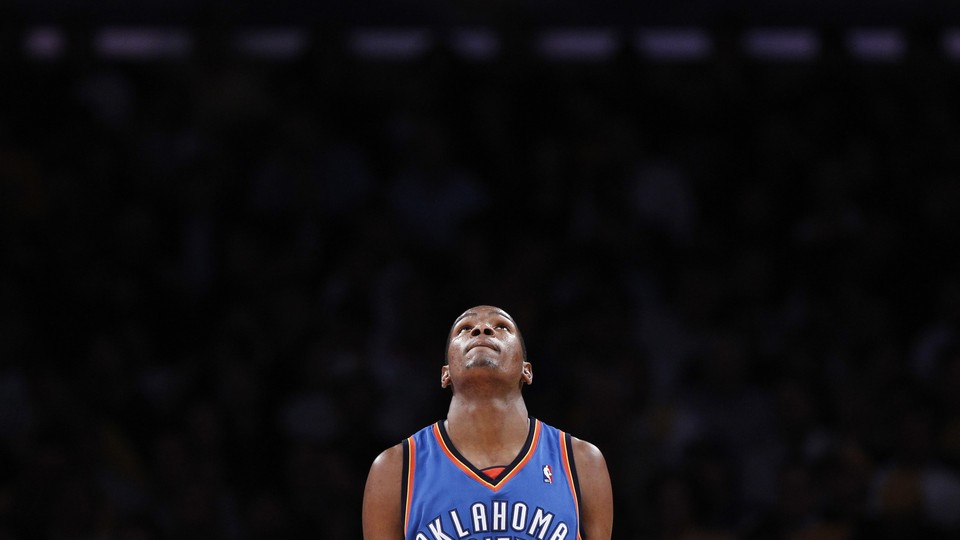 In one sense, the deliberation that led to the NBA star forward Kevin Durant's league-upending decision to join the Golden State Warriors was a surprisingly brief affair. The league's free-agency period began just after the stroke of midnight on Friday and, after meeting with his (soon-to-be) former team, the Oklahoma City Thunder, Durant traveled to an undisclosed location in the Hamptons, where five other franchises cycled in to pitch him on their team. On Monday morning, Durant announced his move and by Tuesday morning, his image had been removed from the exterior of Chesapeake Energy Arena in downtown Oklahoma City. In just 72 hours, the Warriors, who set the record for most regular-season wins in history this year, went from being 7-to-4 frontrunners to win next year's title to 5-to-7 odds-on favorites.
Despite the whirlwind, the conditions that allowed for Durant to join fellow all-stars Steph Curry, Klay Thompson, and Draymond Green (which some are already heralding, or lamenting, as the greatest line-up in the history of pro basketball) have been years in the making. The creation of this latest NBA "superteam" is the upshot of league rules, pro basketball's popularity, the strength of its players' union, and a very timely spike in the league's salary cap.
When considering a roster that flaunts four NBA All-Stars, the first question is: In a league with a salary cap, how is that even possible? Part of the answer, according to Southern Utah University's Dave Berri, a sports economist, is what's called a max contract.
The player most frequently associated with the birth of NBA maximum contract is Kevin Garnett, who signed a six-year deal for $126 million with the Minnesota Timberwolves during the 1997-1998 season. At the time, he was 22 and it was the biggest contract in sports history. The following year, NBA owners revolted and staged a league lockout, one result of which was the creation of the max contract, a labyrinthine system whereby the salaries of star players would now be limited to a certain percentage of the team's total salary cap. (The max-contract limitations vary each year, based on the size of the salary cap and the length of a player's career.)
Being awarded something called a "max contract" sounds like a wonderful thing, but Berri says this was a win for teams and a loss for elite players: It imposed a ceiling on how much players could earn. (And for the record, Kevin Garnett, who has one NBA title and one MVP award, remains the highest career earner in NBA history.)
The salary cap exists to preserve parity in the league—it stops extremely wealthy owners from funnelling all the top talent to their teams like in baseball—but consequence of it is that it limits the earnings of some players who could be making a lot more money. It's very easy to argue that LeBron James, for example, is worth far more than the $25 to $30 million he'll make with the Cleveland Cavaliers next year, but the league's collective bargaining agreement restricts him from making more. Without an earnings ceiling like that, the team would not have been able to surround him with a player like Kyrie Irving, who also makes the max, or Kevin Love, who signed a long-term contract worth $110 million last year.
So, the max contract was a long-term enabler of NBA superteams, but next season's Warriors were also shaped by some very favorable coincidences. The Warriors were lucky in landing Durant and having the salary cap space to do so. Much of that came down to timing; two of their three stars, Klay Thompson and Draymond Green, aren't signed to max contracts even though both certainly could command them. Then, there's Steph Curry, who signed a relatively modest four-year contract extension in late 2012, shortly after suffering a series of ankle injuries; last year, Curry was the league's first unanimous MVP in NBA history as well as the fifth-highest paid player on his own team.
Even more crucially, Kevin Durant's free agency dovetailed with a historically unprecedented occasion—a $24-million increase in the league-wide salary cap, from $70 million to $94 million, because of an unexpectedly lucrative $24-billion television deal. That six teams could credibly court a maximum-contract player like Durant is only one wrinkle in a free-agency frenzy where unproven or second-tier players have been signed to huge contracts. Mike Conley, a guard for the Memphis Grizzlies, for example, will sign the highest-paying contract in league history, despite having never appeared in an All-Star Game.
As Josh Levin noted in Slate, Harrison Barnes, the talented-but-spotty small forward whom Durant will ultimately replace, is expected to sign for a maximum contract with Dallas. "From the team's perspective, it will cost Golden State approximately as much to sign Durant as it would have to match the Mavericks' offer to Harrison Barnes," Levin wrote.
Foreseeing this potential for chaos, the NBA tried and failed to persuade the players' union to have the salary-cap increase occur more gradually. Next year, the salary cap is slated to rise by at least another $12 to $14 million, and will likely set off similar off-season hysteria.
Finally, a product of all this—and another factor that led to Durant's signing—is that players' decision making has become a little less about money. With the league's pay structure weighted against stars and rookies, whose salaries are tied to a capped scale, the formation of superteams provide an alternate form of compensation: a shot at championship glory. Miami's superteam, led by LeBron James, Dwyane Wade, and Chris Bosh went to four consecutive NBA Finals starting in 2011, winning two of them. All three players took pay cuts to make the superteam arrangement happen. Similarly, Durant will make less money as a Warrior—as much as $7 million fewer over five years—than he would have had he stayed in Oklahoma City (and not just because taxes in California are higher). "Because a max salary was put in place, Kevin Durant doesn't have any reason to choose his employer other than 'Where am I most likely to win a championship?,'" Berri says. "And that's what the stars are doing."
Similar to James' defection from Cleveland to Miami, Durant's decision to sign with Golden State quickly engendered criticism, particularly among those who fear that the burgeoning of superteams will weaken the appeal of franchises in smaller markets. Berri pushes back against the theory. "It doesn't look to me like the superteams are related to market size," he says. "So it's not like all the best players are migrating to the Lakers or the Knicks. They're really just migrating to wherever they think they can win at that particular time." Berri points out that the three most notable superteams have played in Miami, Cleveland, and Oakland.
Nevertheless, this new system is making some people nervous. As NBA Commissioner Adam Silver put it in February, "We'd prefer a system where teams are managing for cap room, and we'd prefer a system in which stars are distributed throughout the league, as opposed to congregating in one market. Whether that will happen with all this additional cap room this summer is unclear to me."
"The good news is that there's no clear pattern for who gets to be a superteam," Berri says. And, following the news of Durant's signing, speculation about a possible reunion between Dwyane Wade and LeBron James in Cleveland started in earnest. Somewhere in South Beach, people are starting to sweat.