Gas Leaks, Mold, and Rats: Millions of Americans Live in Hazardous Homes
A new report highlights the consequences of growing up in neighborhoods of "concentrated disadvantage."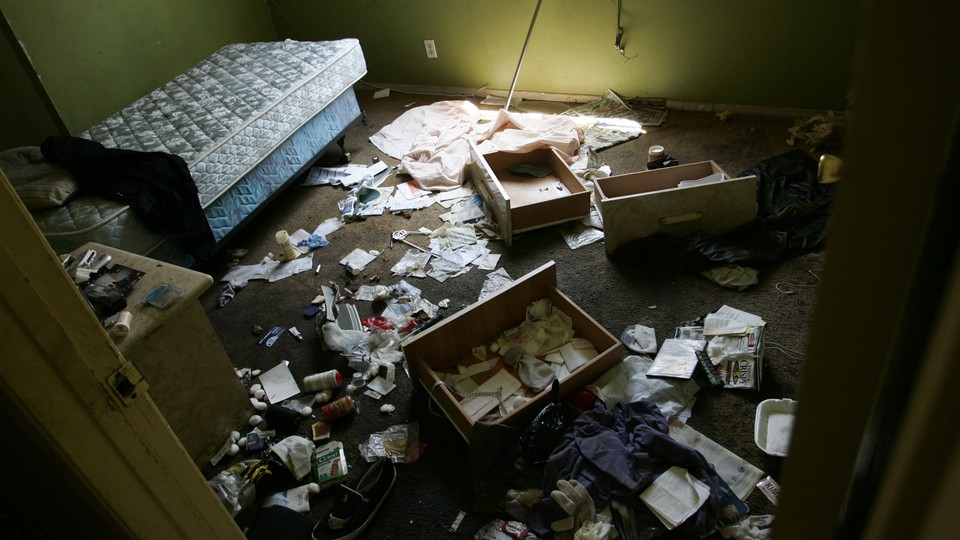 There are about 135 million homes in America, and a surprisingly large portion of them pose threats to their residents: 30 million homes in the U.S. have serious health and safety hazards, such as gas leaks, damaged plumbing, and poor heating. About 6 million of those have structural problems. Another 6 million have lead paint.
These statistics, released last week in a report by the Center for American Progress (CAP), a liberal think-tank, reveal the distressing state of American housing. Most of these homes are located in areas of "concentrated disadvantage," which the report describes as neighborhoods with high rates of violence, unemployment, racial segregation, and single-parent homes.
These housing conditions shape the lives of the families who inhabit them. The report highlights research showing how people living in areas of concentrated disadvantage are more likely to suffer health problems, such as depression, asthma, heart disease, and diabetes. Take asthma, for example: About 40 percent of asthma episodes are triggered by the household presences of mold, dust mites, or rats. Black children, who are more likely to live in disadvantaged neighborhoods, are also more likely than white children to suffer from asthma than white children. "One's health and life expectancy is determined more by ZIP code than genetic code," the report concludes.
The physical condition of a home and neighborhood affect far more than a person's health. A growing body of research shows that they may hurt a child's academic performance and even a parent's chance of finishing school. The CAP report cites the work of researchers at Harvard University, New York University, and the University of Chicago who tracked about 2,000 black children between the ages of 6 and 12 living in Chicago, monitoring their academic performance as they moved in and out of the city's poor neighborhoods. After controlling for parents' welfare status, income, occupation, and marital status, researchers found that children living in neighborhoods of concentrated disadvantage scored lower in measures of verbal ability, and were behind by the equivalent of one to two years of schooling. A child's verbal ability is linked to educational achievement, employment rates, and other life outcomes, and the longer the children were exposed to these environments, the stronger the negative effect.
Attention paid to the health hazards facing America's poorest families has increased in recent months in part because of coverage of Flint, Michigan, where the supply of public drinking water was revealed to contain high levels of lead and other toxic metals. In fact, lead poisoning is a problem that spreads far beyond Flint, affecting about 500,000 children under the age of 6 in the United States. Researchers have demonstrated the alarming effects of being exposed to lead, which is found in paint on about 23 million of the homes built before 1978, the year lead-based paint was banned: Children with high levels of lead in their blood are more likely to drop out of high school and end up in the juvenile justice system.
Secretary of Housing and Urban Development Julián Castro says federal and local governments should be responsible for fixing poor living conditions. "Folks living in low-income communities are unaware of the problem, or if they are aware, they are not able to remediate it themselves," he said last week during a press conference in which he announced that his department awarded $52.6 million in public grants to reduce lead exposure in homes.
"There is a shortage of supply of high-quality, affordable housing, and we need more federal investment," says Sarah Edelman, the director of housing policy for CAP. Only one in four people who are eligible for federal rental assistance actually get it, due to insufficient funding.
One of the trends contributing to unsafe housing conditions in the U.S. is the growing number of people renting homes, versus buying them. According to CAP, the competition for rental properties has led families to tolerate substandard housing conditions. About half of all renters now spend more than 30 percent of their incomes on rent, which is a lot higher than 10 years ago. If it were a renter's market—or, perhaps more importantly, if affordable, high-quality property weren't so out of reach for many Americans to own—people could be a lot pickier about where they lived.