When Employers Pay Student Loans, Those Who Most Need Help Are Left Out
Companies are providing debt assistance to their employees—a nice, and rarefied, perk.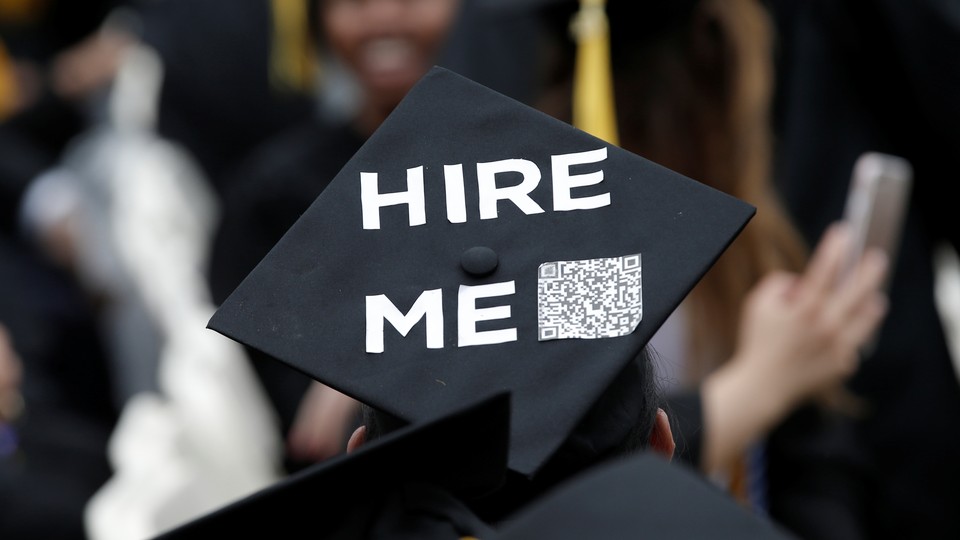 Americans owe about $1.2 trillion in student loans. For undergraduate and graduate degrees, roughly 10 percent and 40 percent, respectively, of those with debt owe a staggering amount: more than $50,000. A lucky few won't have to pay this off on their own; their employers will help, via benefits that a small number of companies are offering to their workforces.
The benefits tend to come in one of three forms: tuition assistance (which pays for school directly for employees who are currently enrolled), student-loan payment assistance (which helps graduates pay off their existing loans), and consolidation and refinancing opportunities. That last tool is a newer and less common perk. Refinancing can make a huge difference for those with significant debt; by lowering interest rates it can drastically reduce the total amount of money paid. "There's a huge population who have graduated and have great jobs. They're a vastly different credit risk and there should be an option where you're evaluated as a credit risk today," says Catesby Perrin, the head of business development at SoFi, a loan consolidation and refinancing company. "They're overpaying."
SoFi's model is predicated on refinancing the loans of those who are a lower credit risk after graduating than they were when they took on the loans at the age of 17 or 18. SoFi offers its services not only directly to consumers but also via companies' benefits plans. The payoff goes both ways, Perrin says: It makes employers more attractive to candidates who've gone to impressive, expensive schools and racked up lots of debt for their resumes. And SoFi gets to automatically market to, and potentially wrangle, a whole new group of clients with minimal effort. The plan has enticed companies including IBM and Kronos, a management software company, who now include information about SoFi benefits to their hires and then sign employees up for the service, currently at no cost to the employer. (Some employers are also working with SoFi to administer corporate contributions directly to employees' student loans and to give bonuses that go right into student-loan payments). David Almeda, the chief people officer at Kronos told me that Kronos had more than 300 people sign up in the two months after announcing the benefit; a representative from IBM said that more than 500 employees had refinanced using SoFi in the past year and they're saving an average of $17,000 over the life of their loans.
It makes sense for private employers to offer these services. For years, the public sector has attracted talent by providing employer-sponsored loan payments and eventual debt forgiveness. It's natural that as the number and value of student-loans has climbed—amid the recession and middling recovery—that interest in jobs that would help employees with education-related costs would become more sought out. And, as the labor market improves, that employees would actually have the option of doing that seeking out. For businesses, there's also the possibility that in the near future, such programs might be eligible for tax benefits through the Employer Participation in Student-Loan Assistance Act, which is slowly winding its way through Congress. The Act would allow companies to write off the contributions they make toward employees' student-loan bills in the same way they can write-off tuition-assistance benefits for employees who opt to go back to school. Barbara Brickmeier, a vice president at IBM, says that passage of the bill wouldn't automatically cause the company to start offering employees repayment assistance in addition to refinancing, but it might cause them to reconsider. "Would it change IBM's perspective or any employer's perspective? Yes, it would," she said. The bill would allow for more robust student-debt management programs, Almeda says—a change that he calls a win-win.
That is, these programs are win-win for those who have access to them. To qualify for SoFi, a person must have a minimum loan of at least $5,000, be employed (or have an employment offer that starts within 90 days), and have graduated from a Title IV accredited institution. And at most participating companies, only full-time employees can get the service.
Those terms, based on SoFi's mission and strategy of helping those who have great salaries and promising careers, make sense. Those who graduated from good schools and now have good jobs at prestigious tech firms are less risky. But the tragedy is that these are often the very people who would have been most able to pay off their loans without the additional help. By contrast, those who can least afford their loans—those who can't find work or, even worse, those who have loans but never graduated—these resources aren't available. Perrin is up front about the gaps in who, exactly, SoFi serves. Though he says its clientele isn't quite as elite as some critics have suggested, "We are not solving the whole student loan crisis," he tells me.
The trouble is, no one is; there really isn't much assistance available for those at the bottom of the pay scale who are mired in student debt. Those who started college and didn't finish are in a uniquely troubling predicament. Even small amounts of debt can prove crippling, and those who started, but didn't finish, have the highest rate of loan default. The result can be destroyed credit and wage garnishment, both of which are disastrous for those who are struggling to make ends meet. And those who find themselves in this predicament are more likely to be from demographic groups who are already unlikely to move up the economic ranks. They're more likely to come from poor families, more likely to be first-generation students, and more likely to be minorities.
This reality can exacerbate the already growing economic inequality in the U.S., where those who have the most go to the best schools, get the best jobs, and have families that enjoy the same privileges—and everyone else must make do.