How Can the Hospitals That Serve D.C.'s Poor Keep Up?
Even in a city with some of the best health-insurance coverage rates and a glut of medical facilities, residents just a few miles apart are projected to have vastly different lifespans.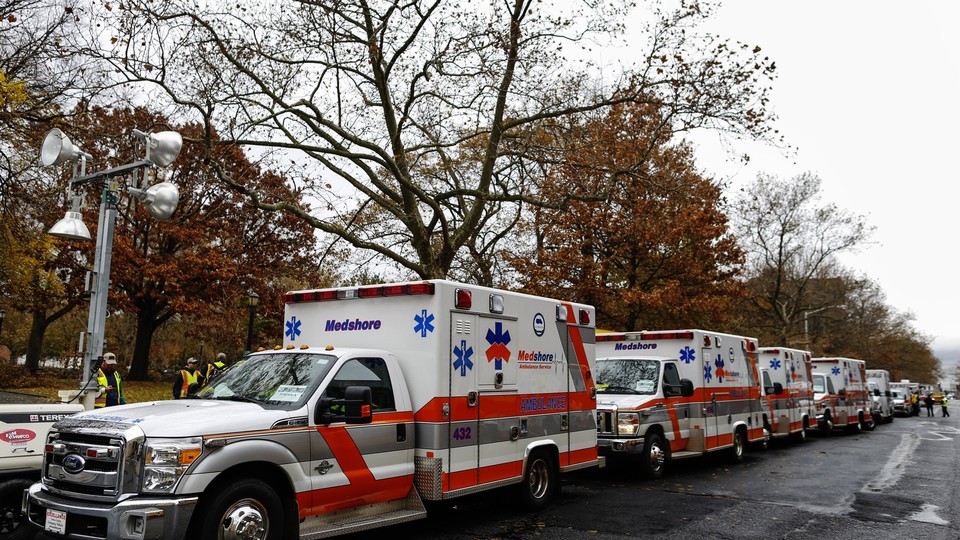 WASHINGTON, D.C.—Nearly two decades ago, a report from the Urban Institute examined D.C.'s changing healthcare landscape, and what it meant for the District's poorest residents. The report found that while there was an excess of hospital beds in the District, healthcare services were largely concentrated at hospitals in richer areas that served more affluent populations. That meant, the report stated, that "average hospital costs in the city exceed such costs in other comparably sized urban areas even while basic needs go unmet in certain areas of the city." The report found that hospitals serving poorer people were at "a competitive disadvantage" and that "city inaction by default favors hospitals that, by chance or design, provide little uncompensated care."
While healthcare has seen some big changes in the past 18 years—the Affordable Care Act, for instance, has meant that fewer District residents (and Americans in general) are uninsured—much of the Urban Institute report still holds: It remains the case that the majority of poor residents who need basic services find themselves presented with a limited number of hospitals that provide them, and even fewer that are near their homes. And those hospitals still face significant challenges when it comes to stabilizing their finances, investing in the newest technologies, and finding the money to provide their patients with care and services that are on par with those provided to the District's richer inhabitants.
Looking at the statistics of the District as a whole, the fact that many residents might have difficulty getting treatment might come as a surprise: D.C.'s health insurance rate is impressive, at 92 percent. That's well above the national average of 83 percent. And according to 2014 data from the Kaiser Family Foundation, D.C. boasts 5.4 hospital beds for every 1,000 people, which is also above the average of many states.
But above-average coverage is not the case in every section of the city. In Ward 7—an area of the city with the one of the lowest median incomes and one of the highest concentrations of black residents—the share of residents without insurance was over 15 percent, according to a report that a consortium of nonprofit hospitals filed with the city. That's more than three times as high as the rates in whiter, wealthier wards. District-wide, black residents are more than four times as likely as white residents to not have insurance, and Latino residents were the most likely to not have insurance, with more than 17 percent of the population within the city's borders lacking it.
It's not just about insurance, though. There are major health discrepancies between populations in D.C. based on income, geography, and race. Those who live in the largely black Wards 7 and 8 were more likely to die from homicides, to experience the death of an infant, to be obese, or to suffer from clinical depression. The life expectancy in Ward 2, which has a population that has grown to 70 percent white, is 86 years. The life expectancy in Ward 8, which has a population that has climbed to 94 percent black, is 70 years. That's means that a difference of just a few miles can equate to a 16-year difference in average lifespan.
These inequities between race and income and geography aren't a break with the past, or necessarily specific to D.C., but the problems of coping with public-health issues become all the more dire as more neighborhoods near the city's center become gentrified. The city's demographic shifts mean that low-income and longtime residents in the District can find themselves pushed farther and farther away from medical care, transportation, grocery stores, and other essential services.
Those who live in Wards 7 and 8 are separated from the rest of the District by the Anacostia River. While D.C's Northwest quadrant (home to more affluent wards) boast a myriad of medical facilities—Georgetown, George Washington, Howard, and Sibley, to name a few—there are fewer options across the river where United Medical Center, located in the District's 8th Ward remains one of the few major, full-service hospitals close to home for many local residents. And even managing illnesses outside of hospitals can be a challenge for residents in Wards 7 and 8, who have only six pharmacies according to a recent health assessment, despite the fact that a higher share of their populations suffer from chronic illnesses.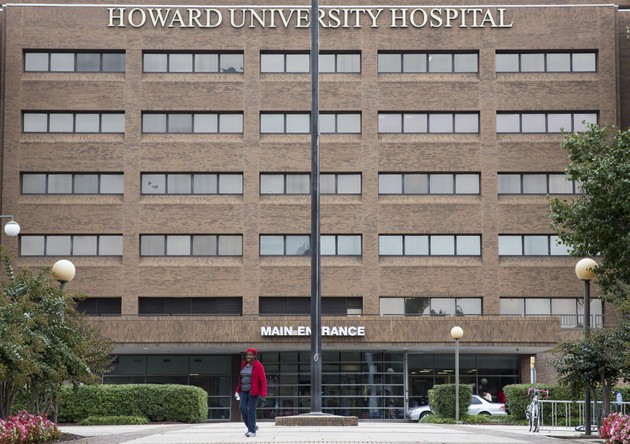 Under the conditions of the Affordable Care Act, nonprofit hospitals that are tax-exempt and organized for charity are required to conduct a community-needs assessment at least once every three years to determine areas of care that would best serve their local communities, and then implement plans to do so. This year's findings weren't unlike those in the previous assessment. Residents of D.C.'s low-income communities are in need of four major things, the report suggests: mental-health resources, better coordination between various health services and care providers, more convenient and culturally attuned care, and greater health literacy.
Meanwhile, many facilities whose mission is to serve these communities find it hard to remain profitable enough to stay open and keep up with the latest technologies and treatments. Just as the demographic and economic landscape of D.C. has shifted over time, so too has the city's healthcare industry. "When you're in an urban area there's a lot of competition," Michael Masch, the CFO of Howard University—which owns and operates Howard Hospital—told me.
Some of the challenges are shared by all the hospitals that serve residents of the city's poorer neighborhoods. Others are unique, and depend upon the hospital's ownership and classification. The industry's movement toward outpatient care in favor of longer stays and inpatient services has led to declining revenue, for instance, which has meant that some hospitals serving lower-income residents, such as Howard and Providence, must reconfigure how they do business. Many of the city's nonprofit hospitals that serve the neediest residents aren't operating state-of-the art trauma centers or focusing on expensive and groundbreaking elective surgeries. They're doing less lucrative but highly important work: primary care, hip and knee replacements, and gallbladder surgeries. They're trying to provide quality emergency rooms, ambulance services, and senior care. Those services are less flashy, but they're what D.C.'s poorer communities are short on.
So, providing those services and still having enough money to keep the doors open, let alone improve, can depend heavily on the resources that hospitals have at their disposal. Providence, for instance, has slightly deeper pockets—it's part of Ascension, a Catholic organization that is one of the nation's largest health systems. UMC, on the other hand, is government-owned. And Howard University Hospital is a rarity in the District, since it's owned and operated by its affiliated academic institution.
Providence, for example, recently added 3-D mammography services, and has access to a mobile PET CT scanner. But those were both obtained with the help of the larger network provided by Ascension, the hospital's president and CEO, Darcy Burthay, tells me. Some may think that state-of-the-art equipment is more of a luxury than a necessity. But often, updated equipment can mean more effective identification and treatment of illness. Providence gets assistance with many of the important business aspects of running a hospital, such as negotiating national contracts for supplies and securing and repairing medical equipment—things that most patients and healthcare providers don't really think about, but are critical to the success of a medical facility.
Howard, which is owned by Howard University, is in a different position. "Government [ownership] is great because you have the taxing authority," Masch told me. "People may not want to give you money, but they have to." A for-profit hospital, he says, can simply raise money through equity, but nonprofits like Howard, which are not tethered to larger and more cash-flush health systems, can have a more difficult time. "Nonprofits only have the ability to raise investment capital through debt, and bonds are very clunky," he said. Bonds are also a tricky proposition for Howard's hospital right now: Its financial troubles have led to downgrades in its bond ratings over the past few years, which in turn makes raising capital through debt more difficult.
And it's not just buying new equipment, building new facilities, and sprucing up buildings that require investment. One of the main challenges facing Providence, Burthay tells me, has to do with recruiting medical professionals. "Everyone deserves the best nurses and physicians," she says. "But competing in the market can be a challenge when you're already strained financially." That's true of Howard, too. In addition to worrying about the bottom line for patient care and procedures, Howard must also be able to offer salaries, benefits, and growth opportunities that are substantial enough to compete with the many other medical facilities around the District.
The constant need for improvements and investments can be daunting, especially in a field where technology and care change frequently and require financial flexibility, something that's hard to provide when margins are so tight. But the situation isn't totally bleak. In recent months, Howard's hospital has been profitable. And Providence has been able to make significant updates to its emergency-care facilities—a service that is critical for minority and low-income patients who are significantly more likely to utilize emergency departments.
With the community-health needs assessment complete, the focus will now turn to refining old plans and introduce new strategies for addressing the persistent problems of mental health, community-based care, health literacy, and coordination between health-care sources. Though inequity in the District is undeniable, the hospitals and the city, are trying to focus on what they can do—even if they worry that it's still not enough.