Why Can't Chipotle Recover?
Food-safety concerns have, unsurprisingly, hurt a company that plays up its high-quality ingredients.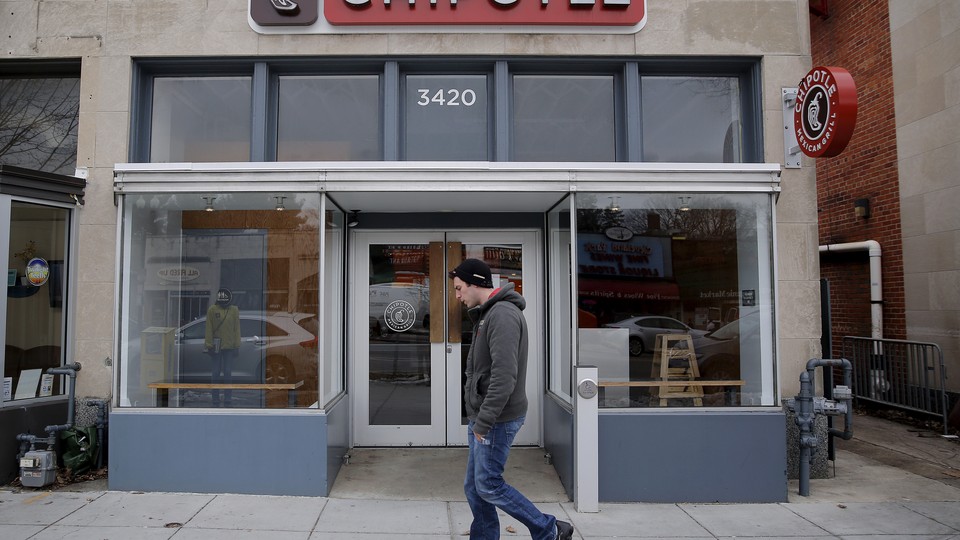 In August of last year, a contributor to Investopedia, an online clearinghouse for financial news and investment advice, made this pronouncement about Chipotle's miraculously-performing stock: "If you had invested just $1,000 during Chipotle's initial public offering (IPO), that investment would be worth $33,229 today."
Little did anyone guess that, less than a year later, the fast-casual favorite's mountain of momentum would be reduced to a hill of beans in the wake of a series of food-contamination episodes last fall and winter. This slide continued as the company announced a 24 percent same-store sales drop in the second quarter of 2016. As the AP noted last week, "a year ago, the company earned $140.2 million"—nearly $4.50 a share—while this year, second-quarter profit was $25.6 million (just 87 cents per share), missing Wall Street's expectations.
---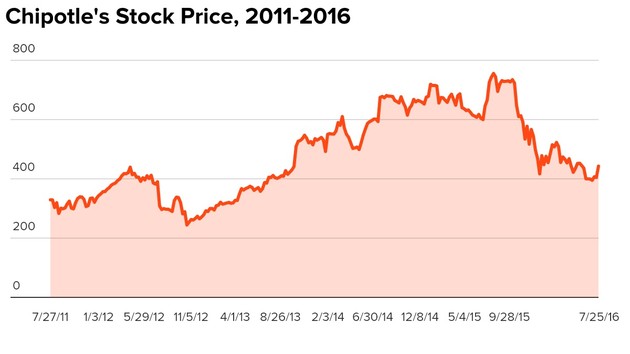 ---
To try and win diners back, the company has given away countless free burritos and instituted a once-unthought-of loyalty program. However, efforts to collect positive attention took another hit in March when the company suffered another food-safety scare. And, ominously, late last month the marketing executive tasked with orchestrating Chipotle's comeback was indicted for allegedly buying cocaine. On Tuesday, analysts at the financial-services firm Stifel downgraded its recommendation on Chipotle to "sell" and warned that the company could lose half of its value in the coming months.
An easy analogue for Chipotle's woes may be its faux-Mexican fast-food rival Taco Bell, which suffered an E. coli outbreak in 2006 that gave way to five straight quarters of negative same-store sales. One key difference is that the source of Taco Bell's contamination was identified within a matter of weeks, while Chipotle's dragged on for several months and included a war of words with the CDC. But it's also the case that Taco Bell, while delicious, has never touted the wholesomeness of its fare.
And therein, perhaps, lies Chipotle's problem: Prior to the spate of E. coli, salmonella, and norovirus outbreaks, the company largely defined itself as the more virtuous alternative to fast food—one was noble for eating Chipotle not entirely because of what it was, but largely because of what it wasn't. (That's not to say people didn't also enjoy its decadence and capacity for customization, so long as they didn't do the calorie math.)
"Chipotle was really vulnerable because of their heavy reliance on their claims about their food," Chris Malone, the co-author of The Human Brand, a book on consumers' connections to companies, told Business Insider last week. The steady refrain of purity and the constant trill of its motto, "Food With Integrity," left little room for a contaminated supply chain.
It did not help brand loyalty that eating at Chipotle feels (however subconsciously) like an interaction with an efficient corporation rather than a welcoming brand: Its assembly-line ordering system emphasizes the transactional nature of the intimate experience of dining, and the restaurants' gray, industrial aesthetic, while chic and futuristic, conveys cool instead of cozy. It's difficult to be loyal to a machine, even one that projects a principled ethos.
Certainly, Chipotle's penchant for asserting its superiority over other restaurants—including McDonald's, which until 2005 owned a 90 percent stake in the company—has served it well over the years. Consider this quote from Steve Ells, the company's founder, about its split from the Golden Arches, delivered to Bloomberg in February of last year, when Chipotle was still reveling in its success and McDonald's was struggling mightily: "What we found at the end of the day was that culturally we're very different. There are two big things that we do differently. One is the way we approach food, and the other is the way we approach our people culture. It's the combination of those things that I think make us successful."
Recent events have started to make those claims of superiority ring a bit hollow to customers. As I noted last year, one E. coli outbreak that closed 43 Chipotle stores in the Pacific Northwest occurred during a high-profile national promotion designed to highlight the franchise's dedication to serving food without additives. Just weeks later, writing in The Atlantic, Helaine Olen suggested that the company's approach to "people culture" may also be deserving of more rigid scrutiny.
Earlier this month, hoping to rekindle some of its earlier magic, Chipotle released a lavishly produced animated video that was meant to cast the company again as a purer foil to its fast-food foes. Pointing to surveys by the market-research firm YouGov, Bloomberg's Shelly Banjo noted last week that "Though consumer views of Chipotle's brand and quality have recovered from their depths last year, brand perception is still in negative territory." Assertions of purity may no longer be enough.