Janet Yellen Responds to a Lackluster Jobs Report
In a speech on Monday, the Federal Reserve Chairwoman says that while the numbers published last week were "concerning," it's important not to overreact to a single month's results.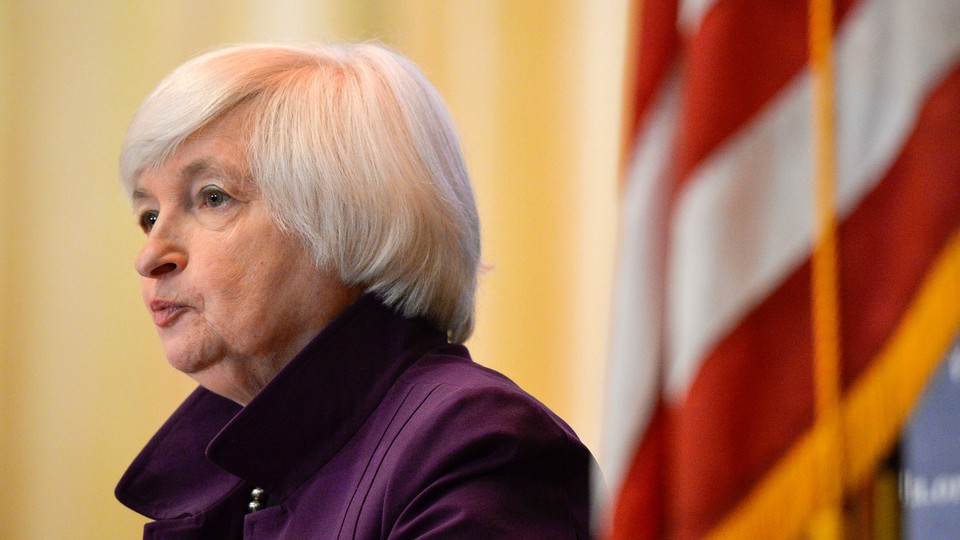 In the wake of last week's surprisingly disappointing jobs report, Federal Reserve Chairwoman Janet Yellen set a tone of cautious reassurance in a speech at the World Affairs Council of Philadelphia on Monday.
Conceding that the May report was "concerning," Yellen sought to mollify investors and economists by highlighting steady gains in the labor market. "The news from the labor market over the past year has been generally good, with significant job gains, the unemployment rate declining below 5 percent, rising household incomes, and tentative signs of faster wage growth," Yellen said. "At the same time, recent signs of a slowdown in job creation bear close watching." She also discouraged observers of the economy from "attaching too much significance to any single monthly report."
Yellen's speeches—as well as other Fed members' public remarks—have always been watched closely by those looking for clues at how the U.S. central bank will enact future monetary policy, and her words on Monday were particularly timely: They were the last public remarks from the Fed before its June Federal Open Market Committee meeting next week, where it was previously anticipated that the Fed was considering an interest-rate hike. Those expectations were dampened when the Labor Department reported last week that the U.S. economy only added 38,000 jobs in May—a huge miss, given that economists were predicting 158,000.
Yellen emphasized the "inevitable uncertainty" about the outlook of the U.S. economy, and also voiced concerns over the growth of China's economy, the upcoming Brexit vote, and the U.S.'s slow productivity growth. She said that while monetary policy is "not on a preset course," interest rates "will probably need to rise gradually over time to ensure price stability and maximum sustainable employment in the longer run."
Last December, the Fed raised interest rates for the first time in nearly a decade. The move was widely expected at the time, as the U.S. economy had shown signs of a steady recovery. Earlier in the year, Fed committee members had expected two quarter-point increases in 2016. But if the U.S. economy gives further indications in the coming month that it is slowing, any expectations that there will be more than one rate hike in 2016 might fade with it.