Volkswagen's $10 Billion Settlement
The German carmaker will reportedly offer thousands of dollars in compensation to American owners, in addition to the opportunity to sell back their cars.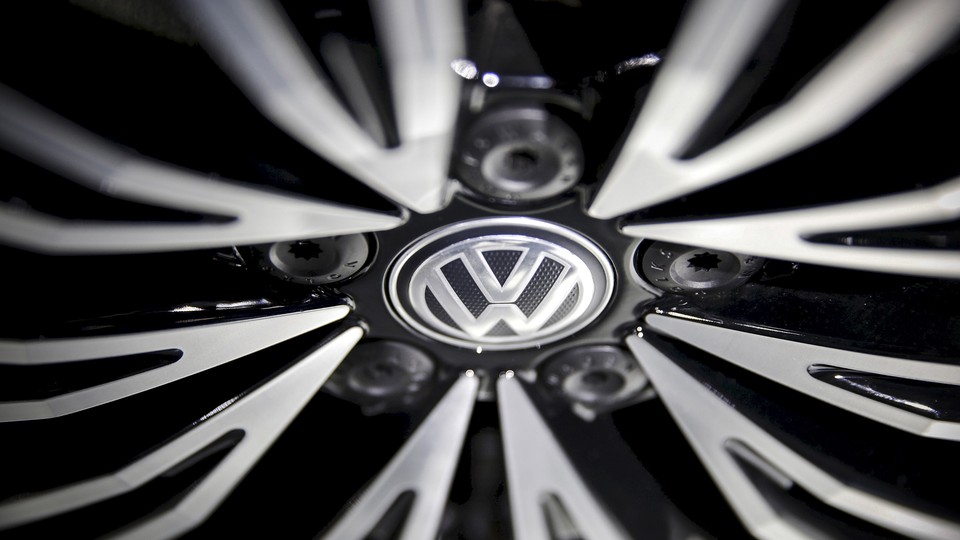 Back in April, Volkswagen reached a deal with U.S. authorities that finally answered the central questions in the company's emissions-cheating scandal: what happens to the 500,000 offending VW vehicles in the U.S. and how their owners will be compensated.
Two months ago, the EPA and a judge in San Francisco approved a settlement that would allow Volkswagen owners to choose to have their cars fixed or bought back. (Under the agreement, drivers with leases could cancel them.) The official amount was unclear back in April, but in recent days—ahead of the official court announcement next Tuesday—sources told the AP that the settlement amount will be about $10.2 billion. An anonymous source told The New York Times that that all owners of the affected cars will receive an average of $5,000 in compensation, whether they choose to sell their cars to VW  (at pre-scandal market price) or opt for the the fix.
The settlement doesn't include the fines Volkswagen is facing in an ongoing lawsuit filed by the U.S. Justice Department for violating the Clean Air Act—a suit that could result in as much as $48 billion in fines. Volkswagen is also being sued by its shareholders, on the grounds that the scandal has eroded the company's value. Its stock price has fallen 40 percent in the past year.
The emissions scandal began in September of last year, when the U.S. Environmental Protection Agency ordered Volkswagen to fix nearly half a million of its vehicles after saying that the German car-maker installed illegal "defeat devices" intended to cheat emissions testing. VW publicly admitted to the deception. Martin Winterkorn, VW's CEO at the time, promptly resigned and is now under investigation by German prosecutors for market manipulation.
Earlier this year, Matthias Mueller, Volkswagen's new chief executive, upset many when in an interview with NPR he asserted, "We didn't lie." At the company's recent annual shareholder meeting, Volkswagen's investors didn't hold back, expressing their frustration with the way the company has handled the scandal. At the meeting, some investors argued that those who were in charge during the scandal shouldn't be getting bonuses. (In April, it was reported that they'd still be getting 70 percent of their bonuses.) The investors were unsuccessful in their attempt to remove Hans Dieter Pötsch as the chairman of Volkswagen's supervisory board.