The 'Trump Effect' on Cable News
Donald Trump is destroying the GOP, pluralism, and all adult standards of common decency. And cable's profits are soaring.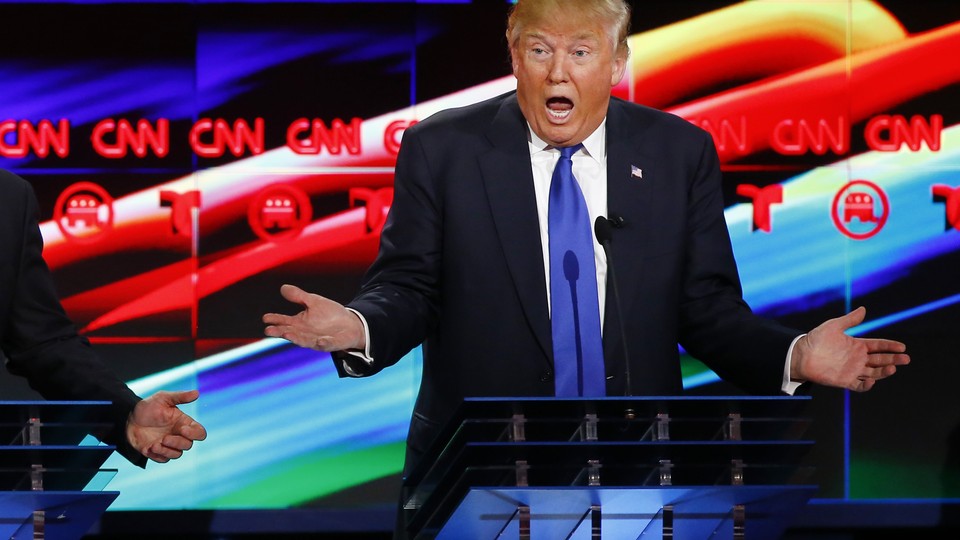 One year ago, cable news appeared to be in its twilight. But in 2015, Fox News, CNN, and MSNBC all saw their profits surge, according to the Pew Research Project. Erik Wemple, a media columnist at The Washington Post, calls it "the Trump Effect." Pew hailed "a ratings bump not seen in years." In the New York Times, media critic Jim Rutenberg has depicted news organizations plastering Trump stories on every chyron and headline in a desperate attempt to win viewers. (Ahem.)
After reaching a 21st-century peak in 2008, average primetime viewership across the three cable news channels fell by a third by 2014. The median age of Americans watching CNN, MSNBC, and Fox News was, respectively, 61, 63, and 67. In short, cable news is a gerontocratic kingdom where Fox News serves as king, with more than twice the audience of CNN and triple that of MSNBC.
Since Trump descended that escalator last June, cable news' fortunes—particularly CNN's—have been ascendant. Total primetime viewership for the three channels grew by 8 percent in 2015, and profits soared by about a fifth at both CNN and Fox News. Trump may be destroying U.S. democratic norms, but he appears, for the moment, to be one big beautiful orange life raft for the flagging cable news business.
But the Trump Effect might not be as strong as it seems.
For starters, compare last year's audience and advertising growth to other election years (or year-before-election years) for which Pew has data, like 2008, 2011, and 2012. Here is the annual growth in revenue, daytime viewers, and primetime viewers across the three news networks in each of those years. (Unfortunately, Pew doesn't have audience data for 2006 to calculate an annual growth rate for 2007.)
---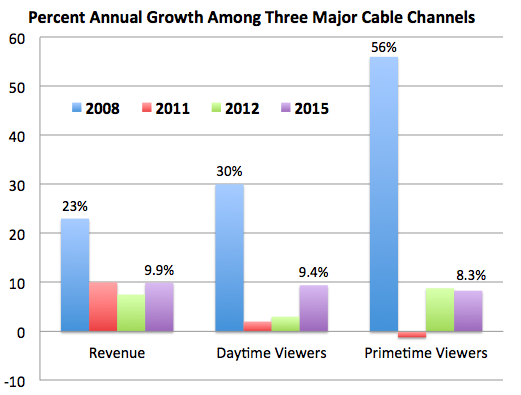 ---
The Year of Trump (and Carson and Bernie) was nothing compared to 2008, a dramatic primary season followed by a financial crash and a historic general election. But 2008 was unusual. More appropriate is 2011, the red bar above. The Trump show apparently added a lot more viewers than the medium-octane scrap between Mitt Romney, Herman Cain, Newt Gingrich, and Rick Santorum.
But 2011 isn't a perfect comparison, either, since there was no Democratic primary. Indeed, the difficulty of precisely calculating the Trump Effect is that there is no perfect comparison, no parallel universe without Trump that statisticians could compare with this one, isolating his exact contribution to cable ratings. The best one can say is that 2015 was a fairly strong bounce-back year for cable news, but it didn't pull in enough additional viewers to return cable news ratings to levels last seen in the first Obama administration. Maybe 2016 will.
Taking a longer view, cable is still in structural decline. Last year was a huge triumph for cable profits, but less so for cable ratings. Primetime and daytime cable viewership for the three cable news networks only clawed back to their 2013 levels, well below their highs in 2008 and 2009.
---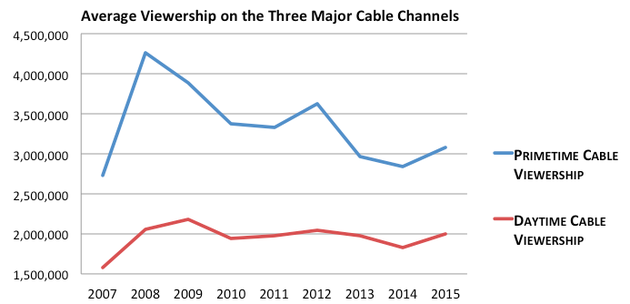 ---
Did last year's news circus arrest the decline in cable viewership? Absolutely. Will it go down as a historic year for cable audience? Not quite.
There is another interesting wrinkle to the Trump Effect: The viewership growth wasn't evenly spread across networks. One network, CNN, gobbled up the majority of new viewers.
CNN's primetime viewership rose 38 percent in 2015. Fox News, on the other hand, basically flatlined (up 3 percent) and MSNBC's audience actually declined. So what appears to have been a "Trump Effect" for cable news is, more precisely, a Trump Effect for CNN.
No surprise. Jeff Zucker, the president of CNN, pushed the network to go all-in on politics at the same time that a figure of singularly morbid fascination entered the political arena. As a result, CNN reached its highest viewership "in seven years," according to its 2015 annual report, and in the first quarter of 2016, CNN's primetime ratings grew 159 percent annually. Trump is such a mainstay on the network that the candidate reportedly joked that Zucker acts as his "personal booker." CNN has been a major driver of Trump's news presence, an amount of time one analysis valued at equivalent to $3 billion of advertising. But his ubiquity on CNN has been a mutually profitable arrangement.
The Trump Effect, such as it is, is not exclusive to cable television. Between November 2015 and May 2016 there were more than 50,000 articles about Trump published on websites monitored by Parse.ly, an audience analytics firm. That's more than the sum of articles about Hillary Clinton, Bernie Sanders, and Ted Cruz, combined. Even with this superabundance of Trump coverage, the average Trump article still performed about as well as an article about any other presidential candidate.
In other words, despite the fact that news organizations like CNN and political websites flooded the zone with stories about Trump for the last twelve months, the reader and viewer demand for Trump stories wasn't close to being saturated. The media shouted "Trump!", and audiences shouted back "more!" The fault, dear readers, is not in our media, but in ourselves.