The Supreme Court Has Left an Undocumented Workforce in Limbo
With its ruling in Texas v. United States, millions of immigrant workers and their employers face an uncertain future.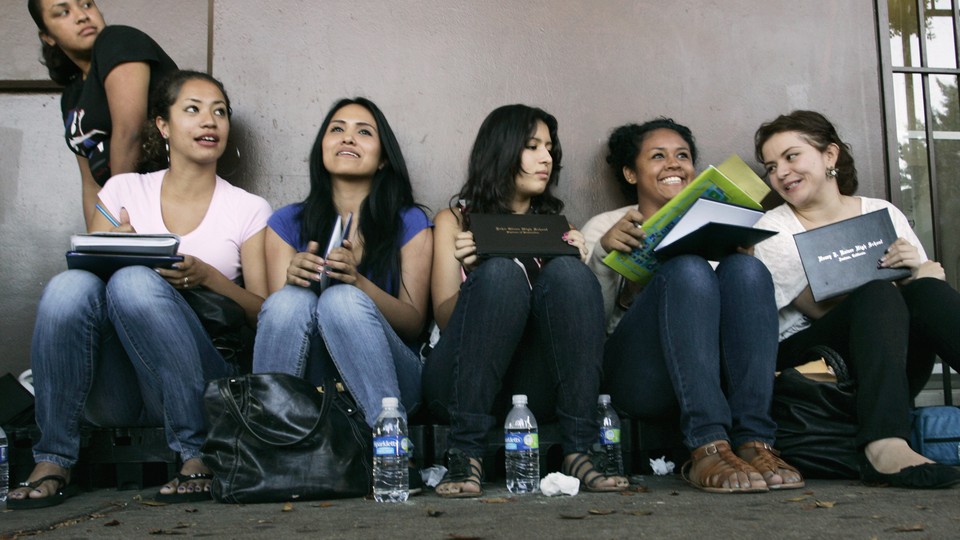 "Heartbreaking." "Discouraging." This is how immigration-reform advocates have described the U.S. Supreme Court's decision—or lackthereof—on the constitutionality of President Obama's deportation-relief program.
"Across the country, business owners, growers, hotel builders, they were really looking forward to having a stable and legal workforce," says Ali Noorani, the executive director of the National Immigration Forum, which advocates for comprehensive immigration reform. "Now we're back to square two."
Expanding the program to a larger group of undocumented youth, plus many of their parents, could have added up to five million people to the U.S. workforce. Instead, the Supreme Court's deadlock in Texas v. United States means that a lower court's decision to halt the program—and the possibility of legal job opportunities for many undocumented workers—still stands.
Since the ruling, little has been said about the 800,000-plus undocumented youth currently allowed to work under the original 2012 program, known as Deferred Action for Childhood Arrivals, which grants work authorization and deportation protection to certain undocumented immigrants who were brought to the United States as children. President Obama merely said the current injunction wouldn't apply to those allowed to work under the 2012 program, since the injunction was aimed at the expansion of the program, which he announced in 2014. That expansion would have granted protection to a much larger group of immigrants brought to the U.S. as kids, plus their parents. Now, the future of the program is very much in limbo, depending on who becomes the next president and who that president subsequently nominates to fill the vacant seat on the Supreme Court in the wake of Justice Antonin Scalia's death.
The careers of these young workers remain uncertain as the country decides what course to take. The original two-year program has been renewed by Obama for another two years, but the next president could decide to let it expire, essentially removing more than 800,000 people from the workforce. Democratic presidential nominee Hillary Clinton has said she would continue the deportation-relief program if she became president. Republican presidential nominee Donald Trump has vowed to end it. Either way, nothing is stopping other federal judges from issuing a similar injunction against the original DACA program, based on the same reasoning cited in the Texas case, which was that President Obama had overstepped his executive power in granting temporary deportation relief to millions of undocumented immigrants and their parents.
Businesses that hire these so-called Dreamers are also waiting to see what will happen next. Teach for America has been one of the most visible employers of DACA youth. The organization—which often places teachers in urban schools—caused a stir in 2014 after hiring two DACA teachers to work in Denver public schools. Now they have more than 90 working in 13 regions, with plans to recruit more teachers for schools in states like Tennessee and Ohio. The Supreme Court's ruling on Thursday will not change those plans, says Sharise Johnson, the managing director for national communications and engagement at Teach for America.
"We will continue to stand with our undocumented students through our efforts to support the Dream Act, our recruitment of corps members with DACA status and by helping our teachers support the unique needs of undocumented students across the country," she wrote in an email.
Since 2012, 819,512 people have been approved for the original deferred-action program, and 539,008 of them renewed it after the two-year expiration. A 2015 survey from the National Immigration Law Center shows that 76 percent of DACA recipients have a job, and make an average of $17 an hour. Another survey, which talked to DACA students enrolled in college, found that more than half of them have an annual household income below $30,000 and are the first in their families to go to college.
In November, President Obama filed a petition with the U.S. Supreme Court, asking justices to review recent court rulings that have blocked the implementation of his DACA expansion and a separate program known as DAPA (Deferred Action for Parents of Americans and Lawful Permanent Residents). A federal appeals court in Texas had blocked both expansions in February 2015, and in November, a panel of three judges from the Fifth U.S. Circuit Court of Appeals in New Orleans upheld the ruling.
Though the expanded version of DACA ended up in the Supreme Court, the original program has survived attempts dismantle it. Joe Arpaio, a sheriff from Maricopa County in Arizona, sued the federal government over the legality of the original DACA program in 2012, saying the president had no power to change immigration policy. That suit  was joined by 26 other states. But a federal court in Washington, D.C., dismissed the lawsuit, saying that the president's actions were a lawful use of prosecutorial discretion.
Legal experts for the National Immigration Law Center hope that decision, which upheld the original DACA program, will create precedent for any future challenges. The organization has called on the Department of Justice to rehear the Texas case when the U.S. Supreme Court fills its vacant seat.
"We rely on our nation's highest court to make decisions for our country," says Karen Tumlin, legal director for the National Immigration Law Center. "We deserve a fully functioning court."
Until then, the millions of people who could have joined the workforce remain in the shadows, and the others who are working legally under DACA don't know how long their legal employment will last.