The Ludicrous Cost of Event Spaces Near the RNC Convention
With the help of brokers, restaurants within walking distance of the Quicken Loans Arena are making six-figure deals.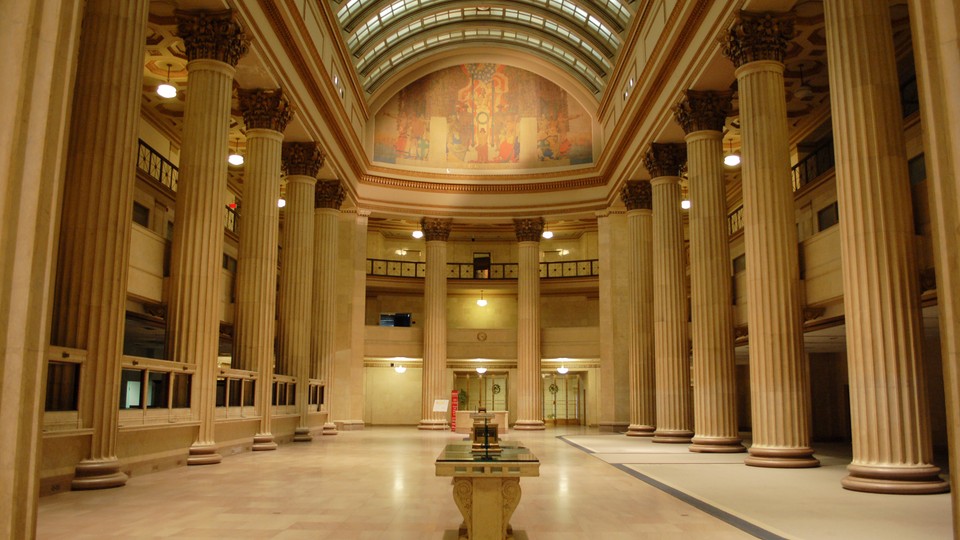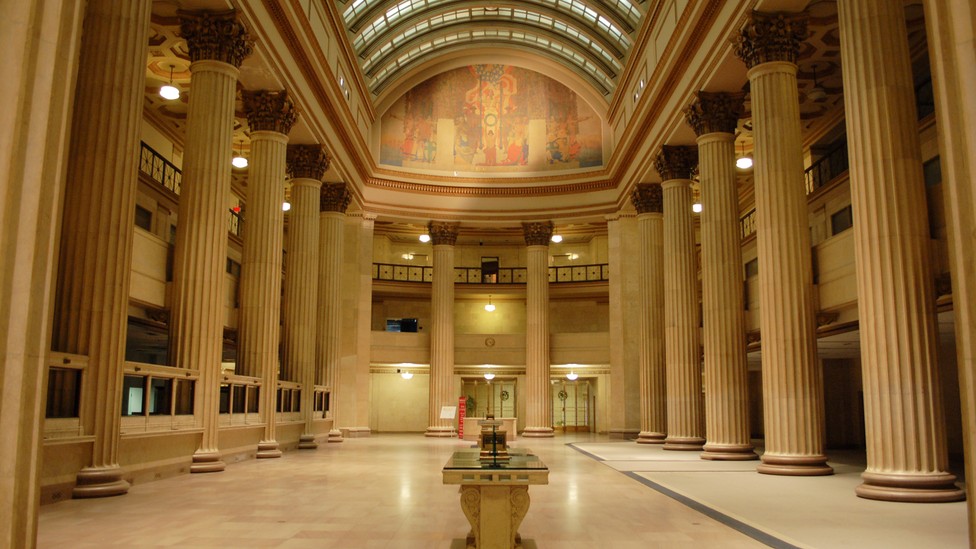 CLEVELAND—Physical space is a hot commodity in Cleveland right now. For months, space brokers have been helping restaurants and office buildings negotiate top-dollar rates to rent out their facilities for parties and events during the week of the Republican National Committee Convention in July. The competition has become so intense that brokers and businesses have become quite secretive about the deals they are negotiating.
This evasiveness was on display during a recent visit to a stretch of the city near the Quicken Loans Arena, where the convention will take place. One of the most desirable locations there is Harry Buffalo, a sports bar with an open-air dining room and spacious bar. When I asked the bartender if they had rented out the space for the convention, she quickly interrupted me. "Sorry, but I can't talk about this," she said. "We signed a confidentiality agreement."
"Really? Why?" I asked.
"I can't comment," she said. Rumor has it that CNN rented out the space for its convention headquarters.
Cleveland's recent downtown renaissance, after the city had lost residents for decades, helped secure its spot as the top pick to host the convention. It beat out Dallas to put on the quadrennial event, which is expected to bring 50,000 visitors to the city, who are mostly delegates, journalists, and lobbyists. Many corporations and nonprofit groups host events during political conventions to promote their brand or political agenda.
A pedestrian section of East Fourth Street, about a block away from Harry Buffalo, has recently turned into a hip destination for Clevelanders. One of its most popular spots is the The Greenhouse Tavern, which Twitter will reportedly take over during the week of the convention. At The Corner Alley, across the street, a hostess was excited to tell me that managers were talking with several organizations, including the Republican National Committee, about renting out the 4,000-square-foot bowling alley, restaurant, and bar. She declined to give her name, but later, on the phone, Michael Grasso, the venue's general manager, explained, "We're still negotiating a deal because everyone has been so wishy-washy." He wouldn't name any of them, and wouldn't give a dollar amount. But he said he's talked to about a dozen potential clients in the past two months.
Several business owners said restaurants within walking distance of the convention center are easily making more than six figures to rent out their space for a few days. "Let's just say, it's going to be a good summer," Grasso said, adding that business owners don't want everyone to know how much money they're making. (One bar owner downtown was so skittish that he asked me to not mention his bar's name, let alone its location. He was afraid it would ruin his chances of getting a good deal).
Why all the secrecy? It's not unusual for event sponsors to request confidentiality at political conventions, says Scott Cottington, a partner at GOP Convention Strategies, which has organized hundreds of unofficial events for the past two RNC conventions. After all, protesters may target certain corporate event sponsors. This year, the politically divisive primary season might stoke more concern than usual, he says. Speculation about mass protests and potential violence has led the city of Cleveland to purchase riot gear and hire extra police officers with a $50-million federal grant. Or, maybe, the secrecy is in place for another reason. "These companies might not want people crashing their parties," says says Terry Coyne, a commercial real-estate broker with Newmark Grubb Knight Frank, who is working on some of these lucrative contracts.
Coyne gets about a 6 percent commission on deals he brokers, and he negotiated a six-figure deal to rent out the 925 Building on Euclid Avenue, a 21-floor Cleveland landmark that once housed a bank and has an ornate lobby often described as the largest bank lobby in the world. The owner usually rents the building out for wedding receptions for about $14,000, but Coyne says he's getting the owner six times that amount, per day, for state delegations and two corporations to host parties in the lobby. In addition, Coyne says he rented out the 925 Building's penthouse for the entire week to the Washington-based political-news website Politico.
One event-planning company, GOP Convention Strategies, met with local business owners as early as last year to let them know who was coming to town and how to get in on the action. The company, headed by two former GOP consultants, is organizing up to 60 unofficial events for private companies and state delegations. In addition to the private brokerage firms, there are, of course, many official convention-related activities that will happen outside the Quicken Loans Arena. The RNC has its own staff working with local businesses to find locations for more than 1,000 events.
But not everyone will cash in on the visit from the RNC. Don Brooks, who owns a tailor shop within two blocks of the arena, doubts any of his customers will be working downtown the week of the convention. He will probably lose money and have to close his doors that week, he said.
"I'll just go on vacation," he said.