The New Nostalgia
A Saved By the Bell-themed pop-up highlights changes in how restaurants traffic in the past.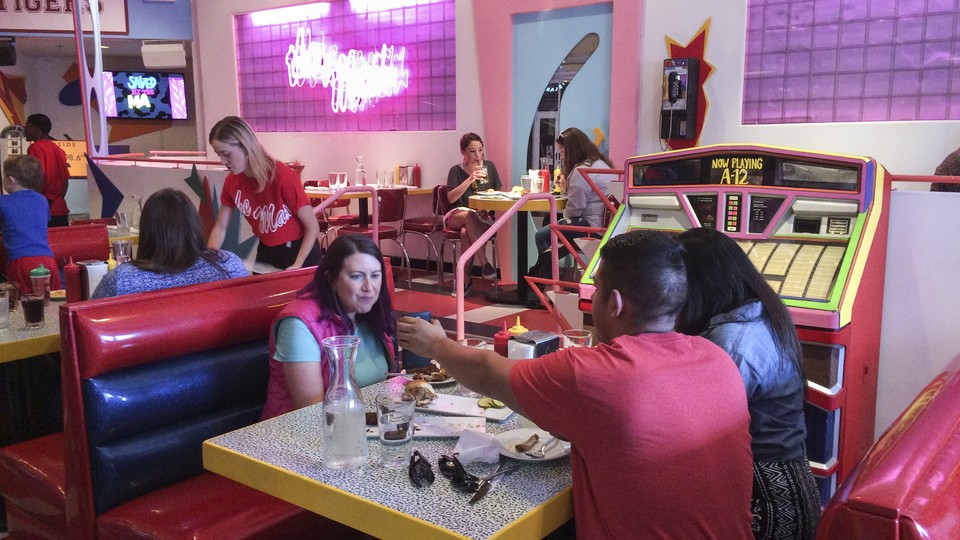 CHICAGO — Earlier this month in Chicago's Wicker Park—once a warren of working-class bars and shops that has given way to boutiques and juice bars—the apotheosis of '90s pop-culture worship opened its doors.
Saved By the Max, a Saved By the Bell-themed pop-up diner that takes its name from the show's fictitious after-school hangout, is a Bayside High yearbook come to life, an eerily faithful blitzkrieg of red vinyl, neon and pastel decor, cast photos, and blaring theme music. (Licensing fees are, of course, paid to NBC.) The entranceway is flanked by a row of instantly familiar red lockers beside a wall on which memorable quotes and visual homages (caffeine pills, Zack Morris's brick cellphone, and Becky [RIP]) are haphazardly painted.
If there's one thing we know about the target audience for a '90s-themed pop-up, those tirelessly analyzed Millennials, it's that they prefer to spend what money they have on experiences, like travel, and quality items, especially food. And so, while Saved By the Max is already designed to provide an immersive, highly-Instagrammable adventure, the ultimate pander may be the full bar with craft cocktails and elevated diner food plotted out by a Michelin-starred chef.
"As the Millennial generation gets away from the ownership of things, there's an ownership of experiences [at work] here," Paco Underhill, the author of Why We Buy: The Science of Shopping, told me. "Being in a place that brings back memories or creates memories is actually cheaper than buying those memories."
Appropriately, those reserving a spot for dinner at Saved By the Max must do so online, where a diner is prompted to "book" and "choose" their "experience." The popularity of the pop-up is pretty apparent; originally conceived as a month-long endeavor, Saved By the Max has extended its run through the end of 2016. When I asked Derek Berry, the creator and co-owner of the pop-up, what the strangest thing to happen so far was, he told me he had received inquiries from couples hoping to get married in the space.
Of course, nostalgia itself has a shelf life. Earlier this year, Johnny Rockets, the fading 1950s-themed casual burger chain, announced it would be ditching its chrome scheme and tabletop jukeboxes in favor of something more current—white brick walls, industrial lamps, wood planking, and community tables. In one swift maneuver, graduates of Guadalcanal become graduates of Gowanus Canal.
"What we needed was an environment and a setting that people felt was more contemporary, and to compete with all the other modern burger concepts out there," the company president and CEO Charles Bruce told Nation's Restaurant News. "Every brand goes through an evolution to stay relevant. We're no different."
While the company declined to comment on what its new design is meant to convey, there were elements of an ideological repositioning as well. "What made a good store in 2000 and what makes a good store in 2016 is different and they are often a reflection of the changes in us," Underhill added.
This evolution for Johnny Rockets includes an emphasis on "fresh never frozen 100-percent domestic farm-raised beef" and "fresh, farm to table" fare. (Such socialist-sounding credos would no doubt spin the head of any good McCarthyite.) This week, the 30-year-old chain also opened its very first location with a drive-thru.
Elsewhere, another experiential endeavor can be seen (literally) at play at Hard Rock Cafes, where recent remodeling efforts have prioritized space for more live performances, a Millennial substitute for passively ogling Steven Tyler's bescarfed microphone stand. In a surreal 2011 announcement, the company also introduced healthier dining options, promising, "Whether you want to go heavy metal or rock the lighter side, we have something on the menu for you!"
These changes aren't specific to theme restaurants, but also sit-down casual-dining chains, an industry that has been slumping for years. Applebee's, for example, is tinkering with an open-kitchen model, electrical outlets at the bar, more local craft beers, and fewer pre-mixed cocktails.
TGI Fridays, in an appeal to simplicity (and perhaps the growing number of atheist Millennials), will just soon call itself Fridays, and is reportedly testing a store that will offer food to-go, along with layouts and hours more reminiscent of co-working spaces. This trial comes just two years after the company redesigned its stores after admitting that its chaotic splay of ephemera had become passé. "It was quirky in the '70s, quaint in the '80s, outdated in the '90s and had grown past its sell-by date in the 2000s," Nick Shepherd, then the company CEO, told The Wall Street Journal in 2014.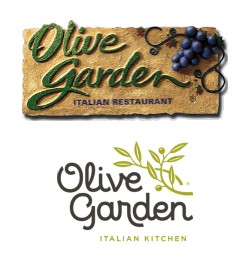 The most iconic of the casual bunch may be Olive Garden which, in what it recently dubbed a "brand renaissance" moved away from its Old-World grotto motif for an airier and less offensive Sonoma look. Gone were the beloved, frosted plastic, flower-shaped bowls and, in their stead, all-white plateware. Underhill unifies these kinds of changes under a theory he calls "light, white, and bright," visual nods to a shift in priorities where "our nostalgia for the past is meeting our 21st century perceptions of health and good nutrition."
The best evidence of this may be in the newest iteration of the Olive Garden's logo, released in 2014, a clean, twiggy affair that stresses a "kitchen," whereas before there was only a cartoon arbor one could imagine getting hammered in. It's certainly not The Max, but those wistful for their Olive Garden of yore can still find solace in endless breadsticks.